WordPress Hotel Booking Plugin Updates: Turn on Online Payments
Adding payment gateways to the MotoPress Hotel Booking plugin, the WordPress Booking system for hotels and villas, was just a matter of time. And we are pleased to announce that this time has come! Now you can feel safer about your bookings asking the guests to pay online in order to reserve the rooms.
However, if you stick to offline payments, nothing changes for you. Both ways are possible.
So, how can your guests pay? There are several methods so far.
Monthly survey! Help us collect data to improve your hospitality business – answer 3 simple questions
Offline payments
It means guests can reserve a room online, but pay only after arrival to your lodging establishment.

You can set it up in a couple of clicks (it will disable all payment gateways on the Booking submission page). Go to Accommodation > Settings > General > scroll down to Booking Confirmation screen.
Here you have 2 options to allow guests reserve a room:
By customer via email (the email is sent automatically to a valid address; they'll click on the confirmation link to confirm booking request);
By admin manually (you'll receive emails on new booking requests and will need to confirm each one manually).
In both cases, guests don't pay right away and their booking requests are simply confirmed in any of mentioned ways.
Online Payments
Guests should pay to reserve a room. You can give them payment gateway alternatives that are now available with the MotoPress Hotel Booking plugin.
For the payments to go through properly, you should apply the following settings:
At first, you should specify general settings: go to Accommodation > Settings > Payment Gateways > General Settings tab.
Set either deposit (fixed ot percent) or full amount payment;
Enable secure Checkout payments if needed (make sure you installed an SSL certificate);
Create or choose Successful and Failed transaction pages, where the users will be redirected after the payment;
Choose which default gateway to display on the checkout page;
Specify how many minutes you give users to complete the booking.
And then adjust each needed payment gateway (toggle between tabs).
Update! There are built-in payment gateways that you can enable without any additional charges: PayPal, Stripe, 2Checkout, Braintree, Stripe, Beanstream/Bambora.
PayPal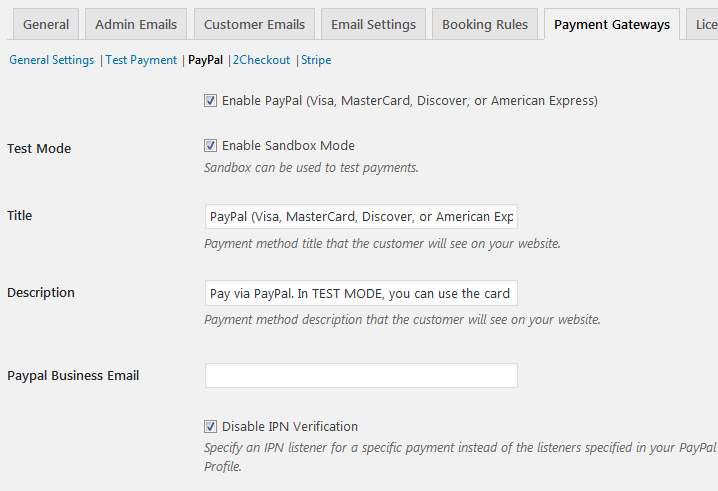 Enable it;
If you want to test it, switch on test mode;
Edit title and description of payment methods;
Specify your PayPal Business email;
Disable or enable IPN verifications (instant payment notifications)
2Checkout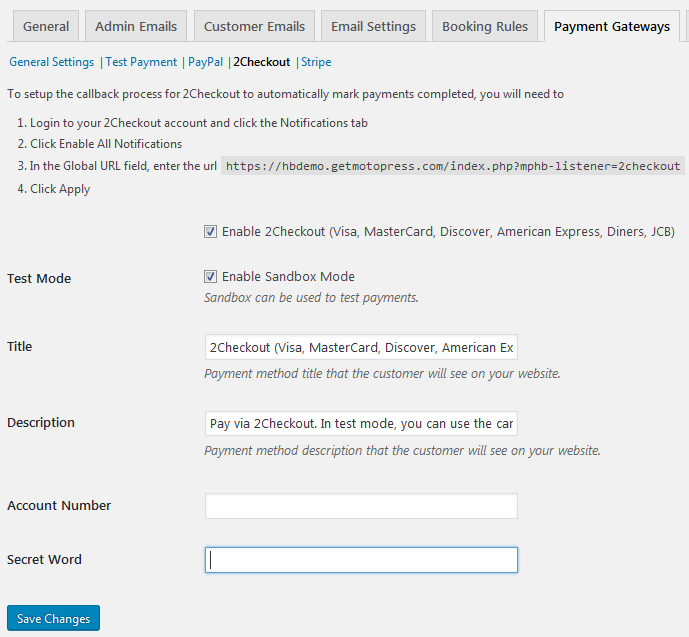 Enable it;
If you want to test it, switch on test mode;
Edit title and description of payment methods;
Specify account number and secret word.
Stripe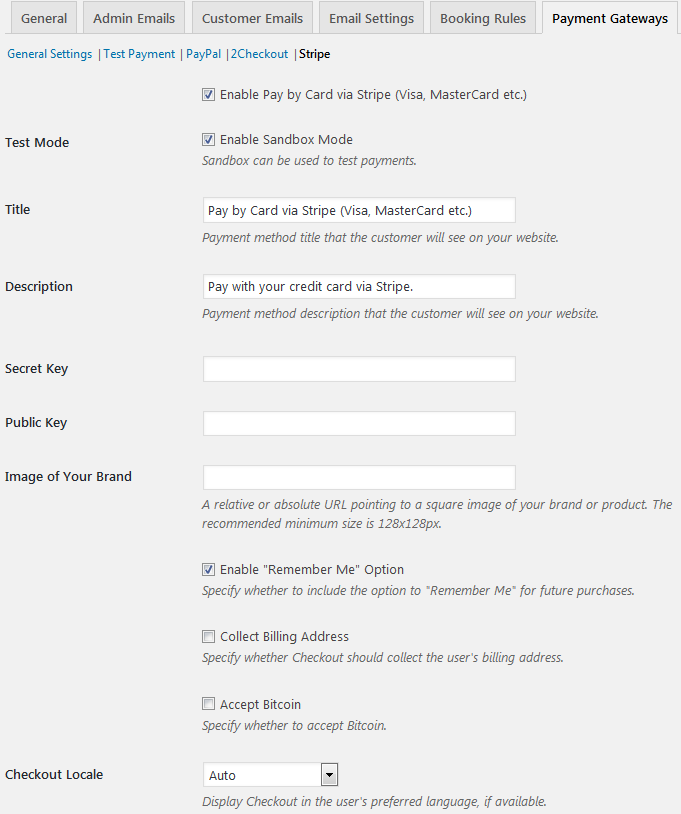 Enable it;
If you want to test it, switch on test mode;
Edit title and description of payment methods;
Specify secret key and public key;
Upload your logo (a link to it);
Enable or display the "Remember me" option, collect or not email addresses, accept or not Bitcoins;
Specify the language of Checkout page.
Update! We've also added Braintree payment gateway to the list of available payment methods for MotoPress Hotel Booking plugin!
Test Payments
If you want to test how it all works for your site, go to Test Payment tab: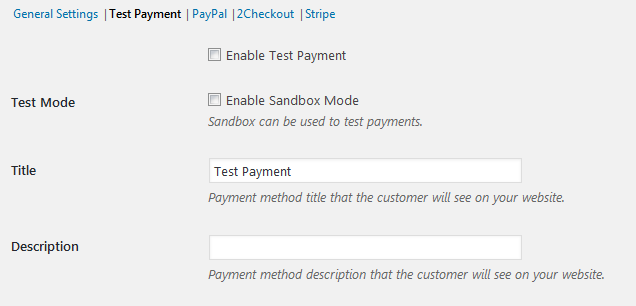 If all payment methods are switched on, your guests will be able to choose the preferable one on the frontend: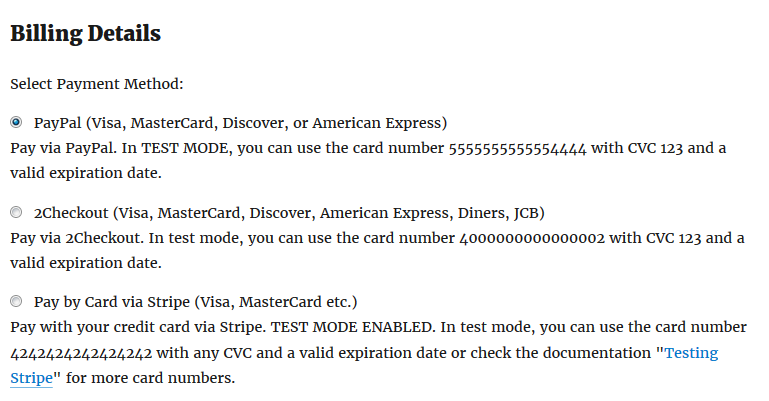 Recently, the plugin's payment system of Hotel Booking has acquired the next features:
since the 3.9.6 version, customers will be able to see a new payment status Canceled;
since the 3.7.1 version, customers have to fill in an email address in the Stripe payment details;
since the 3.6.1 version, customers have an option of a direct bank transfer.
There will come further steps to improve the payment system of the Hotel Booking plugin.
Update: If you want to add more payment gateways, you can get WooCommerce Payments addon – it comes with dozens of payment methods, which will be definitely suitable for your area.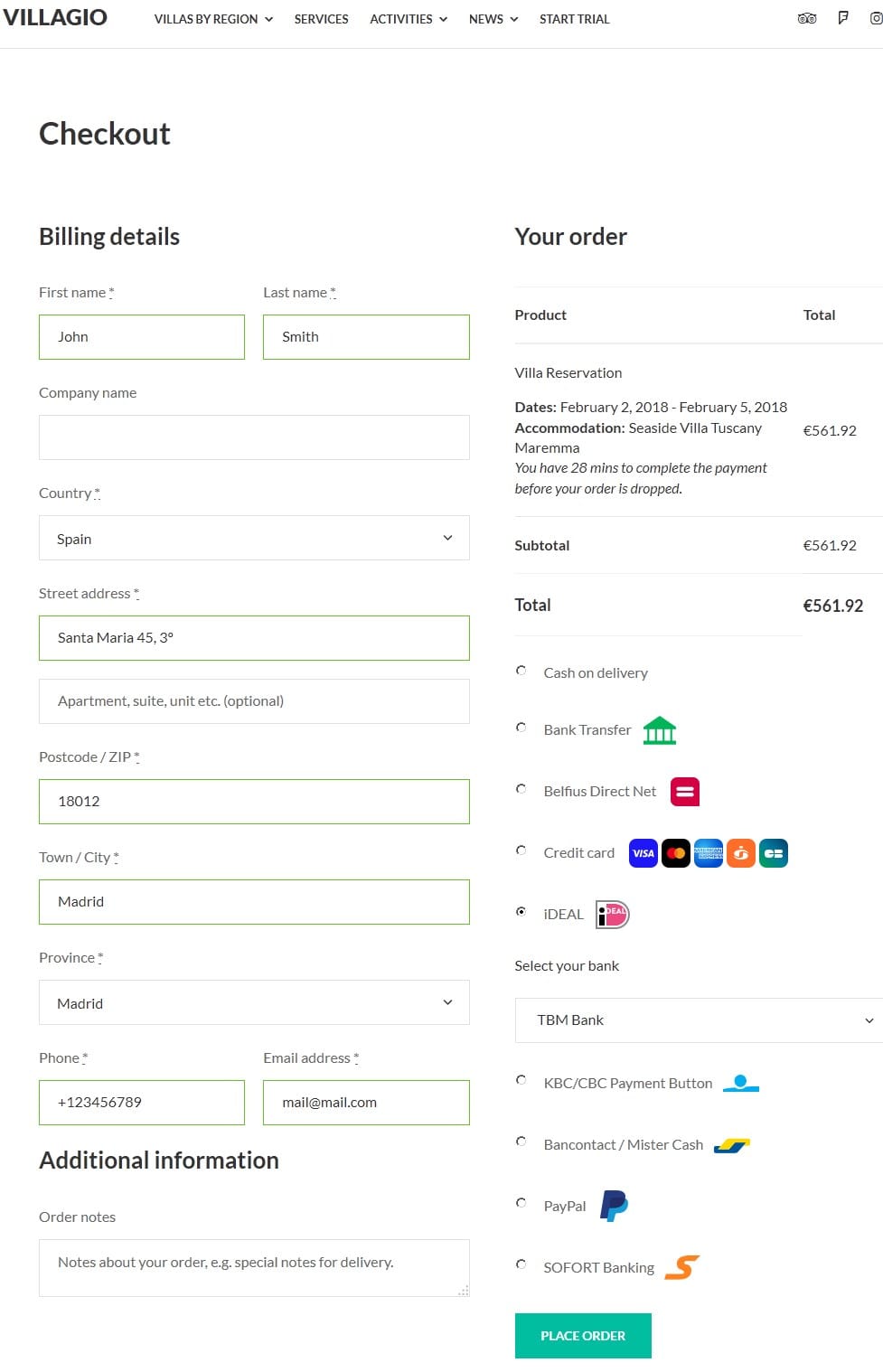 One more helpful update: Payment Request Addon
Payment functionality of WordPress Hotel Booking plugin was extended with a new addon: meet the Request Payment option for Hotel Booking.
After your guest has confirmed their reservation, you will be able to send the payment request emails asking to pay the remaining balance, deposit, or a full booking price to do a final confirmation of their booking in a set number of days before arrival.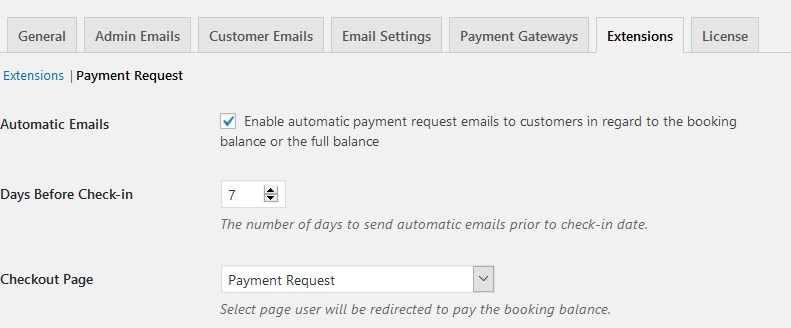 This works for every of the three available booking confirmation modes.
The process of sending the invoices can be handled manually or automated: simply define how many days before a guest's check-in a payment request should be sent.
More options on the way, so stay tuned!