Free MotoPress Restaurant Menu Plugin for WordPress Released!
MotoPress has excellent news for the owners of restaurants and culinary enthusiasts! We've expanded the product line with one more great free plugin for the WordPress website – Restaurant Menu. This is an easily manageable solution for presenting the overall offerings of your restaurant in a modern and catchy way. This tool will help you soup up the online presence of your restaurant absolutely free of charge.
The online menu is an important marketing channel for increasing brand awareness.
All restaurant owners who maintain a small web page with basic restaurant details or who don't have a website at all/still has a restaurant menu in pdf format, pay attention to the next facts.
These are key findings of SinglePlatform & Chadwick Martin Bailey study:
More and more customers want to see a menu and reviews before they eat at the restaurant.
Restaurants and cafes became the most searched industry by consumers on mobile and tablet devices.
Consumers are less likely to choose a restaurant if they can't access the menu on desktops and especially on a mobile device.
Moreover, smaller food establishments very often see up to a 50% rise in takeout revenue after selling food online and using online ordering systems. The idea of all these findings is very clear: customers love to see you improve the convenience level of your services by being available from everywhere. If you invest time and effort into building a strong brand image of your restaurant across the web, it could lead to significant growth of customers' interest and, of course, generating revenue.
More About MotoPress Restaurant Menu Plugin
Using a free solution by MotoPress, you can increase customer turnout providing more chances to stumble upon your restaurant not only in reality.
Main Features:
Responsive design
Clean-looking menus built on any menu design
Post, page or website sidebar location of the menu
Options for setting currency
Variety of trending icons for the menu categories
Ease of implementing and setting the plugin via the shortcode.
You may quickly check whether the plugin suits your needs by viewing these slides:
When it comes down to details, the following advantages characterize the plugin. You can present your restaurant with unlimited custom menu items and categories. Menu items are all your food and beverages offerings. You may also organize them under various categories to make the search through the menu much faster and easier. These may be standard ones like 'appetizers', 'entrees', 'side orders', 'desserts' and 'beverages' or/and you may include categories like 'holiday menu', 'breakfast on the go', etc.
Depending on your website theme, width, and your personal choice, you can choose among different clean-looking menu designs. Apply several settings in the shortcode parameters and check which design is the most suitable. The plugin proposes List View and Categories view for both menu categories and menu items. A couple of experiments and all the magic is done.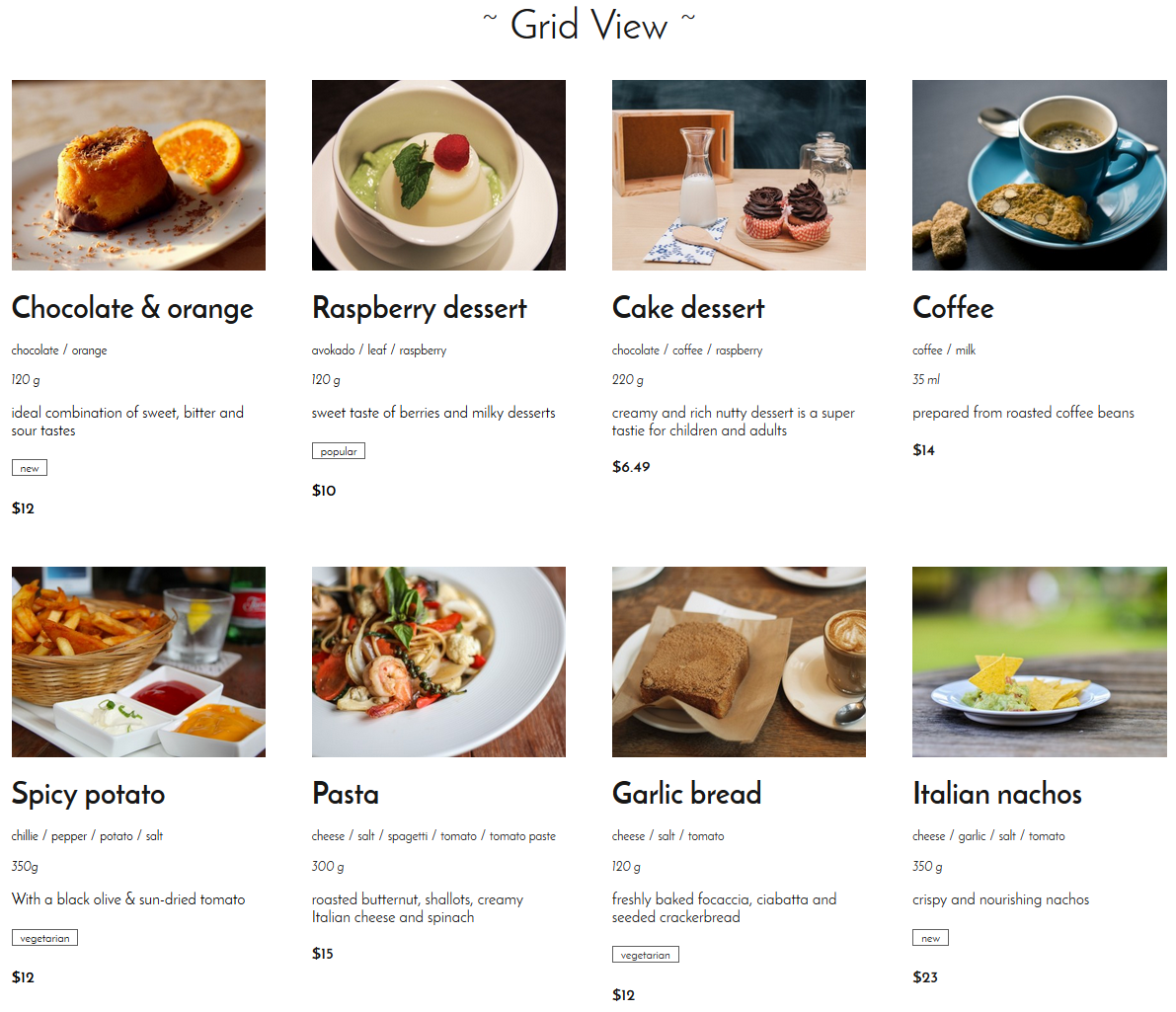 Or you may want to apply a List view to balance images and text: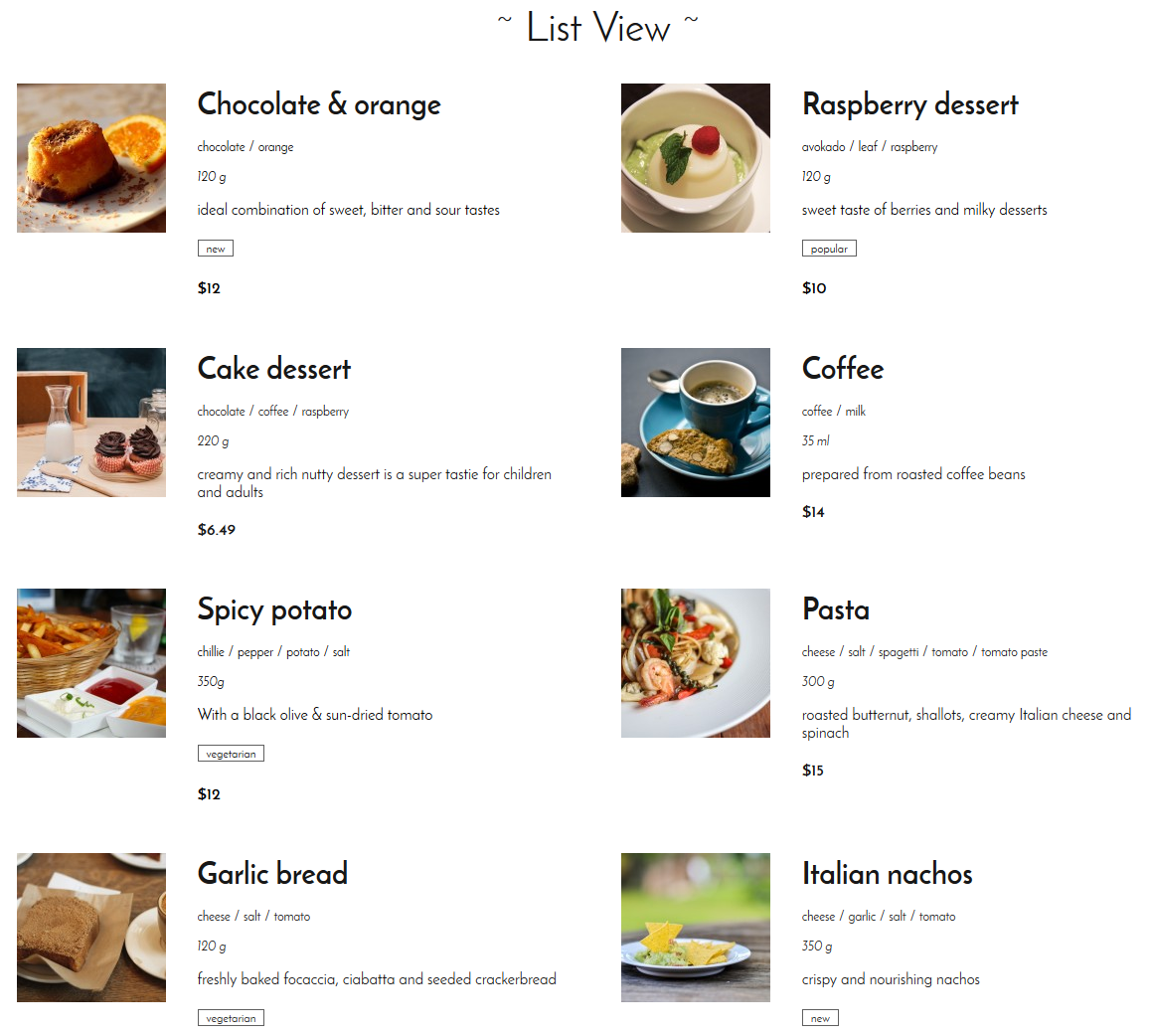 If there are a lot of categories or you wish to display only categories on the landing menu page, simply set the Shortcode type to Show categories and choose whether the view mode should be Grid or List: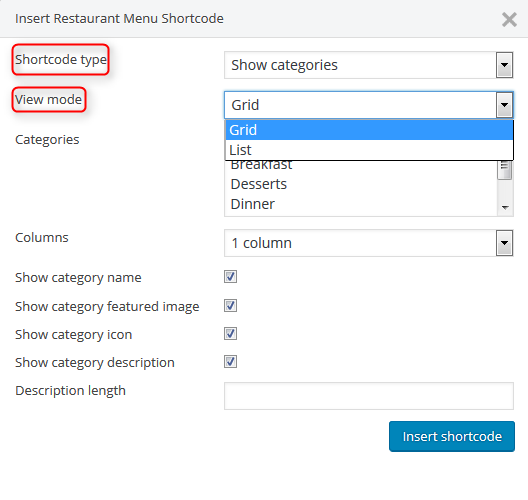 And this is what you get on the live site in result: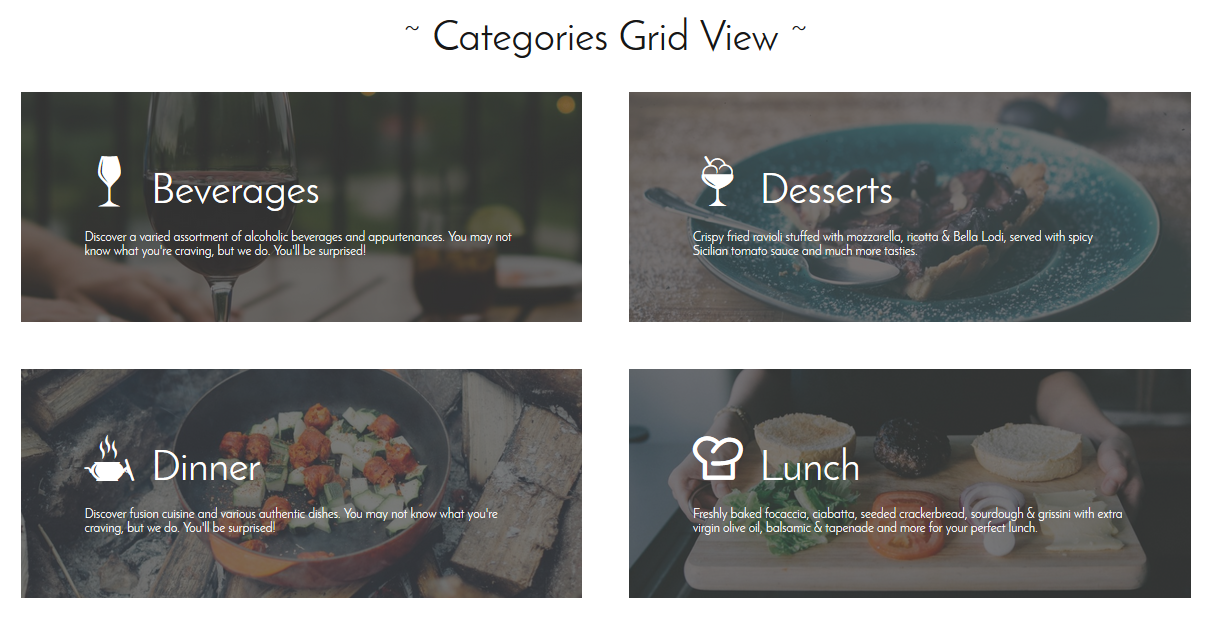 The menu (items and categories) can be also displayed in up to 6 columns, so you can always find the best choice for your current website.
Health-conscious customers will be definitely pleased to see maximum information about each menu item. Restaurant Menu plugin allows to supply it with detailed description, portion size, ingredients list, tags, price, Nutrition info and even include additional image gallery to each item. You may still uncheck the needed parameters while working with the shortcode of you want to hide them.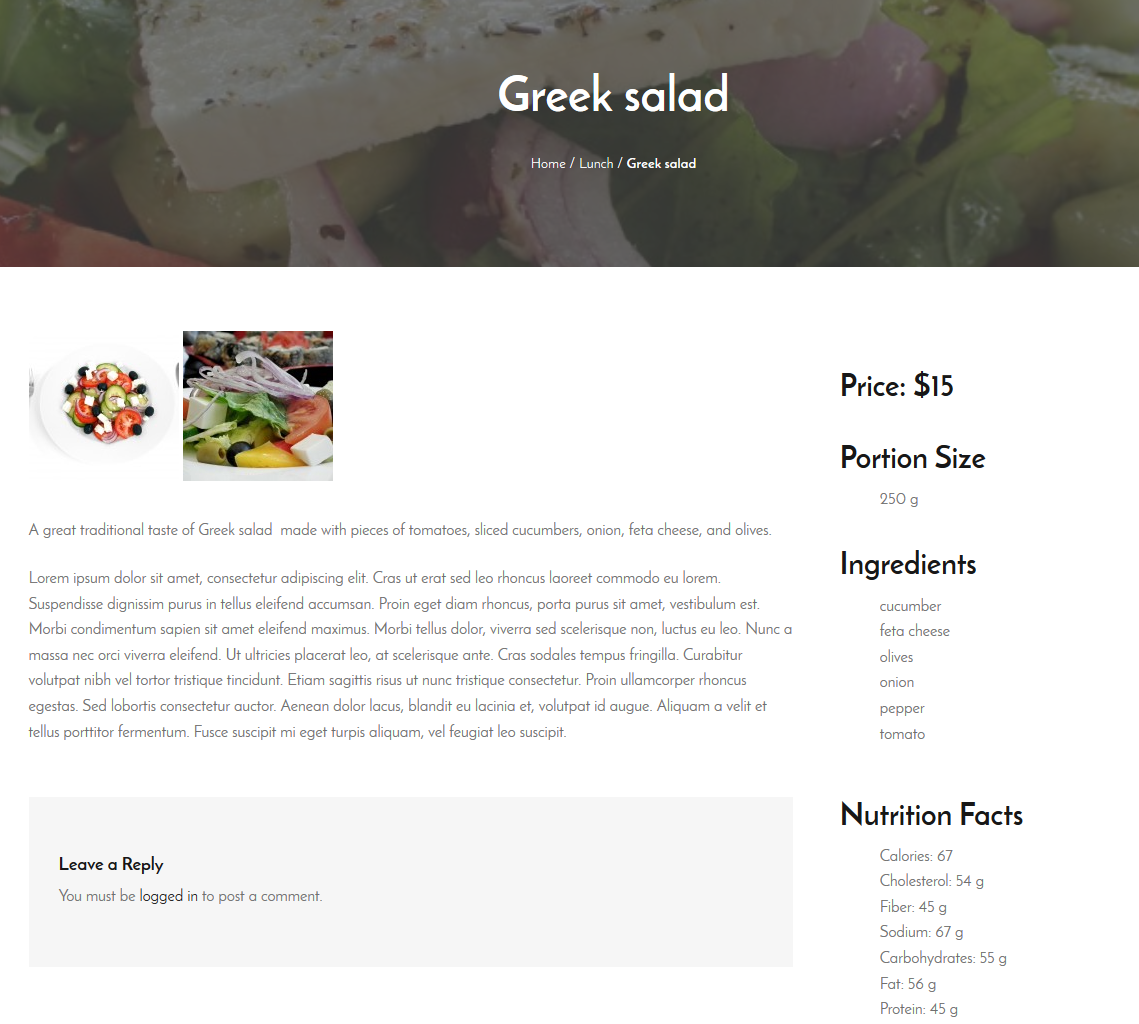 One more big plus, you can sell your offerings online with a help of PayPal payment gateway. The payment system is very safe and the checkout process is fast. More merchant services will be also available within the plugin in the future.
The Restaurant Menu plugin is easily integrated with the MotoPress WordPress Editor – frontend visual content builder for any WordPress website. Instead of setting your menu up within shortcode, you may do all that work in WYSIWYG format, namely, update the menu fully visually. The combination of these two plugins will help you save a lot of time and will make the actual customization process hassle-free. MotoPress content editor will help you not only edit the menu visually but also apply various styles without coding.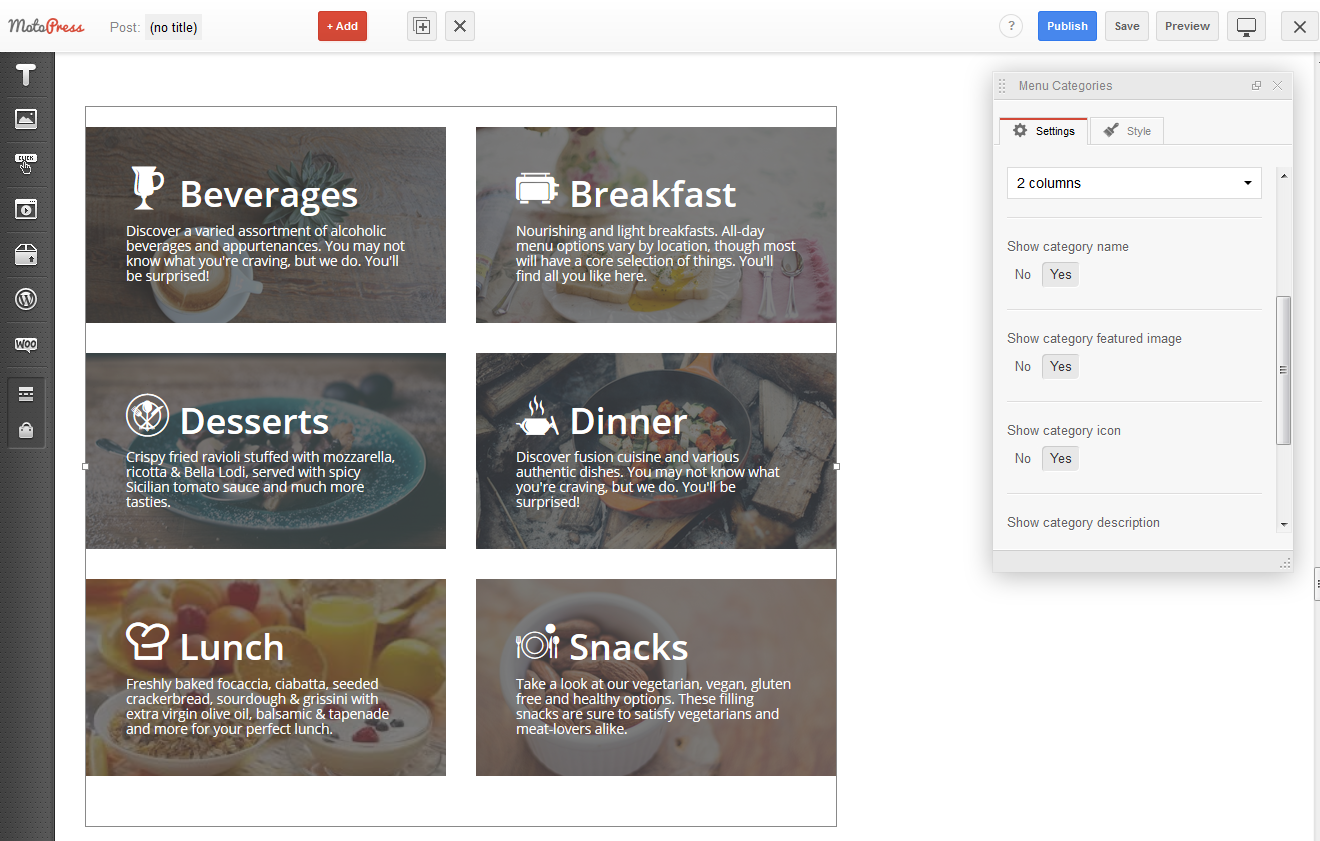 Restaurant Menu plugin also provides a safe import and export of your data. Backup or changing the hosting is not the issue as you may safely import and export all your information for further tweaks.
The plugin comes packed with the detailed documentation, so you know where to start and how to make everything work very fast.
View how the Restaurant Menu plugin works on the demo website and decide whether this is what you need.
Download Restaurant Menu Plugin
Check out free and premium addons for this plugin:
Restaurant menu cart – a free plugin to add a shopping cart into the navigational menu.
Delivery addon – a premium plugin to enable delivery and pickup services for the food ordering system in your restaurant.
Toppings addon – a premium plugin to create a pizza builder and sell extra food and drinks.
Bottom line
MotoPress Restaurant Menu plugin is literally your bread and butter for proper digital accessibility, which will help to keep the customers all the year-round, constantly improving the foothold of your restaurant business.