Luviana Review: a Brand New Hotel Booking Template for WordPress
Luviana hotel booking template for WordPress is a new premium addition to the lineup of the hotel themes for WordPress.
This new WordPress hotel theme has an exceptional sense of the classic, luxurious hotel design. It's crafted to make any hotel feel like a luxury hotel on the web!
The Luviana hotel booking template yet comes with an interfusion of usability, creativity, and mobile-friendliness, so in the end, tech-savvy guests will enjoy thoughtful, modern digital experiences.

Luviana: Best Hotel Boooking WordPress Theme
Although our collection of the hotel booking and vacation rental WordPress themes is already pretty diverse, I believe none of these best WordPress hotel themes is closer to the luxury hotel and boutique concept than Luviana.
But that's just the visual side. As for the technical powerhouse of this brand new theme, the WordPress reservation system and the property management system by MotoPress is packed as well for free!
So the PMS and reservation core in Luviana is the same as in the rest of our best hotel WordPress themes, so we won't look deeply into it in this article. We already have loads of step-by-step guides, posts and docs, particularly on how to configure the plugin. For example:
However, we'll stop on some plugin features applied specifically in Luviana so that you can get a better sense of how the plugin can function in terms of this WordPress hotel theme.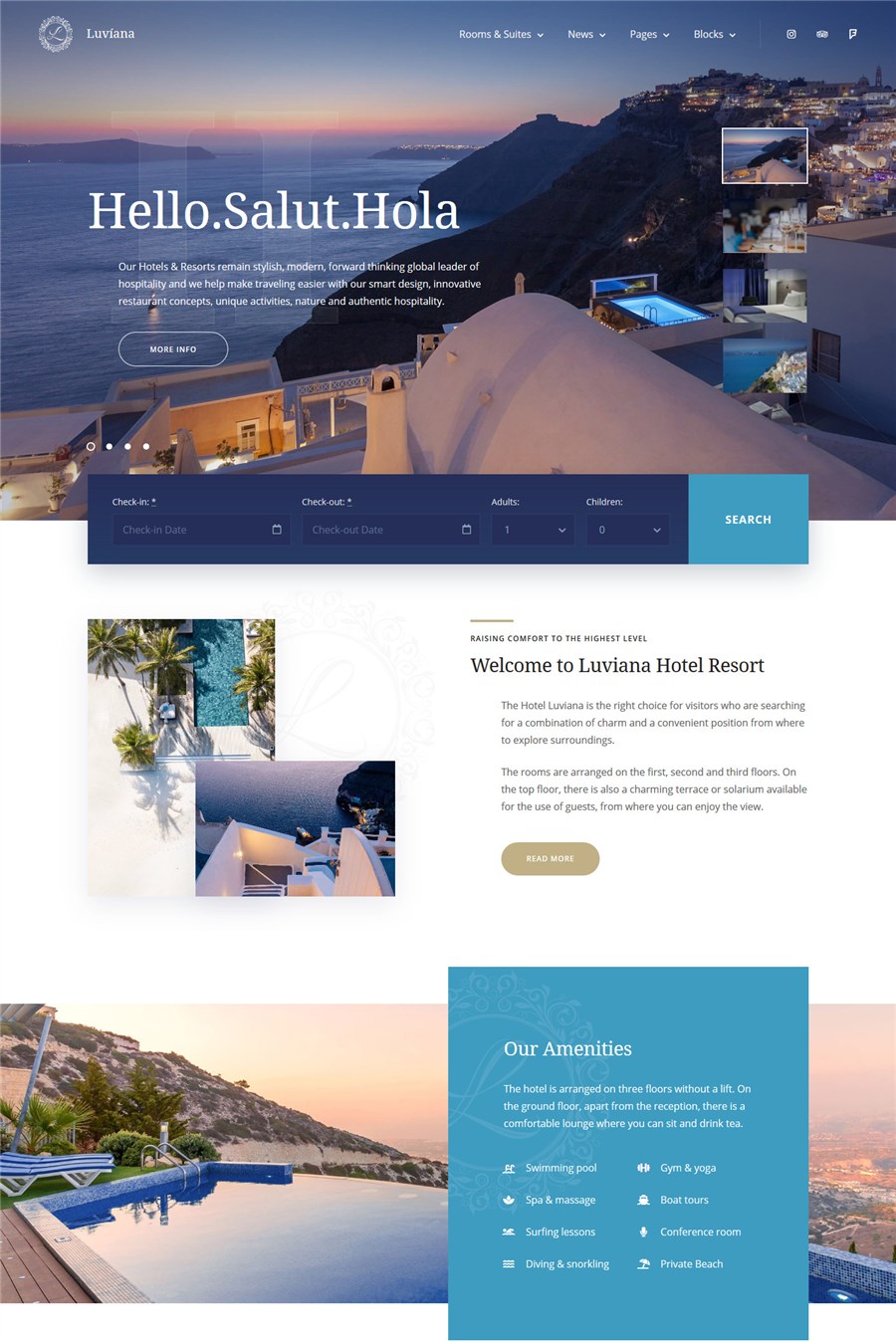 For the rest, we're going to go through some specific features of Luviana – this approach is especially effective if you are already familiar with the MotoPress products for the rental business needs and just want to figure out whether this new theme is a good match for your next project.
One-click demo data import
You may opt for importing demo data to your live website with the integrated tool that will do all the work in seconds (you'll see the prompts once the theme is installed and activated).
Check out Luviana demo to see what you'll get after sample data is imported to your website. You can start replacing or deleting content pieces via different interfaces (more on this further) and create a professional website much faster.
How to customize the Luviana Hotel Booking Template
Let's organize all the tools and features you'll be able to dwell on while working with this hotel booking template for WordPress.
Getwid for Gutenberg (a collection of extra blocks for Gutenberg by MotoPress) is the major foothold of Luviana WordPress hotel theme for all things customization. Getwid suits all Gutenberg-based booking WordPress themes. It'll play a vital part in making theme edits maximum effortlessly and will allow you to create content presentation beyond default Gutenberg blocks.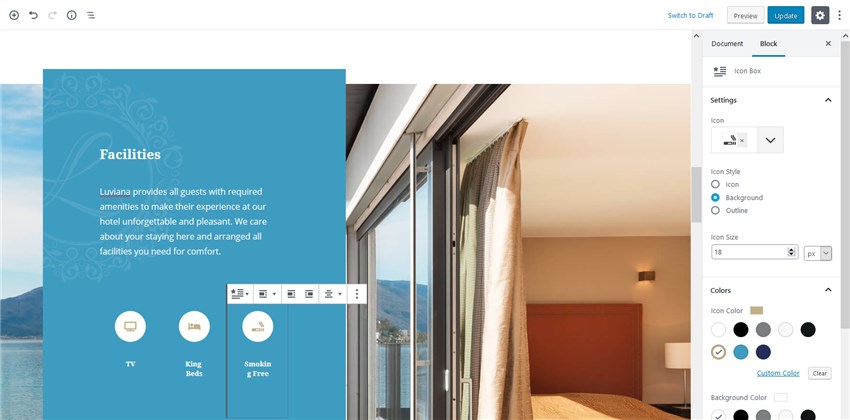 No matter which block you choose, the styling (visual design) is left up to Luviana styles, so you'll be able to maintain a design consistency without manual tweaks. If you are interested in details, check out this WordPress Gutenberg Blocks by MotoPress overview to see the capabilities of the plugin.
If you import sample data, you'll be able to play up with the following pre-set Luviana blocks/pages:
A restaurant menu with images and prices, which is chiefly based on the Price List block by Getwid.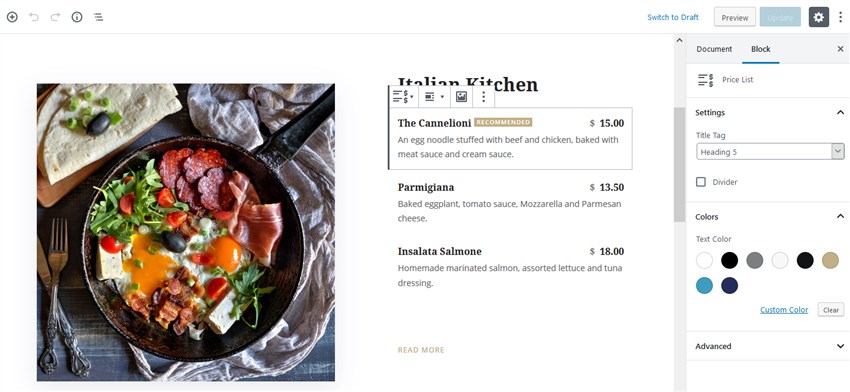 It's really easy to give it a completely different look: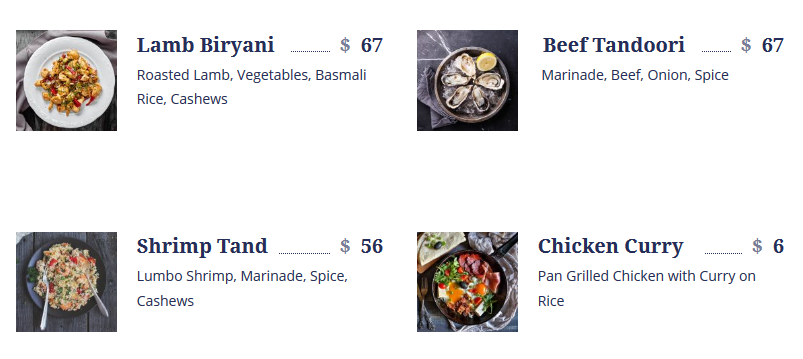 A page dedicated to amenities, services and offerings you might want to place a special focus on. It comes with a combination of differently styled blocks: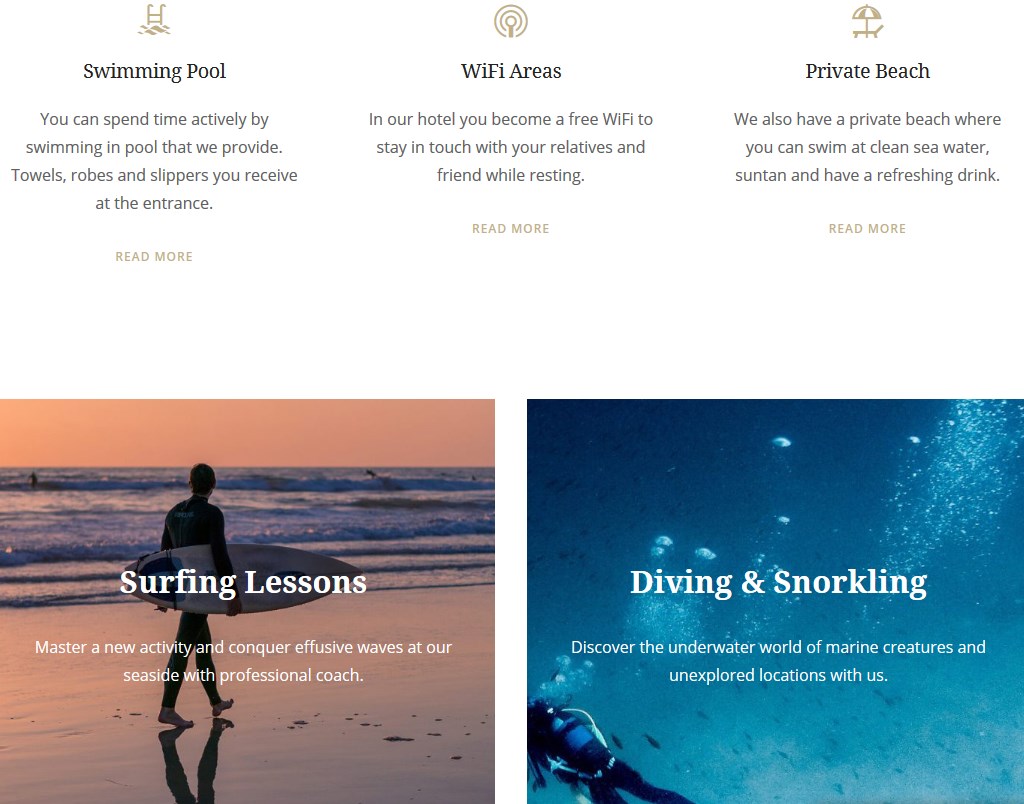 An informative About us page, which allows to present your team, amenities, services and more.
By the way, if you like the design of those blocks, Gutenberg allows to transfer ("reuse") them on any other page!
Post and custom post type-related blocks, which are made for presenting earlier added data: showcase it in sliders, grid or list galleries, etc.
These blocks also provide the flexibility to create a tailored slider look with a customizable template.
What's more, Getwid has built-in integration for Google Maps and Instagram through the respective blocks allowing you to connect these services without resorting to extra plugins.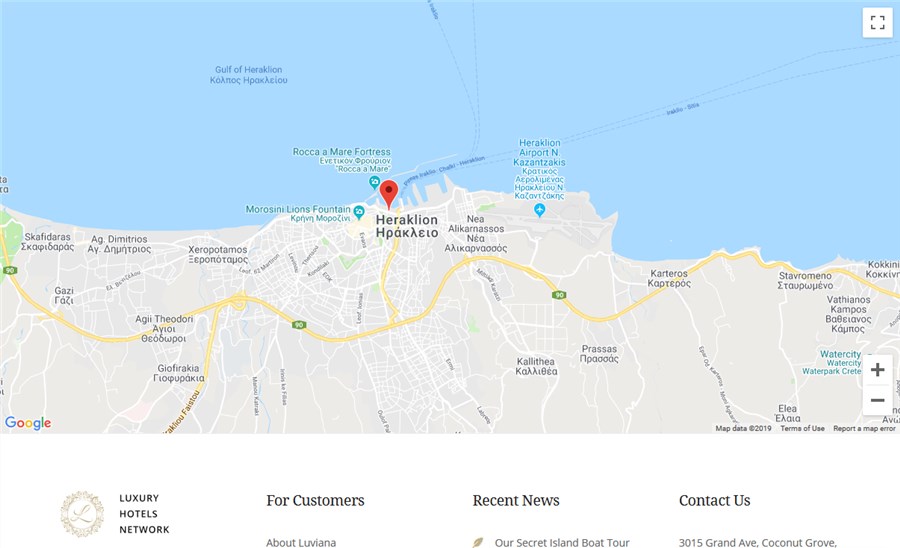 A huge advantage of this WordPress hotel booking theme is that it's made for the Gutenberg Block Editor from the ground up.
Custom-made Gutenberg blocks for the Hotel Booking plugin.
All major frontend-related blocks for the Hotel Booking can be customized as regular Gutenberg blocks, in real-time. These include the availability search form, the directory of properties/rooms, a single property, the availability calendar, the booking form, etc.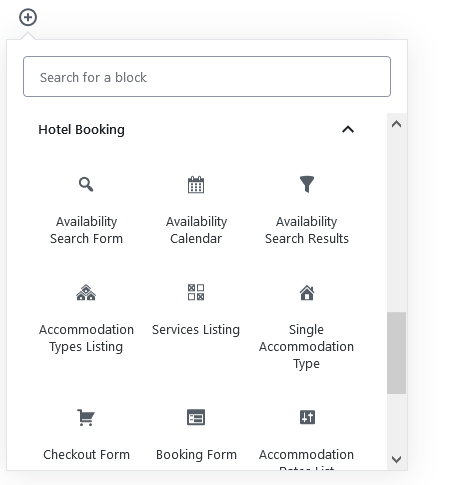 Each block is supplied with the toolchain for layout settings, content presentation, behavior, and more.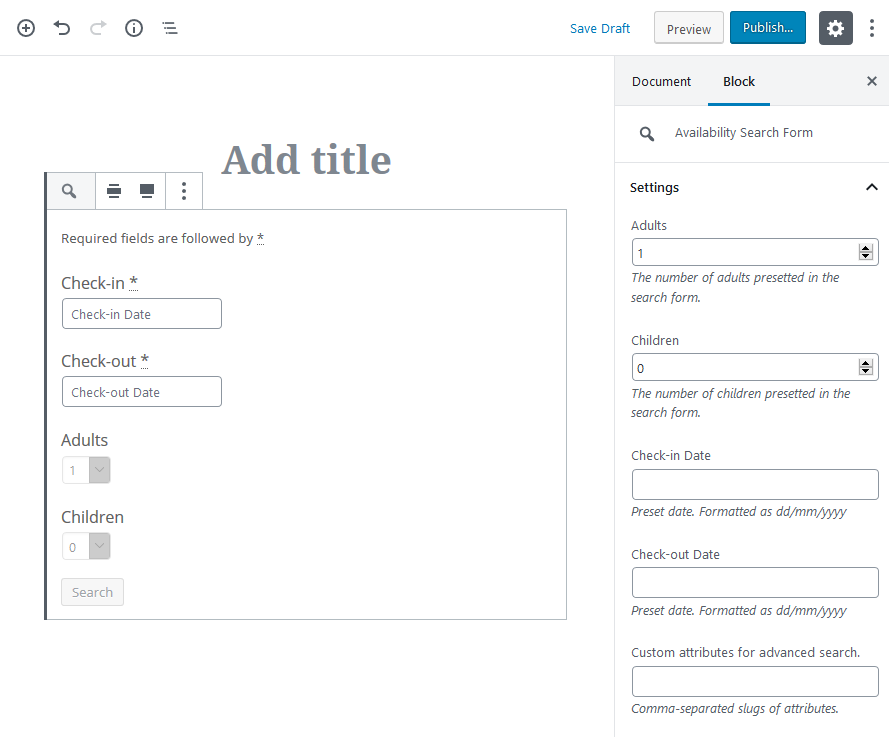 WordPress Customizer settings.
You can customize the background and header menu colors, add widgets to the footer, upload the logo and type a tagline, etc.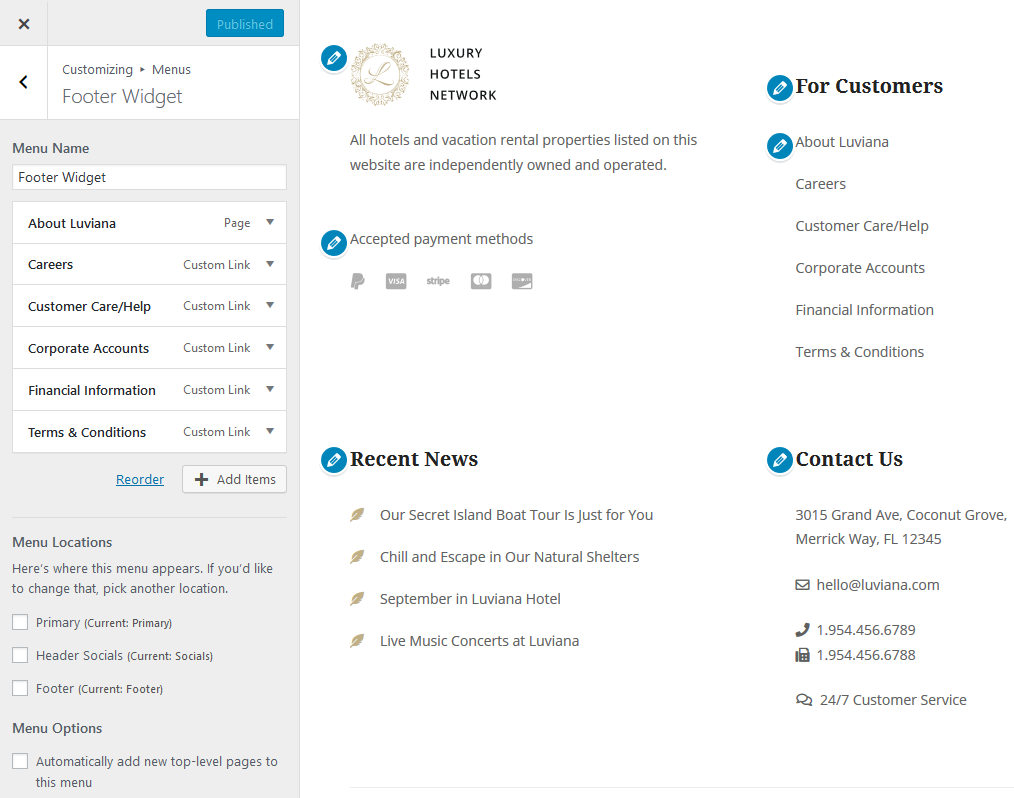 The front page blocks and overall design
Luviana's design is dandy, slick, and modern. It offers pixel-perfect accuracy, lightweight content blocks (even those of motion), and informative menus. The dark and light contrasts create a great hierarchy for perfect readability.
The top navigation menu is pretty classic and straightforward: guests can either start surfing the website or check your presence in social networks (you can have any social icons there).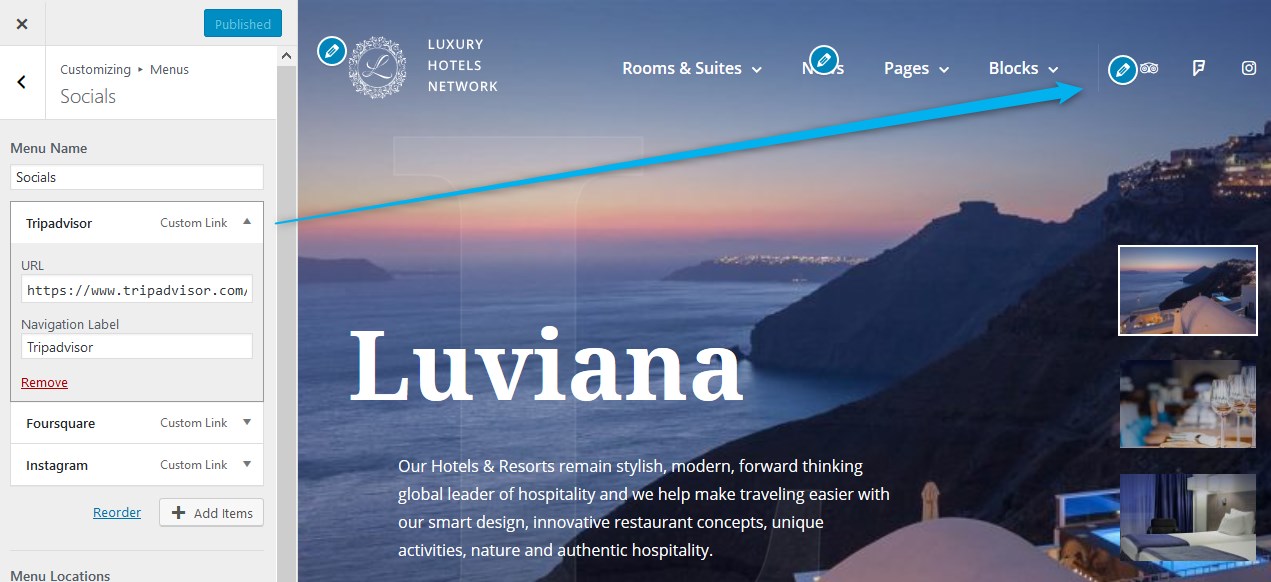 On smaller screens, the menu is automatically resized to a compact hamburger menu.
The is available in two layouts:
A wide-width fixed layout to keep a preferable website structure all the time and provide perfect mobile and tables browsing experiences.
A fill-width automatically resizable layout for deeply immersive browsing (it helps you make your imagery or videos much bolder).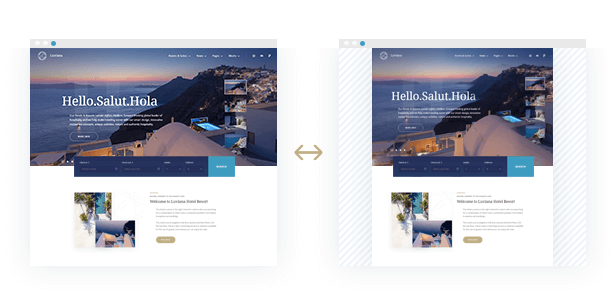 The front page header slider (a hero welcoming slider) is ready to impress your guests right away – showcase the property, lifestyle or brand images with as many sliders as you wish. This slider in Luviana is crafted the WordPress way (by employing native child and parent WordPress pages), so you should never worry that it may affect the website speed or performance.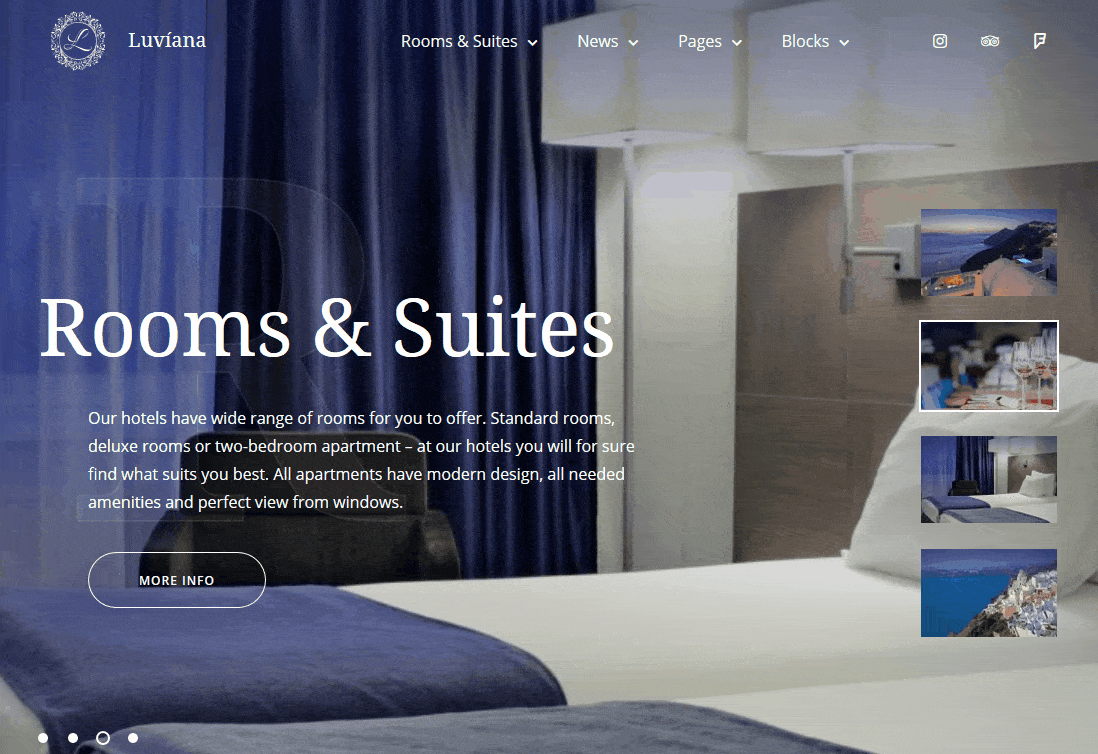 The slider images are the normal WordPress page featured images. By default in the Luviana booking WordPress theme, those slides are linked to the dedicated website pages – a restaurant, a specific property, etc. Add a "Read more" tag to those pages and you'll get a petty brand theme button in the slider!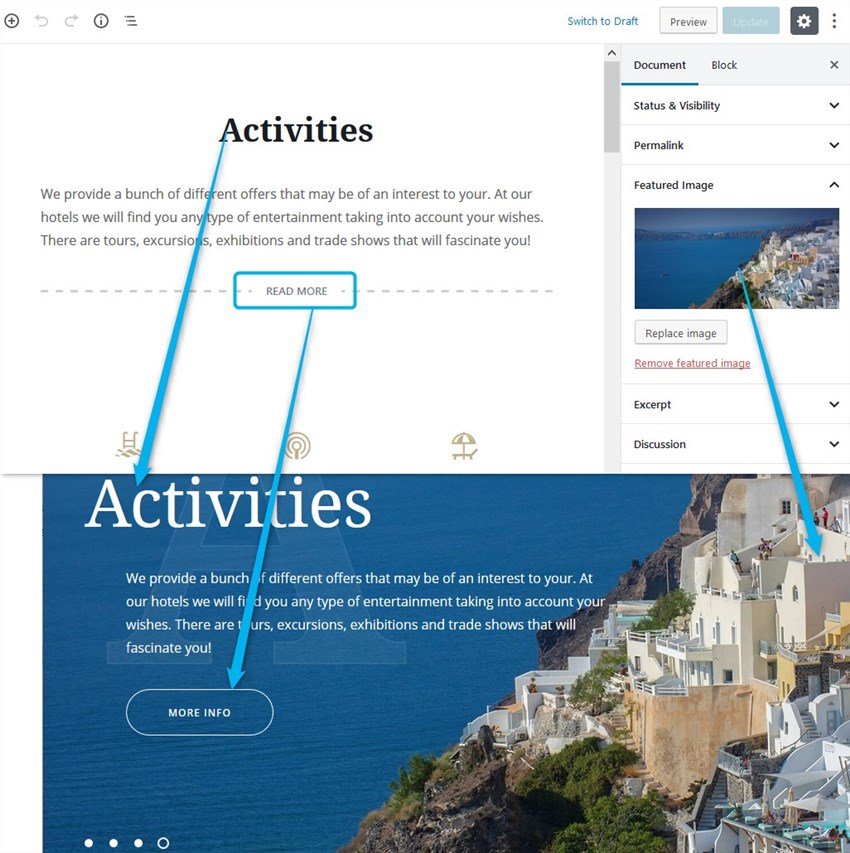 You may employ this slider to not just showcase your standout images, but also send guests directly to the needed offers, discounts, events, properties and the like. Consider it a very clever call-to-action mechanism!
Almost every section of the front page is set to communicate different features and ideas yet has a good space for the attention-grabbing imagery – either in a small gallery or as a full-width background image. Playing with offset layout, like in the case with the Testimonials, you can create a truly modern website look.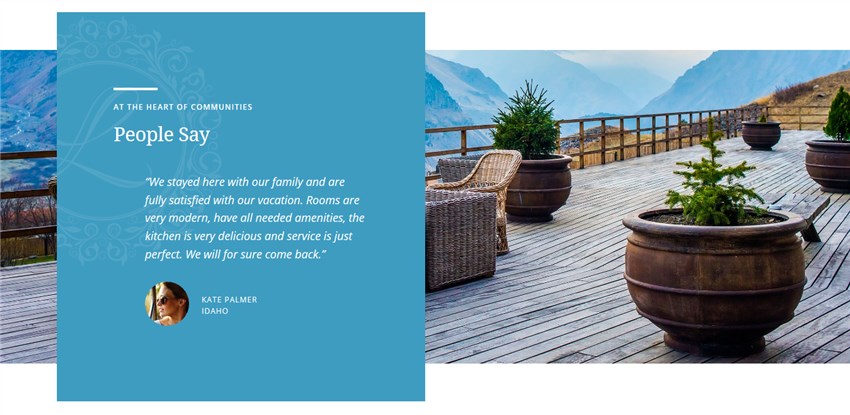 If you need to enable guests to look for a needed property by means of a traditional search form, it's already there in Luviana. The search form is generated through the MotoPress Hotel Booking plugin and you are free to add custom fields to this form.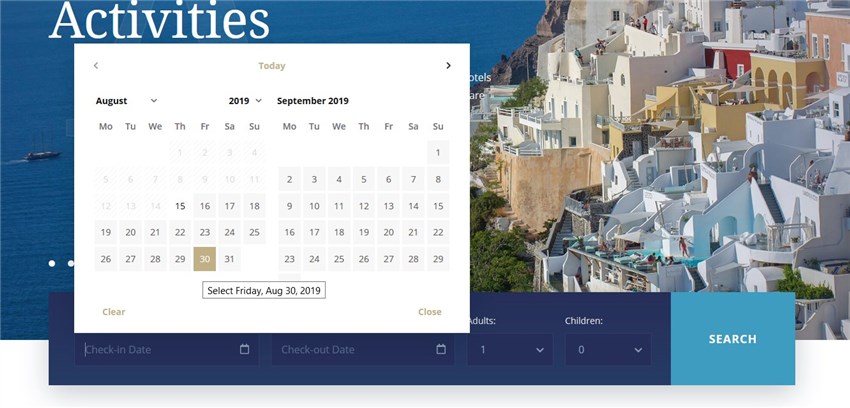 For example, you can add a "location", "property type" and other fields through the 'Attributes' plugin menu – as many as needed. They will be used as extra filters, which will allow your guests to tailor the search quicker and better.
You may also place this form on any other website page to offer guests the convenience of booking on whatever page they are.
Of course, we didn't leave a traditional conversion-boosting element behind: there is a dedicated testimonials area with a very eye-catching design that allows for balancing text content with the visual side.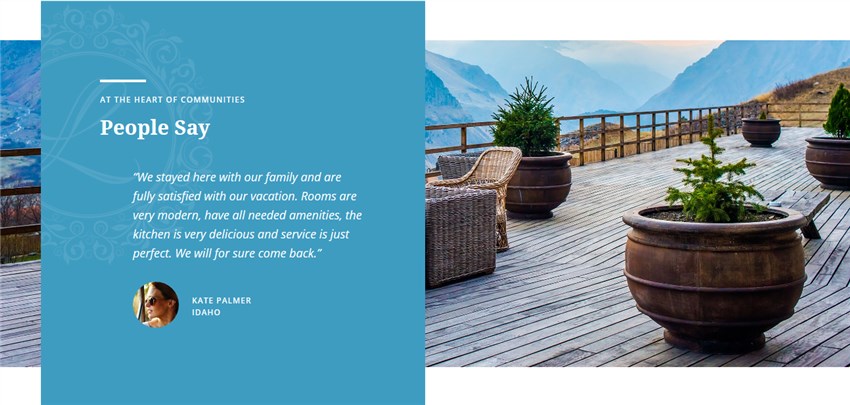 Utilize it to impress prospective clients with the most informative and favorable social proof from past guests. This section is crafted with the Testimonials block by Getwid, so you may manually adjust its look and content.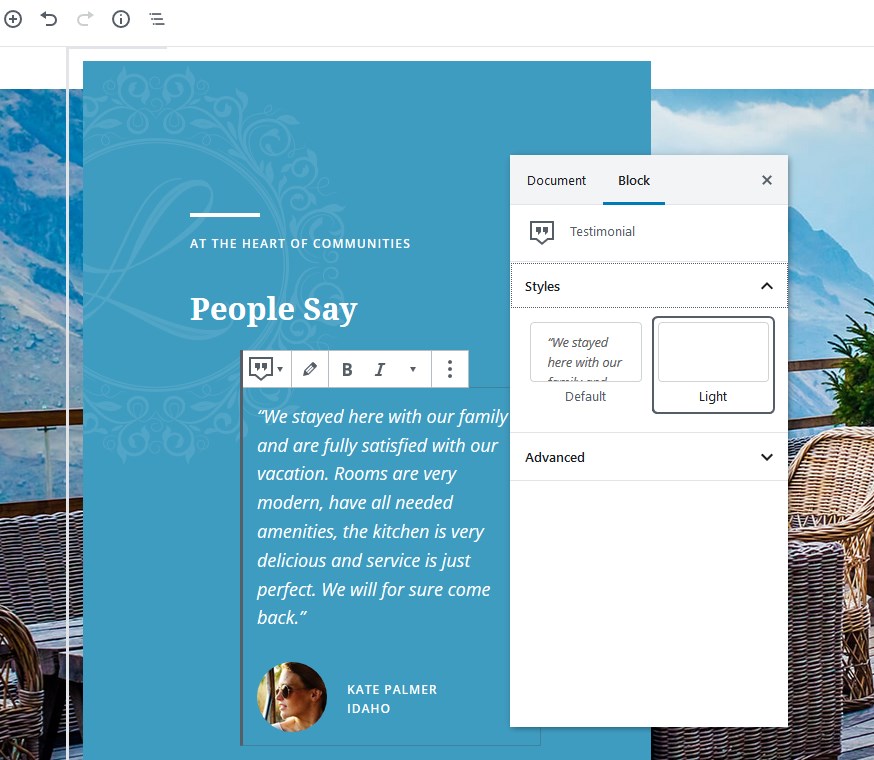 However, if you prefer to allow guests to leave reviews and ratings by themselves, it's possible to add this functionality in clicks with the dedicated Hotel Booking Reviews extension. This add-on enables guests to write reviews and evaluate your property by different criteria. You'll be able to moderate all of them through the native WordPress Comments system.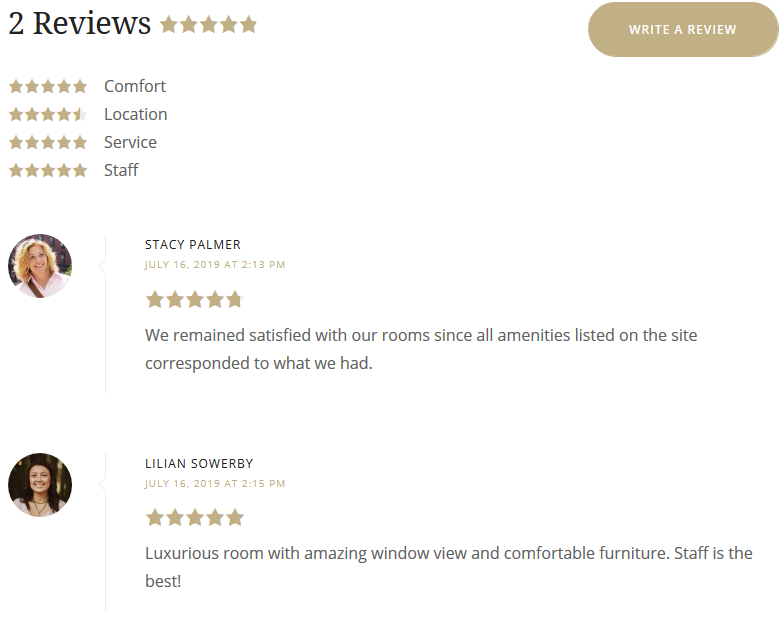 A restaurant section on the front page uses a combination of blocks to make it look appealing: the Advanced Heading block, the Image Box block, and the Accordion tab block for structuring information about food catering service at your place.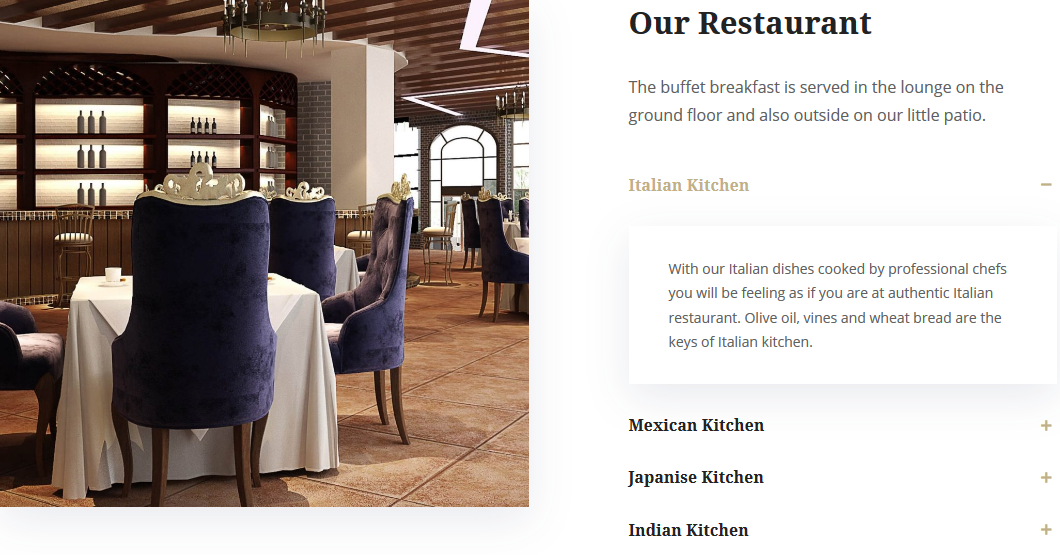 There are multiple ways to create a photo gallery and entice guests since you can use any media, slider, or gallery-dedicated block. Getwid offers several blocks of this kind to unleash your creativity.

For example, using the Image Stack Gallery block by Getwid, you can create bold and fancy photo galleries to evoke even more interest.
If you need to showcase a map by Google Maps, you don't have to look far to implement it, the Google Maps block by Getwid allows for easy integration.
How to display accommodations
The integrated plugin makes it easy to showcase suites you rent out – you can feature either all the rooms or just specific ones (by IDs, by category, by tags, etc.)
For example, you may feature only exclusive deals with custom tags (e.g. "discounted"), bestsellers, only specific types of rooms (e.g. economy double rooms), etc.
In the default Luviana demo you can see that only manually selected rooms are shown: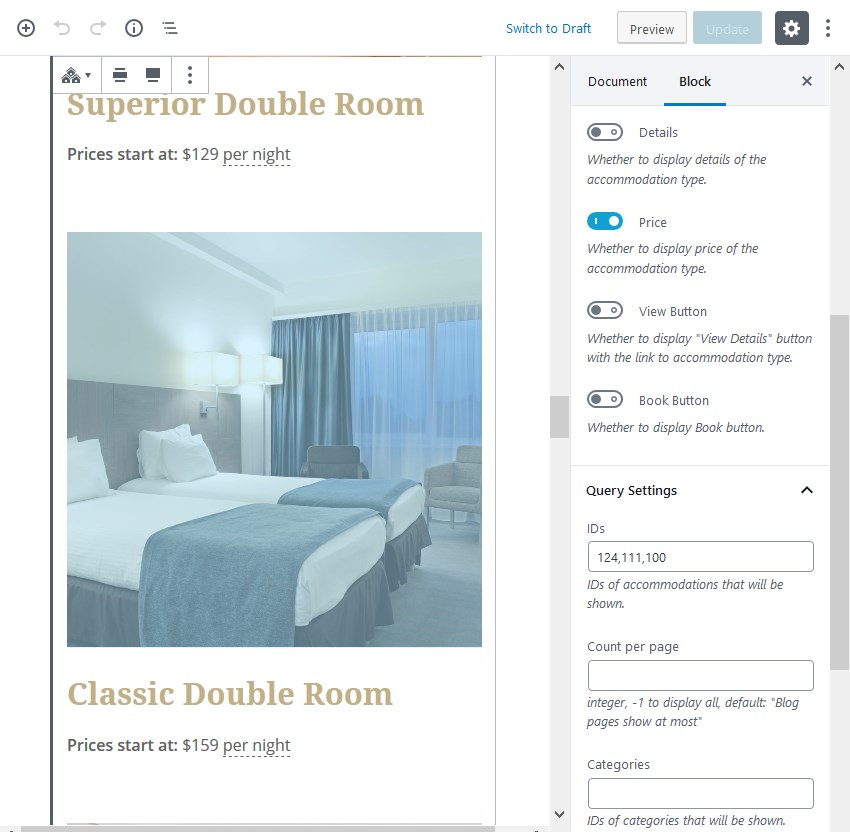 And here is how they are styles on the front page: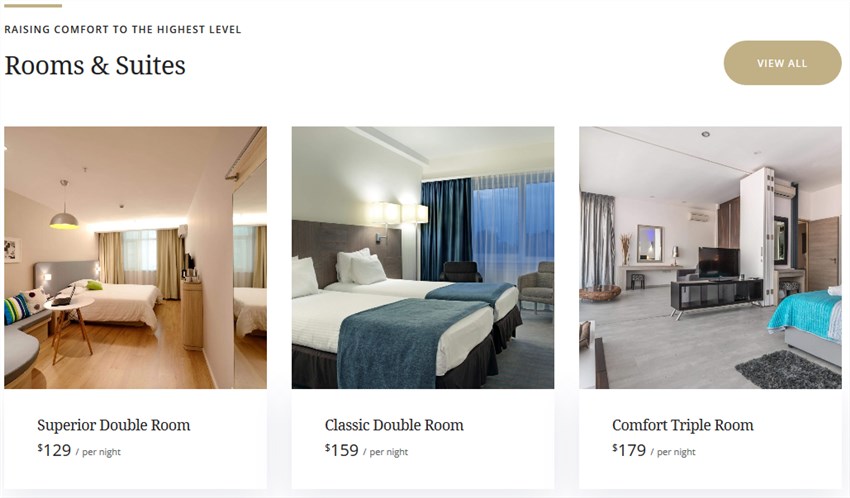 It's easy to decide which accommodation details need to be displayed: switch toggles to show or hide a short description, an image gallery, a price, a book button, etc.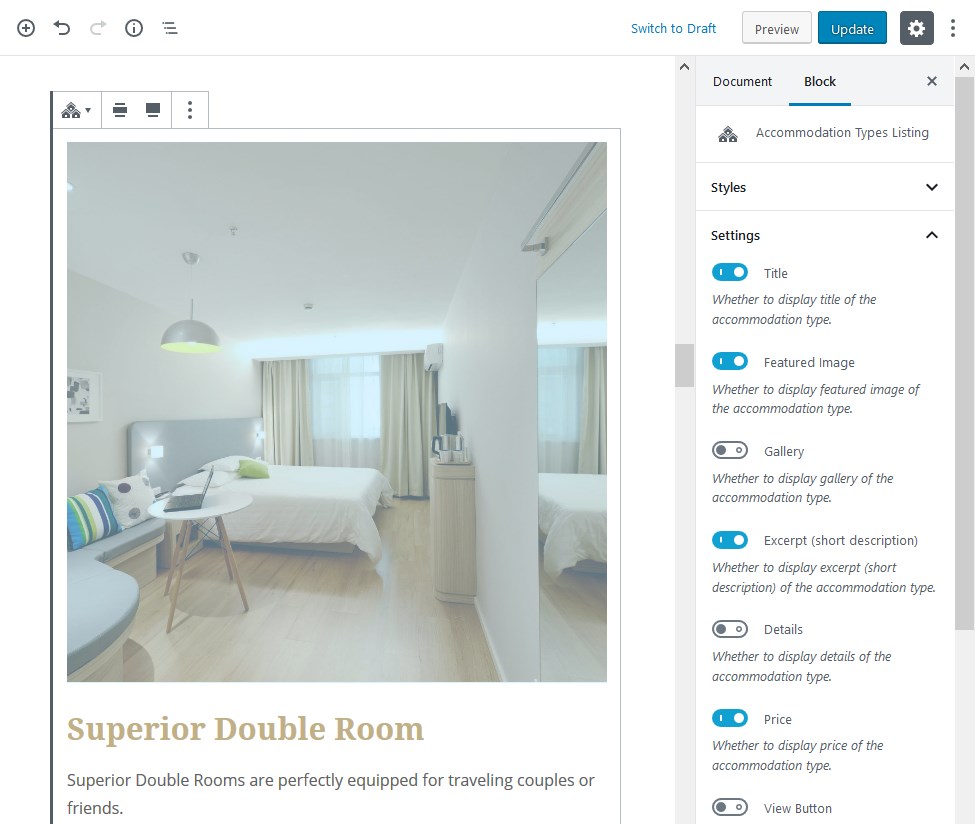 Let's add the "Book" button and display more room details: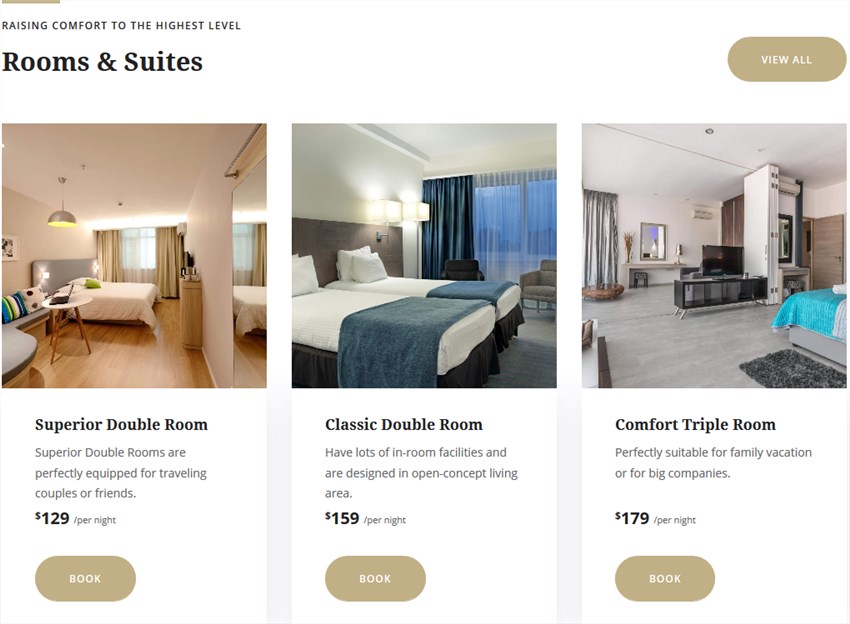 As you can see, this Gutenberg block created specifically for the MotoPress Hotel Booking plugin will accelerate and simplify the whole customization process. This allows you to keep either a minimal or more informative look for your directory of properties.
A single property page comes with a fixed booking form in the sidebar, so it's easier for customers to proceed with a booking process while they're reading details of a suite.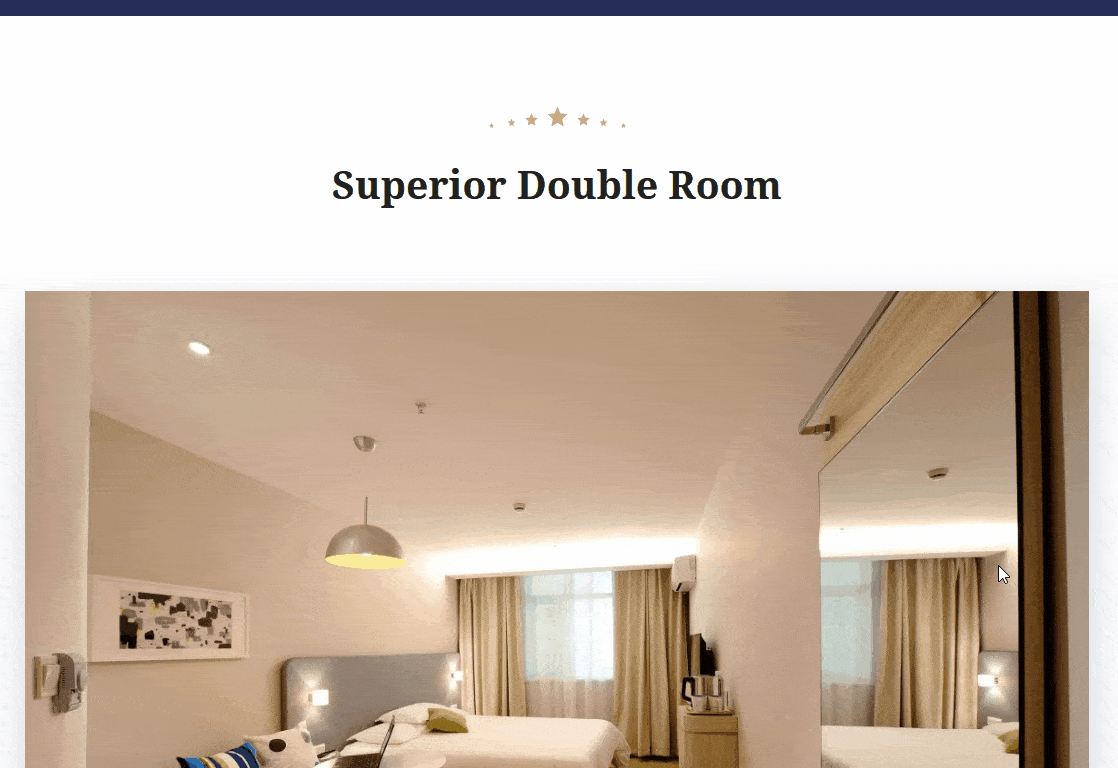 Available layouts for listing rental properties
To make the Hotel Booking plugin completely ready for the WordPress 5.0 Gutenberg Editor, the former is supplied with a bunch of goal-directed blocks. These blocks shift the focus from shortcodes to the visual editing in Gutenberg and makes the whole process faster, easier and more intuitive.
For Luviana, you can place a directory of properties by using the "Accommodation Types Listing" block on the front page or create a dedicated page for them. There are several custom-created layouts to present your rooms that you can set in the "Styles" tab in the block in question: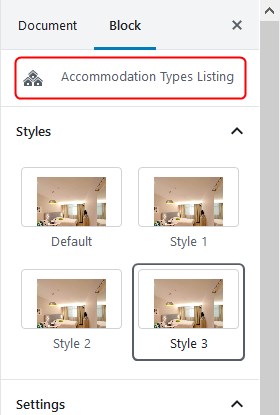 Default classic view (a list with a specific accent on large images).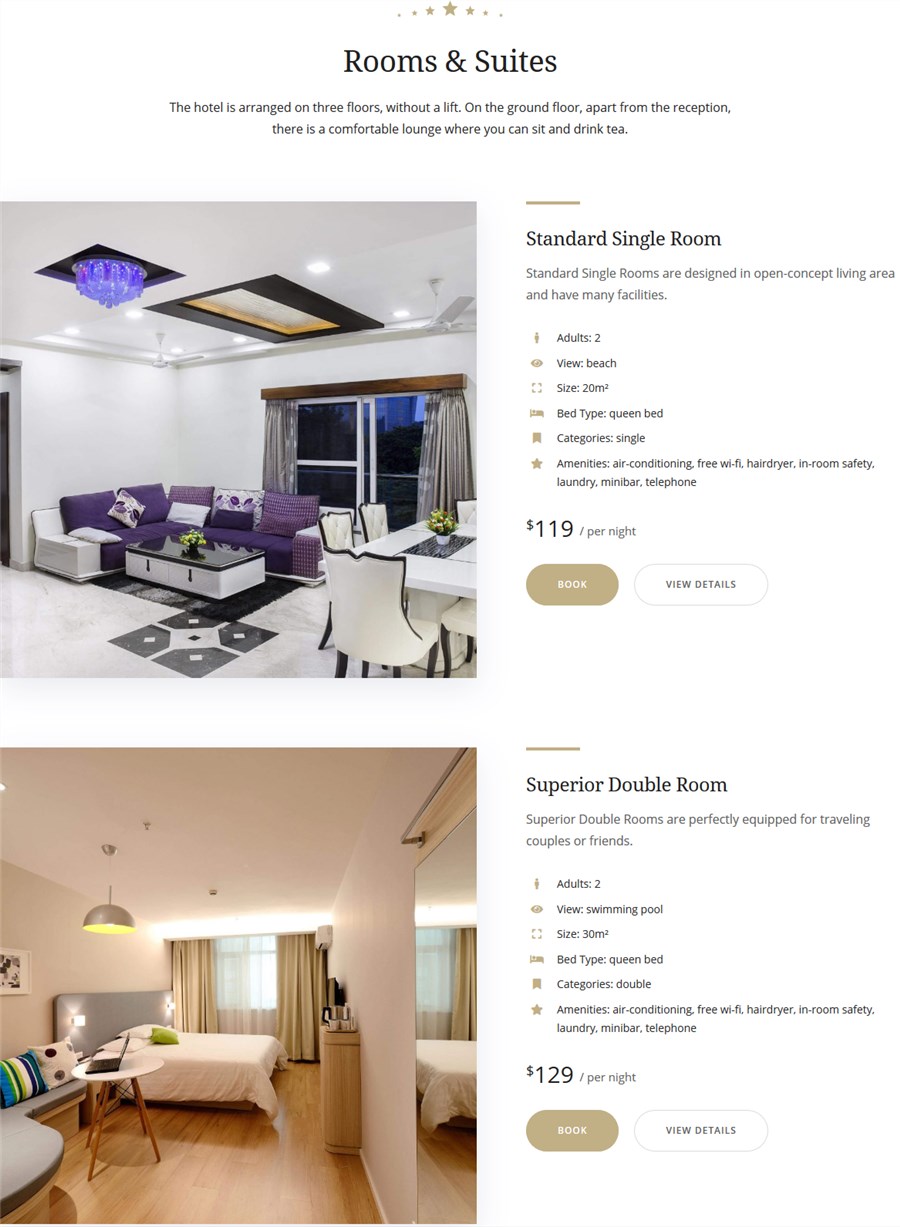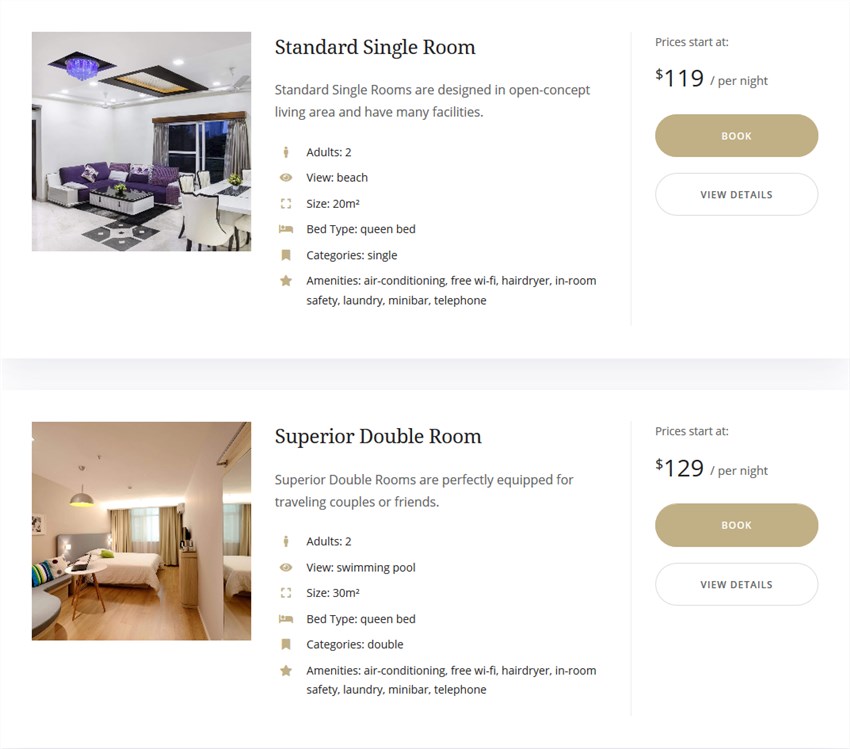 Style 2 for a traditional grid view.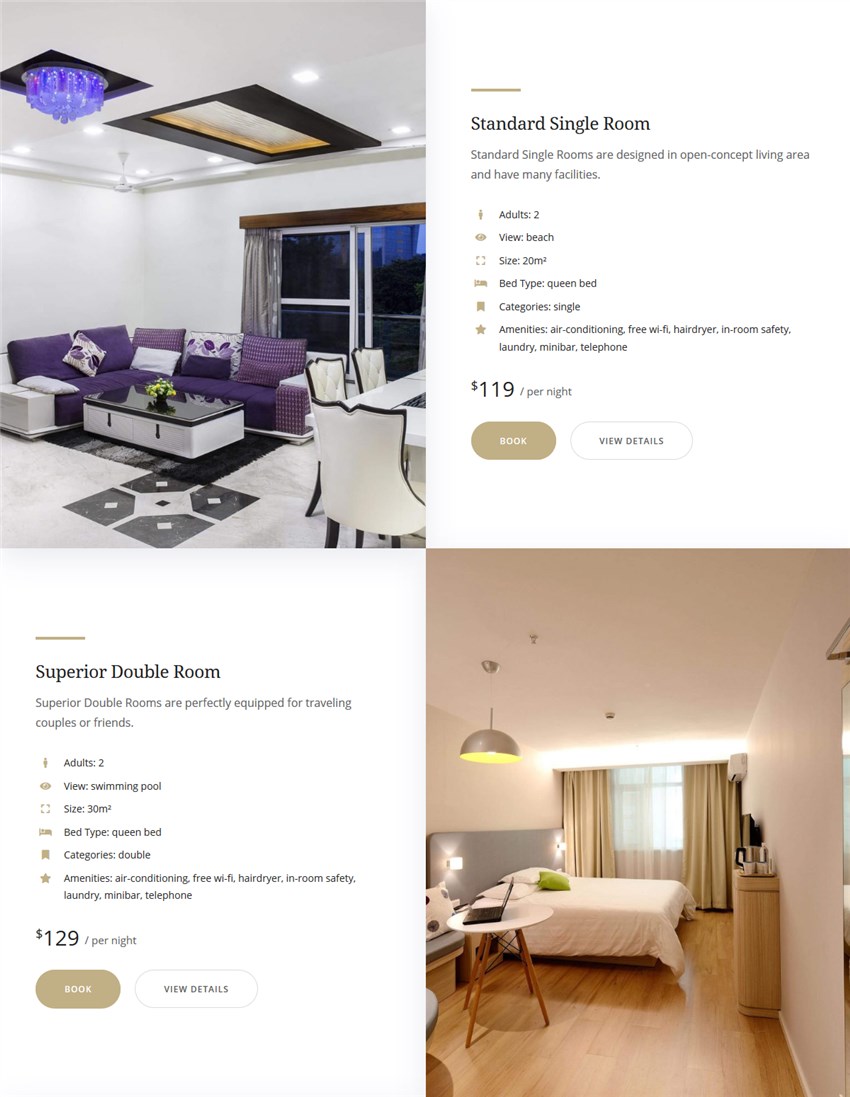 Style 3 for a minimal grid view.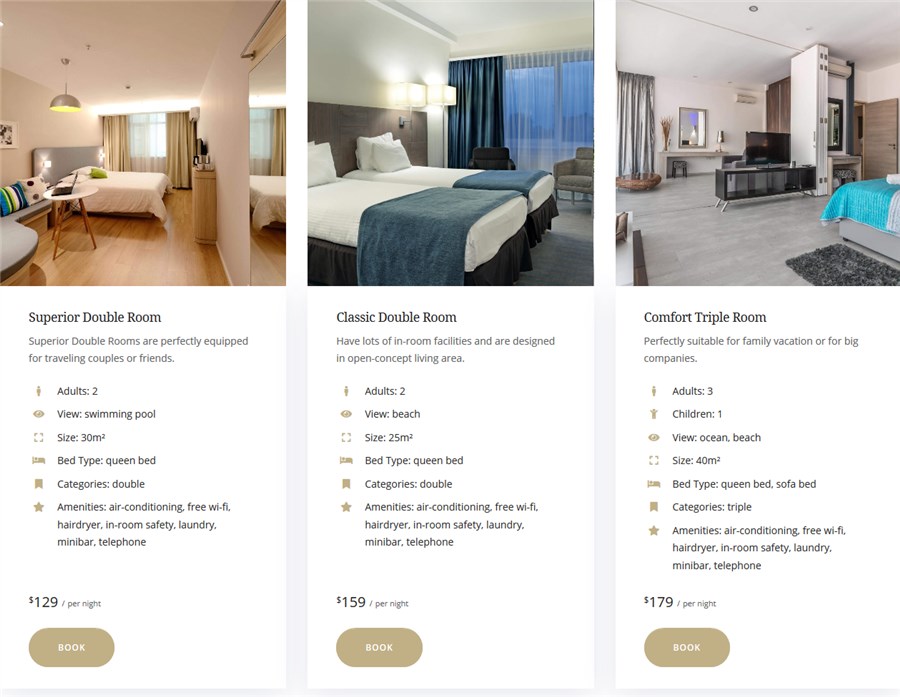 Regardless of the style you choose, the directory of properties will be restructured into a list on smaller screens still delivering perfect mobile browsing and booking experiences to your guests.
Major features of the integrated WordPress bookings and property management system
The MotoPress Hotel Booking plugin houses all the tools of the PMS and the reservation system in "Accommodation" and "Bookings" menus. And it's included for free!
Let's clarify the essentials of the plugin:
Add and edit any number of accommodations of all types, each suite with its own availability calendar (booked days are crossed out).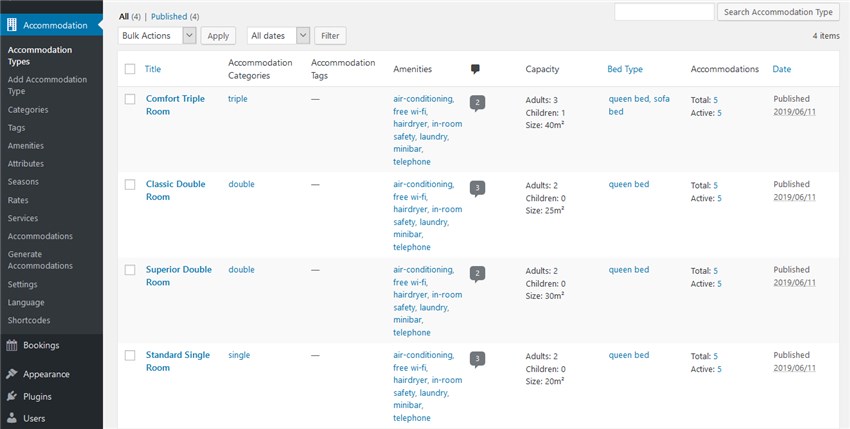 Create a real-time search form with optional custom search filters.

Apply a tiered pricing system to a base rate depending on different conditions: time of the year, custom season, length of stay, the number of adults and children, custom discount coupons, etc.
Sell or offer for free extra services and products.
Charge travelers tax-wise and include fee charges into the base room price.
Online bookings via multiple payment gateways (painless WooCommerce integration is possible).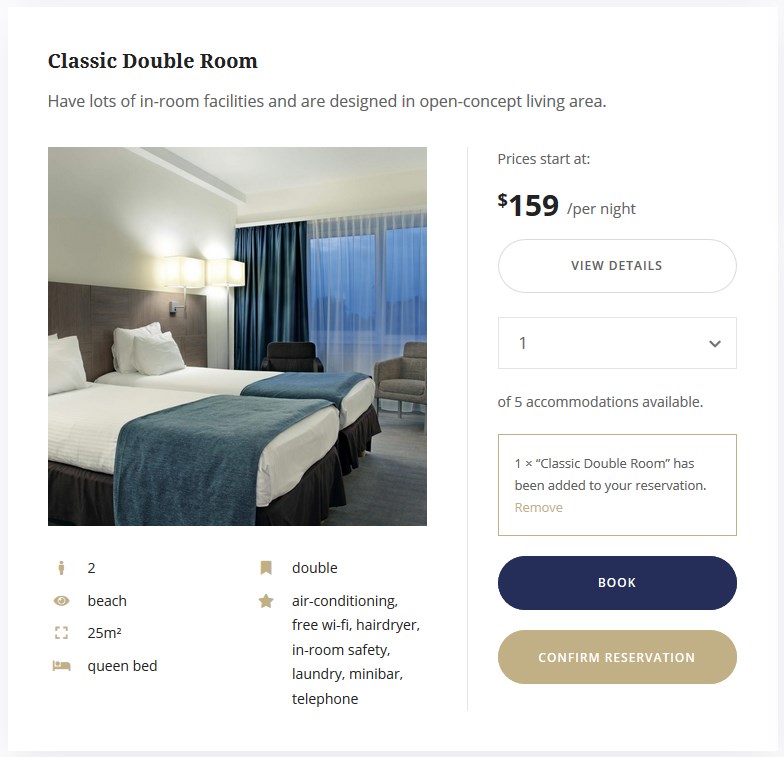 You might be also interested in other vacation rental themes enhanced with this plugin for free: Booklium, Oceanica, Alpenhouse, and more.

Conclusions: the only hotel booking template you need for a small luxury or boutique hotel
Luviana is a result of thoughtful, passion-fueled and strategy-driven design for hospitality business. It gives off something of an urban vibe and classic shapes.
What's unique, it's quite a multipurpose solution for any type of hotel, vacation rental or bed and breakfast establishment: you can begin with a simple brochure website and develop into a fully-fledged reservation platform of your own. The blend of elite features, support, performance and price of Luviana allows you to do that smoothly.
Luviana's reliance on the premium built-in MotoPress Hotel Booking plugin will help you keep all the property management system and bookings safe even if you decide to switch the theme to update the look of your website.
Thanks to Getwid, this WordPress hotel booking template is joy to customize. The theme is completely adapted to the new visual editing experiences Gutenberg provides – and is basically crafted with Gutenberg and Getwid from scratch.
We're still tackling more real business-fueled solutions in the lodging business to meet more needs and tastes, so we are really happy that Luviana WordPress theme booking solution is now available to you!
*Luviana premium Hotel Booking template for WordPress is available for free usage on unlimited websites for all MotoPress club subscribers.

Can I use the Luviana hotel WordPress theme for a single apartment?
Sure, you can use this theme for single or multiple apartments. Thanks to the customizable booking engine, you are free to leave only the arrival and departure date fields so that potential guests won't need to input any other details.
Do I need to pay extra to use local payment gateways?
The Hotel Booking plugin packed with Luviana supports PayPal, 2Checkout, Braintree, Stripe, or Beanstream/Bambora for no extra cost, but if you need any other gateways connected without hassle, you'll need to buy the WooCommerce addon.
What is the best way to customize Luviana?
We recommend customizing Luviana in the same way it was built – via the native WordPress block editor. It gives you huge possibilities as to tweaking the theme styling, adding new content blocks, and working with the Hotel Booking plugin.