MotoPress Content Editor Updated Version 1.4.2
MotoPress Content Editor version 1.4.2 is now available. This release introduces important updates and major enhancements.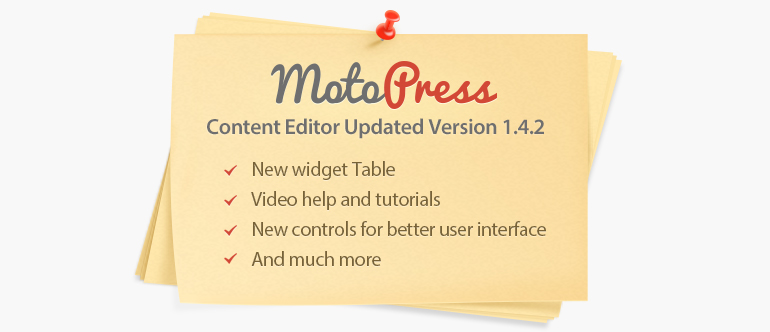 We recommend all our users to update the plugin as soon as possible, as it is really significant to keep MotoPress up to date to take the best advantage of it.
What's new in version 1.4.2
Widget Table
This new widget enables you to add and manage tables on your website. No HTML knowledge is required, MotoPress convenient interface allows users to simply edit the table data. It's easy to fill the table with your own information, add numbers and words.
Bug fix: fixed issue with the Page Builder plugin
MotoPress developers prevent collisions with the Page Builder plugin.
Video help and tutorials
Easy-to-follow video tutorials will help you to understand the functionality of the plugin. Thanks to these step-by-step guides you'll quickly find answers to all your questions. They are available for you on a twenty-four basis.
Added the ability to change a post title right in the editor
You don't need to switch to the default WordPress editor to set the post title, now you can change your text right in the MotoPress working area.
Added the ability to set 50 and 100 pixels for the space around an element
Now it's possible to set spaces individually for each side of the element. In other words, you can define the whitespace between all your website components.
Added new controls for better user interface
New interface controls enable you to verify the functionality of your website and help to implement its visual editing.
Minor bugfixes
Previous update 1.4.0
Widget Audio
This widget provides support for using audio files in WordPress articles. It helps easily embed any mp3 via Media Library and external URL.
Widget Tabs
It's a very useful tool to display different content in a single widget. This helpful tab saves space and makes the appearance of your website clean and well-structured.
We've decided to share MotoPress bug fixes and implemented feature requests by using it. Look through the tabs below to see MotoPress enhancements in version 1.4.0.
Note: Update is available only if your License Key is activated.
That's all for today. New features and enhancements will be added on a regular basis. Stay tuned!