Choose Your Best WordPress Plugin for Service Scheduling In 2023
Here to find the best WordPress plugin for service scheduling? We are here to help!
Appointment booking software, plugins for service scheduling, online booking engines – no matter which name you call them, they carry out the same function. Namely, such WordPress plugins facilitate your website management, and also, make it more comfortable and functional for potential clients. Not to mention, recent studies reveal that 67% of internet users expect businesses to have an online appointment booking feature.
How Profitable Is Best Service Scheduling Software for Businesses?
There is no doubt an online scheduling plugin for a "service company" is a must-have. This relates to any service-based business: a beauty salon, hotel, restaurant, tutoring school, etc. A good booking system helps reduce side costs and achieve higher efficiency of the business process.
That's why investing in the best WordPress plugin for service scheduling pays itself off. If you are interested in our top 8+ service scheduling plugins for WordPress, keep reading!

Top 8+ Service Business Scheduling Software 2023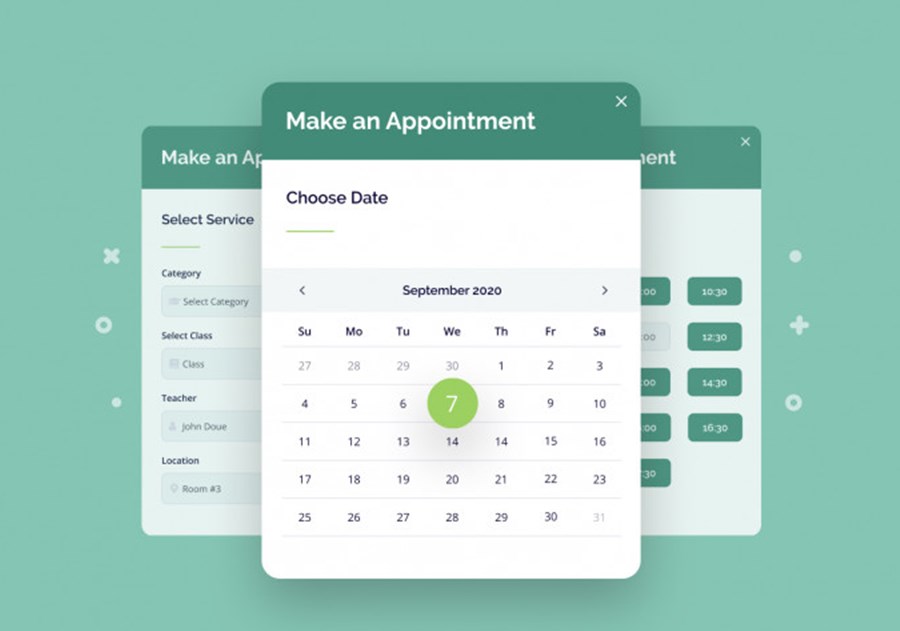 The first one on our list is the MotoPress Appointment plugin. This software is universal for all business niches based on hourly appointments. It facilitates staff planning and management of Elementor booking forms, or forms of any WordPress page builder.
Now, let's get down to the scheduling functionality. Our plugin supports custom booking slots and allows you to add buffer times between appointments (for clean-ups, breaks, etc). The MotoPress scheduler supports an unlimited number of services, employees, and locations meaning it suits businesses of different sizes: from solopreneurs to large-scale chains.
Admins can set individual profiles of each employee with their description, photo, and a detailed schedule (with lunches, breaks, and days off).
For customers, the plugin provides a convenient 4-step booking calendar. First, they choose the service, employee, and location. They proceed with selecting the date and time. Users may then continue adding more appointments because they can pay in one sitting. Finally, they confirm the checkout and make a payment via PayPal, Stripe, Direct Bank Transfer, or upon arrival.
If you want to dive into the functionality of the MotoPress booking plugin for appointments, click the post.
Check out the collection of WordPress appointment booking themes that come packed with this plugin's functionality!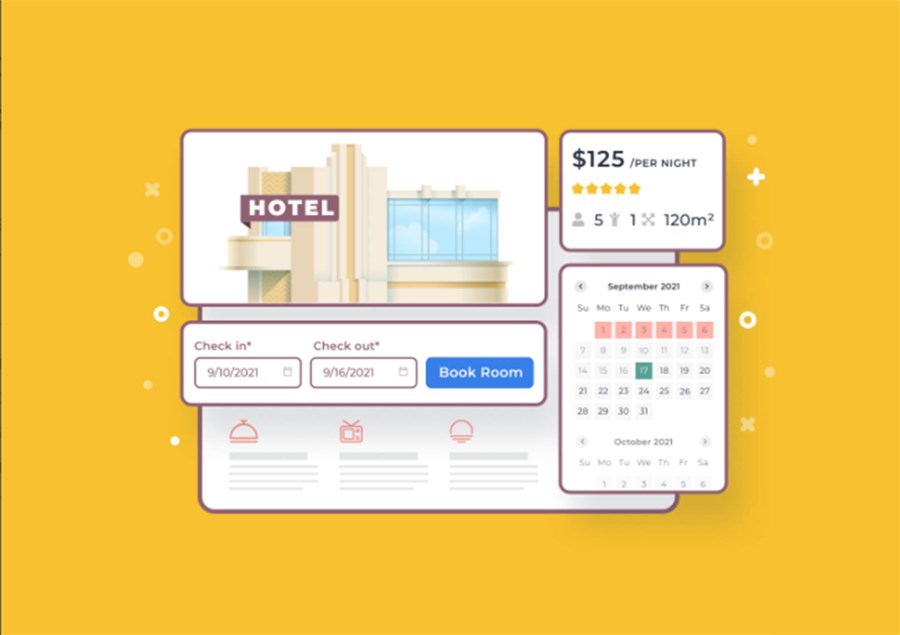 The booking software for hotels might be slightly different from the software for hourly appointments. However, we may still consider hotel rental as a service. That's why our best-selling Hotel Booking plugin is here on our list. This MotoPress plugin works perfectly for hotel & accommodation rental while providing a simple booking interface.
The Hotel Booking engine allows you to accept online bookings, create real-time availability calendars for each accommodation, and process online payments. It comes with an iCal sync system allowing you to sync bookings from other platforms like Airbnb & Booking.com.
You can list and describe each accommodation type, and if you wish, add extra services (breakfast, airport transfer, etc) to the final receipt. The plugin also provides flexible pricing such as seasonal or refundable / non-refundable rates, weekly or monthly rates, and variable rates (varying based on length of stay or number of guests).
The site administrator can manually confirm reservations or oblige guests to confirm their reservations by email or payment. The plugin even lets you manage bookings via a mobile app.
Read more: Meet Best WordPress Hotel Booking Plugin for Rental Properties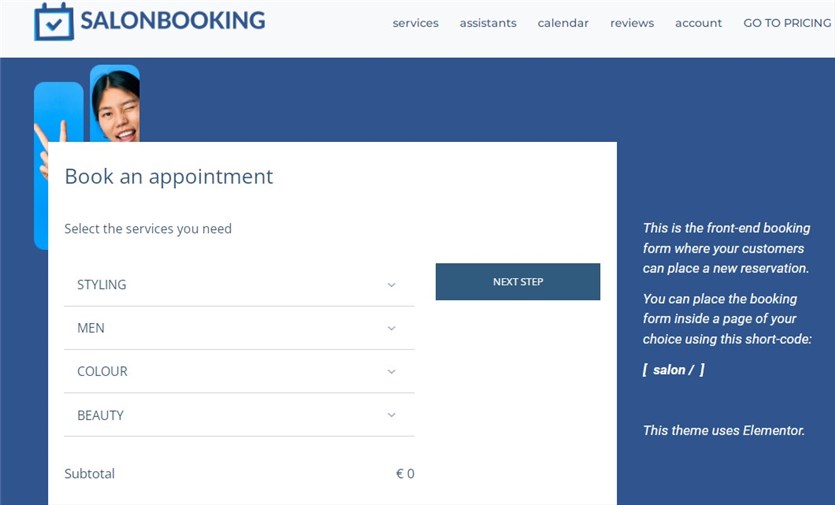 Coming down to appointment scheduling engines, we'll continue with the Salon Booking System. Despite its same, the plugin is not limited to beauty salons but also, spreads out to any appointment-based business: spas, doctors, clinics, fitness studios, equipment rental services, etc.
The plugin has functionality for all everything you think you'll need for a plugin of this kind. Just like the MotoPress plugin, it supports unlimited services, and assistants. The services can be categorized by location, staff member, service, date range, etc. services. Each of them can acquire a custom duration & pricing and can be either an individual service or a group session with a customizable number of participants.
The back-end booking calendar supports offers daily, weekly, and monthly previews of your bookings. This is where you change the look of your booking calendar, namely the colors and text.
Salon Booking supports integration with Google Calendar, includes email & SMS notifications or SMS reminders, and even allows you to collect reviews on either your website or social media. The available payment options are PayPal, Stripe, Square, Paystack, Mollie, and Redsys. Moreover, the plugin provides options for leaving tips for the service and the ability for clients to use coupon codes.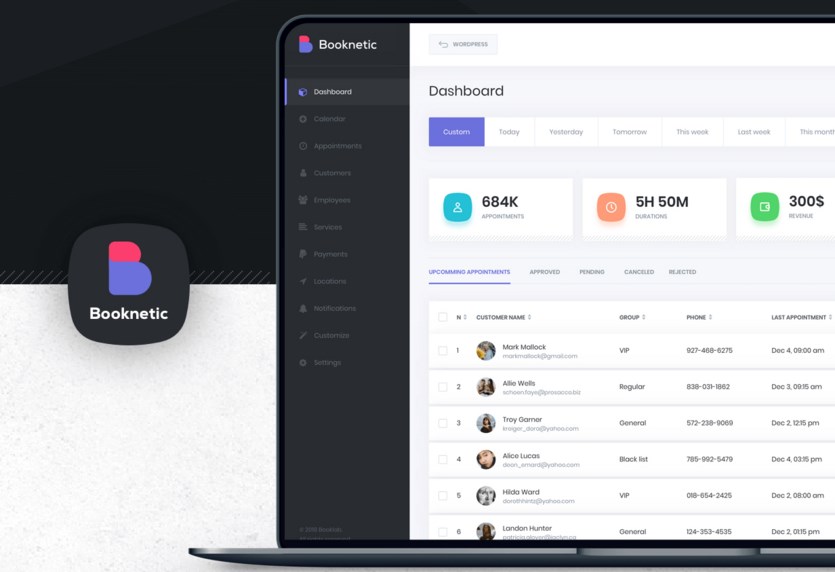 Booknetic is a business scheduling software that offers various features to help businesses manage their appointments and bookings. Booknetic also has an intuitive drag-and-drop interface that makes it super easy to use even for first-time users.
The plugin is great for handling online bookings and appointment management for small businesses such as hair salons, beauty parlors, spas, therapists, and more. The software is designed for small to medium-sized businesses in the service industry.
Booknetic lets you manage bookings & appointments, create customizable forms, and take online payments. You can also offer discounts & coupons, send automatic reminders, track your staff performance, and generate reports.
Another great feature of this software is that it integrates with popular payment processors such as PayPal and Stripe so you can accept online payments for your services. Divi Page Builder allows you to create custom booking forms.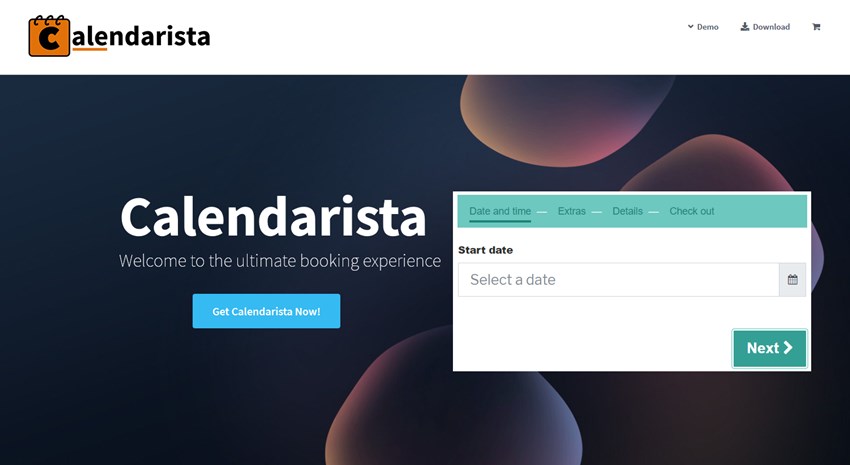 Calendarista is designed to make online booking as fast and convenient as possible for your customers. The plugin is a universal service scheduling software for small business. It works not only for appointment-based business but also for hotel and car rental niches, travel agencies, restaurants, etc.
The plugin accepts online (Paypal, Stripe, and 2Checkout) and offline payments. You can easily duplicate services, auto-generate timeslots, create seasonal rates, and accept round-trip bookings. You can accept single or multiple bookings on the same date. You can also import or export iCal feeds. CSV export functionality is also available. Webmasters can charge an upfront deposit for bookings.
Calendarista supports WooCommerce and a customizable Form Builder, as well as addons like Google Maps to set up arrival and destination points, calculate costs, and many more.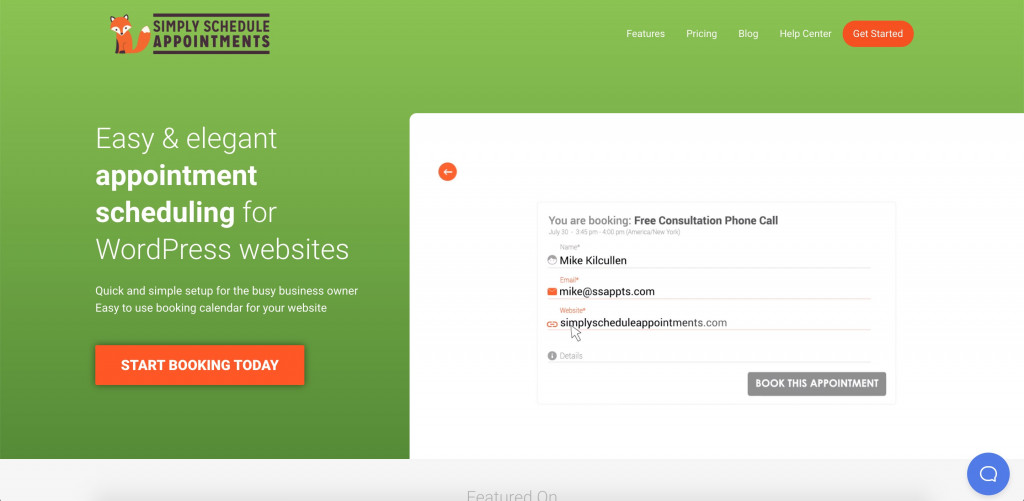 Another candidate to claim the award of the best WordPress plugin for business scheduling is Simply Schedule Appointments. You will find this solution easy to follow and manage. Its goal is to give you all the important features you need without adding any bells and whistles, which you may find unnecessary. The highlight of the plugin is the ability to prevent a time slot from re-booking.
To customize your calendar, you can use custom colors, fonts, padding, and contrast as well as apply custom CSS. The calendar includes sections for specifying rules, blackout dates, custom email notifications, and even calendar translations. You can add an Upcoming Appointments block to any post or page so logged-in clients will be able to see their booked appointments from their pages.
Besides the powerful list of features, this plugin also allows users to fully customize the look and feel of their schedule calendar to match their website and send email and text notifications and reminders. Simply Schedule Appointments integrates with popular tools like Mailchimp, Gravity Forms, and Twilio. And it's worth mentioning that it has a smooth integration with page builders like Elementor, Divi, and Beaver Builder.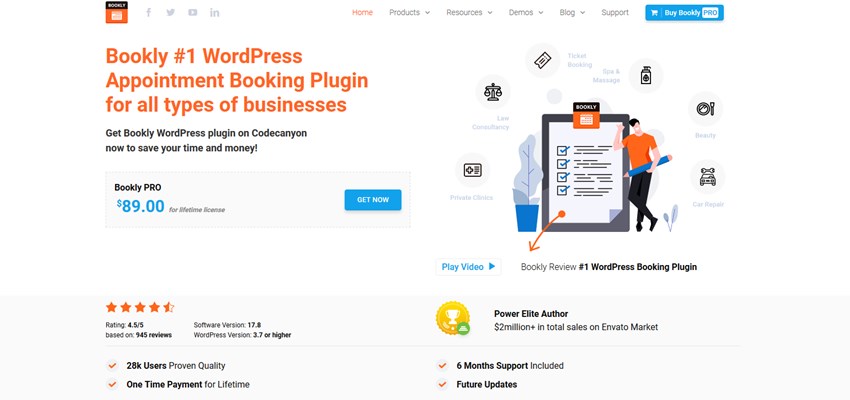 The title of the most popular online service scheduling software on CodeCanyon goes to Bookly PRO. It's a one-stop booking solution with (obviously) a simple and stylish booking form and an easy-to-follow interface.
Bookly works only for small-scale businesses based on hourly appointments. And frankly, it has the same number of functionality as all appointment booking plugins of such type. It allows you and your staff members to receive and send automated notifications about the confirmed or paid bookings. Also, you may connect each of your employees and their Google Calendars to any number of services available for booking.
Bookly also gives you full control over the availability of your employees. The plugin's calendar includes shift times, breaks, days off, and vacations in their schedules.
You can integrate Bookly with three payment systems: PayPal, Stripe, and Authorize.net. Also, Bookly is WooCommerce-ready and offers the ability to connect to a number of third-party systems using Zapier.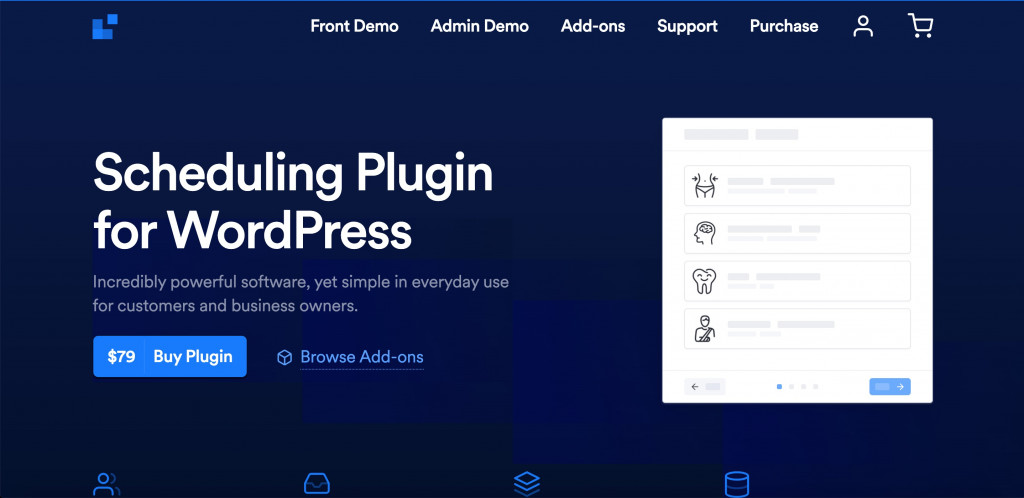 The LatePoint plugin for WordPress allows you to implement a customer service scheduling software in a few clicks.
LatePoint supports multiple locations for your services and a neat customer dashboard for convenient management. On the one hand, the plugin seems easy to follow with no extra complexity. On the other, LatePoint states it fits the needs of picky developers. To extend the current functionality, you'll need to use a few WordPress hooks and filters.
This plugin provides you with a dedicated setup wizard to help you create agents, add services, define opening hours, etc. To improve customer experience, you can use popular services like Google Calendar, Zoom, and Twilio, to either add a calendar, start a meeting or send SMS notifications.
The supported payment methods are PayPal, credit cards, pay on arrival, and a deposit of full amount.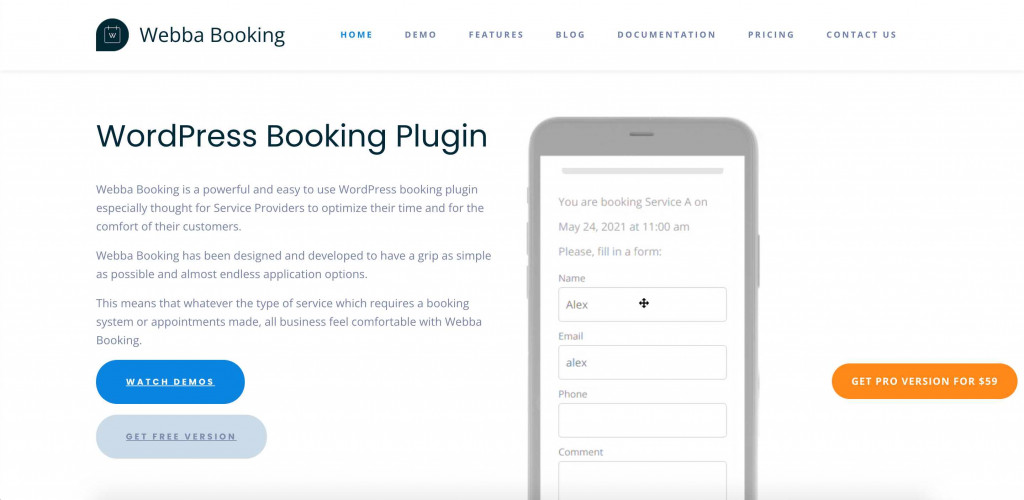 And here's the final pick for our top 8 best scheduling software for service business – Webba Booking. The Webba Booking calendar can be designed and deployed to suit the particular needs of your business and its business strategy. You can also add custom fields, manage unlimited members, and receive email notifications to keep customers interested.
Here's what we may refer to as the highlights of the plugin's functionality: support of multiple bookings in one session, over 80 customization features, group bookings, CSV export, and many more.
With Webba, you get unlimited email templates, online payment via 100+ methods (Paypal, Stripe, Woocommerce included), and a fully responsive design.
Final Word on Best WordPress Plugin for Service Scheduling
The current selection of WordPress booking software is impressive. We are spoiled for choice and should go from our preferences in the first case. Do you prefer a more advanced design functionality for your booking form? Or do you need a simple solution for just one employee without any design tweaks?
Note that the eight mentioned plugins receive regular updates, follow the market trends, and adapt to user needs.