WordPress Hotel Booking Plugin: Reviewing New Options
WordPress reservation pluign by MotoPress is a great solution to build hotel rooms listing and enable online reservation services. But how much easier would your job be, if we created even better guest experience and more flexible admin dashboard?
Actually, you can already check it yourself as we polished the plugin with several amazing updates!
Let's not waste time and see what was done.
New algorithm of displaying accommodation pricing
This new algorithm is more logical in displaying relevant prices. This is how it works:
1. If the site visitor specifies check-in and check-out dates in the Search Availability form, the system will show minimum prices for accommodation;
2. If the site visitor doesn't specify check-in and check-out dates, the property listing will show the minimum price from the present day and for the next fixed number of dates. Here is how you can specify it in settings (Accommodation > Settings):


3. If the site visitor specifies check-in and check-out dates, the system shows a total price for all dates or the price for "minimum days to stay" (you set it in global booking rules):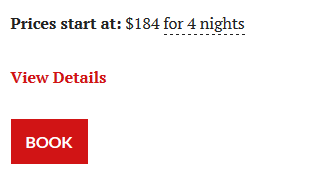 As for new admin tools, the plugin now allows:
1. To add payments manually. This is especially useful if you require to pay the deposit booking price and then customers have to pay the rest after arrival. This way, the manager can simply go to the needed booking and click "Add payment manually", so it's much easier to keep all income calculations in one place.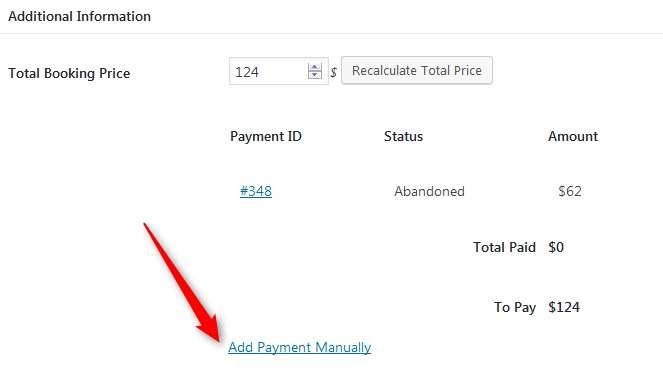 2. To search booking by email or ID in the list of bookings.
3. To filter payments by status and search them by email or ID in the list of payments – an easier way to find and manage all bookings.
4. To customize a new email template
As one of the ways for guests to confirm a booking is to pay for it, you can automate this process by sending an appropriate email. That is, this email will notify the client (and administrator) that the booking is paid and confirmed. To find and brand your new email template, navigate to Accommodation > Settings > Admin emails > Approved Booking email (via payment).
5. To enable comments for accommodation and services
If you want to allow guests to leave their feedback about your properties and services, simply tick "Allow comments" for each needed room type or service. Here is an example from WordPress Hotel Booking Demo: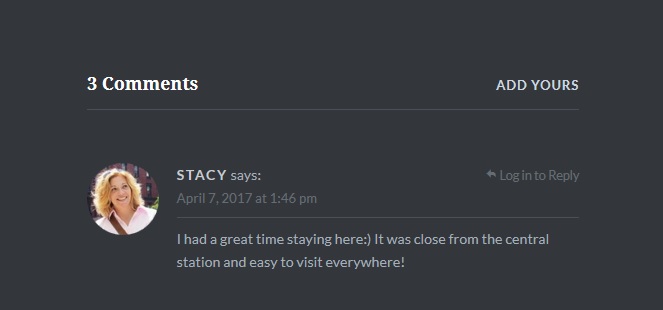 To have the default WordPress comments transformed into fully-fledged property reviews with five-star rating system, use Reviews for Hotel Booking addon.
6. To create a better image gallery
If you upload property images in different sizes, you should not worry about non-attractive presentation in result. The gallery is now set to thumbnails ensuring that photos in the gallery are of the same size, while each of them is also available in original size (if you open it in the lightbox):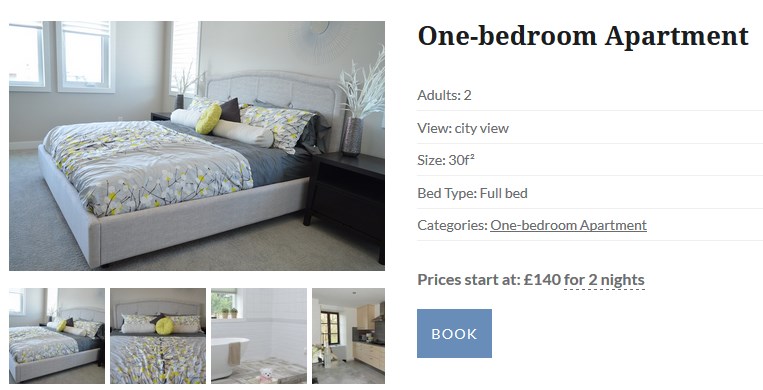 By the way, if you haven't noticed it yet, one more plugin translation into the Arabic language is added!
And wait for even more new features!
If you have any awesome idea to improve the plugin, this is exactly what we are looking for – don't hesitate to share it in the comments.
Update: this Hotel Booking WordPress plugin can be bought at a low cost with all other MotoPress products within a Membership account!