Getwid Blocks: Person & Team Gutenberg Block
This Gutenberg WordPress block by Getwid will help you build professional "Meet the Team" pages, as well as feature personality, contacts, and experiences.
Using the pre-designed block structure, you can include a photo, personal information, and links for each member. Since Getwid perfectly works with your default WordPress theme output, you won't need to handle styles and alignments manually.
Purpose of the Person & Team Gutenberg Block
Here are a few cases when you might want to use this block:
Complete team showcase
Individual headshots of members
"Yearbook"-like pages
Author bio.
Person & Team Gutenberg Block Features
This is a truly no-frills block, which will let you quickly add members and tweak the block presentation if needed.
You can upload images of the needed size.
Add a name, title, description (edited visually in Gutenberg) of the person.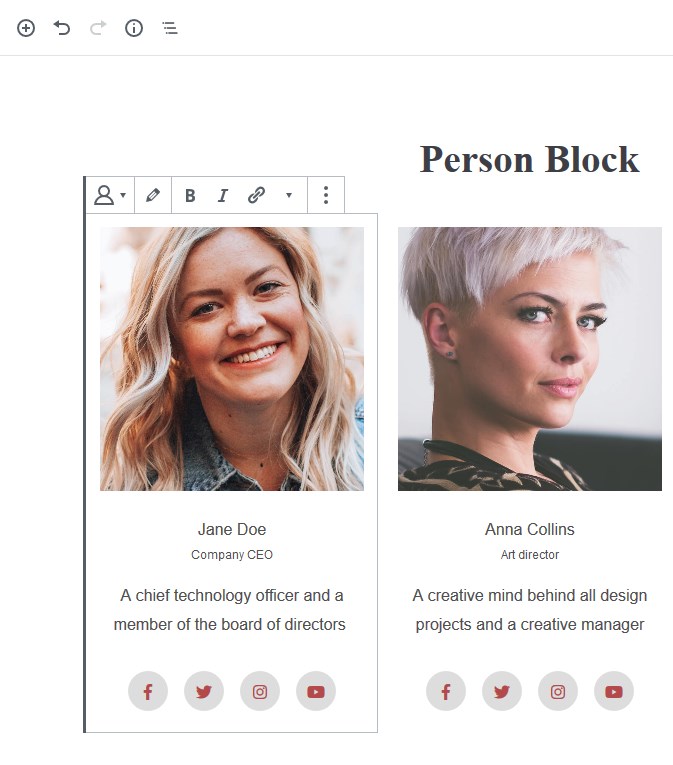 Add links to social networks/websites of the person.
Design Tips
Font color and size are automatically dictated by your WordPress theme, but since the social icons element is added with the Social Links Getwid block, you can add and customize any Font Awesome icons and their themes.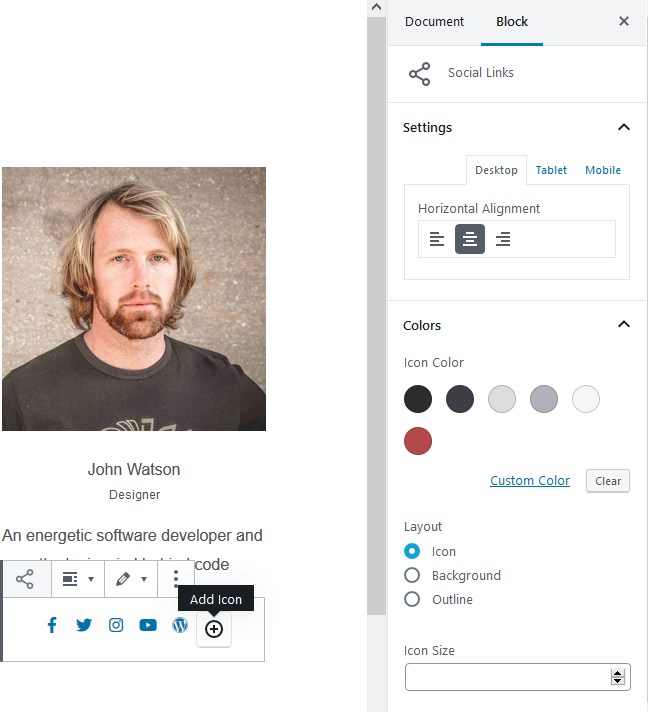 Use core Gutenberg columns to add several Person blocks.
Download a Free Starter Theme for Getwid
Make a whole customization process with Gutenberg and Getwid easier by using our custom theme for Getwid: Getwid Base. It is perfect for startups, creative, business, and personal projects. The theme will let you get the most out of Getwid quicker and more effectively. Here are the links for your reference:
Check out Getwid Demo
Download Getwid Gutenberg Blocks Free
Install Getwid Base Starter Theme for Gutenberg