Getwid WordPress Slider Blocks: Media & Text Slider Gutenberg Block
How to create a slider in WordPress block editor? Let us introduce you to the Media and Text Slider Gutenberg block by Getwid. It's a perfect tool for creating WordPress slider plugins in the block editor. The slider is completely customizable from layout to slide and text animation effects.
It's a bit more advanced version of the Getwid Image Slider block since it additionally allows you to add text content over slider images: it by default accommodates heading and paragraph containers.
Opting for a Gutenberg-optimized slider, you'll significantly improve your website performance and will build sliders (which are usually quite resource-consuming) the native WordPress way.
Since this slider by default inherits the styling output of your WordPress theme, this block will also work for you if you want to place the WordPress content slider really quickly.
Hint: compared to other WordPress block editor addons, Getwid so far encompasses many more possibilities for building all types of sliders thanks to six different slider-focused blocks.
Watch a block video tutorial
Purpose of the Media and Text Slider Gutenberg Block
This block will serve you in fulfilling the following purposes:
Frontpage hero sliders
Brand messages in the spotlight
Custom-made promo sliders.
Media and Text Slider Gutenberg Block Features
There are two things you'll need to do in order to set up a slider: go through the general block slider settings and then customize each slider image individually (edit or delete text content). We are going to look into each option:
You can set the number of slider images and then upload them.
Set the preferable image size and use it as an image slider WordPress element.
Designate a full or wide-width layout for the whole slider.
To fit into your WordPress theme, optionally set custom slider height and content width.
Change vertical and horizontal alignment for the heading and text.
Use it as a text slider WordPress block.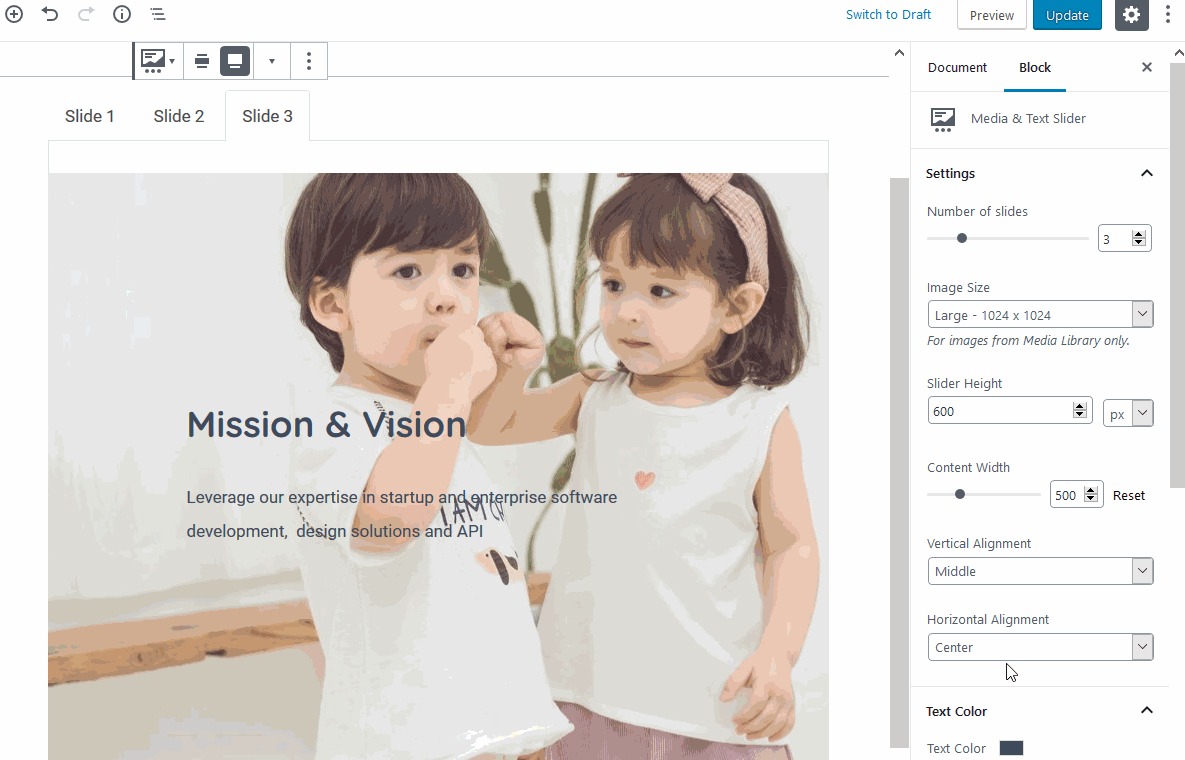 Customize the color of the text.
To improve readability, apply an overlay color and set the needed overlay opacity.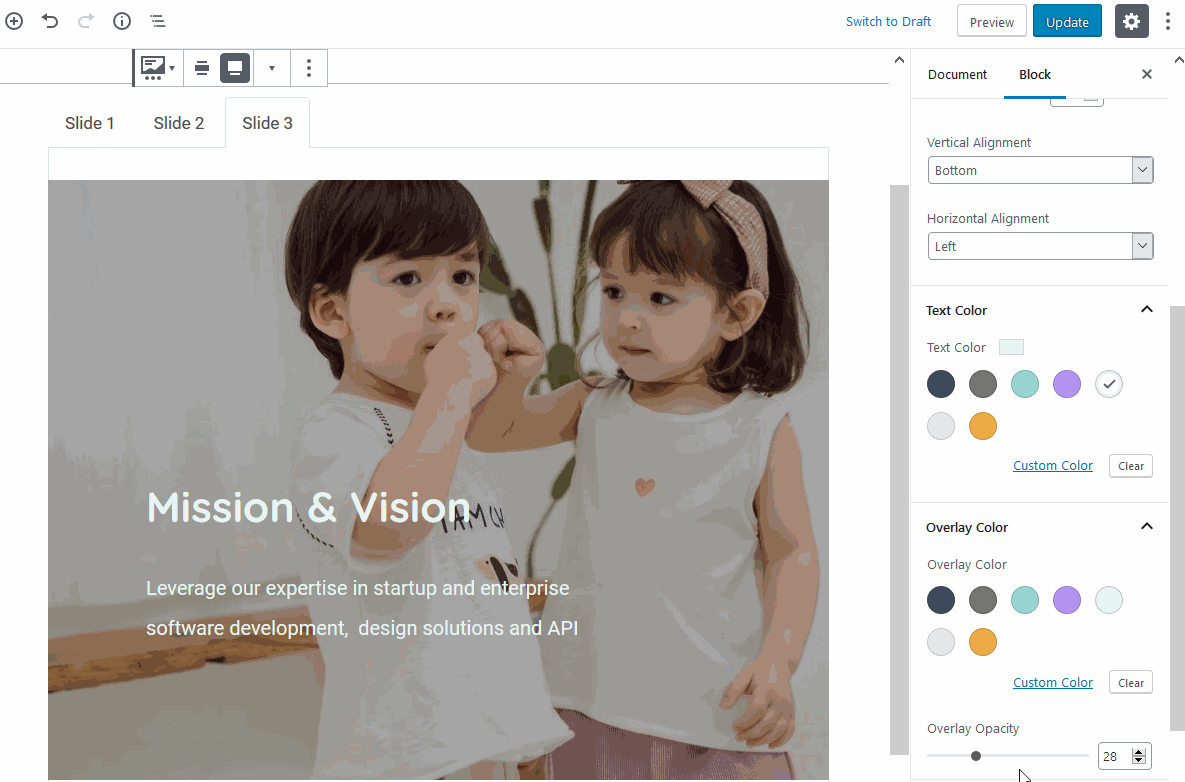 Set padding parameters for more custom spacing.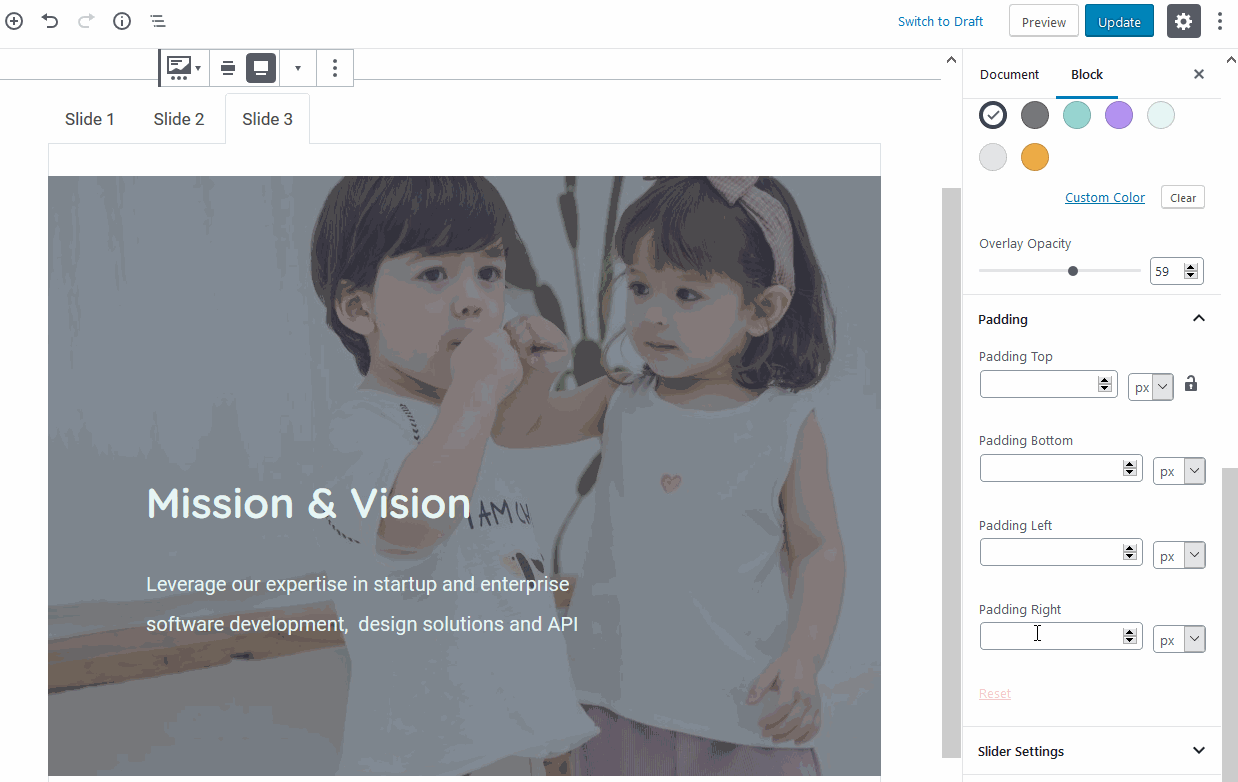 Set slide or fade animation effect for slides.
Enable automatic slideshow with the optional pause on hover.

Customize text animation.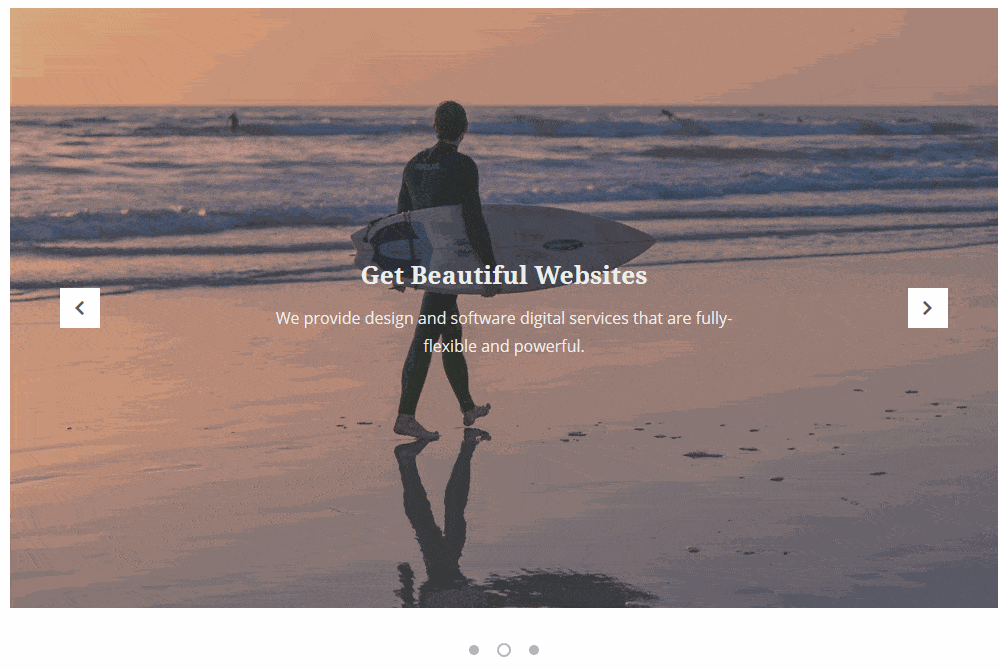 Design Tips
If you need more styling and typography options for the slider heading and text containers, feel free to transform them into the Advanced Heading Getwid block. This will also allow you to create unique looks for each individual slide.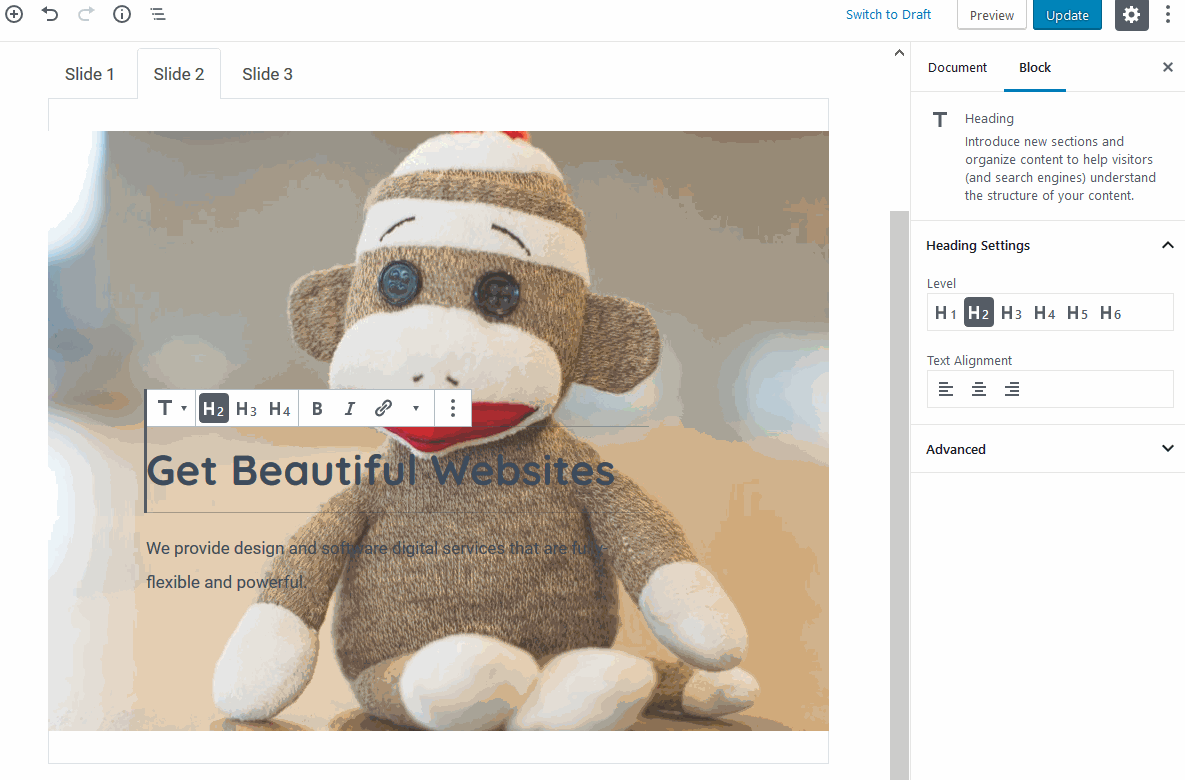 General changes to the block settings will be globally applied to all slides, but you can alter the look of the text content for each slide separately.
The Best Slider WordPress Block By Getwid
We cannot claim Getwid as the "best WordPress slider plugin" because it consists of multipurpose blocks and can basically replace multiple plugins that do just one particular thing.
The theme-reliant pattern of behavior, nice settings flexibility, a well-coded block architecture, and many more benefits come with a free Getwid plugin. Do you want to experience all its tools in the wild? Then download our multipurpose Getwid Base Starter theme for Getwid blocks and do less work-around since the theme is bundled with multiple block examples that can be imported in one click!
Here are all the links you might need:
Check out Getwid Demo
Download Getwid Gutenberg Blocks Free
Install Getwid Base Starter Theme for Gutenberg