Real-life Websites Built with MotoPress WordPress Hotel Booking Plugin & Divi Builder
Not long ago we've launched our MotoPress Hotel Booking & Divi integration addon which is very successful and popular with our customers. This addon unlocks all standard Divi Builder styling options (color picking, font adjustment, borders customization etc.) and in combo, with MotoPress Hotel Booking property system gives your website all the needed functions and blocks.
We've got positive feedback from our satisfied customers and here will be listed some property rental websites which were made via WordPress Hotel Booking Plugin and Divi page builder.
What One Needs to Build a Rental Property Site
To build a rental property website you need:

By the way, by clicking on this link, you can find different templates that were initially developed for hotel and rental business. What advantages do they give you?
The price of a premium theme covers the price of the design itself and of the premium Hotel Booking plugin, which is included at no extra cost (you save a minimum of $69!).
All theme styling applied to the content modules was amended by our best designers manually!
But nonetheless, with any WordPress theme you chose + MotoPress Hotel Booking Plugin, your experience of building a hotel or vacation rental website will be smooth and settled.
So, here is a stunning collection of some real-life examples of hospitality businesses. Already eager to see them? Here they are!
Accommodation Type: rooms for rent
WordPress Theme: Divi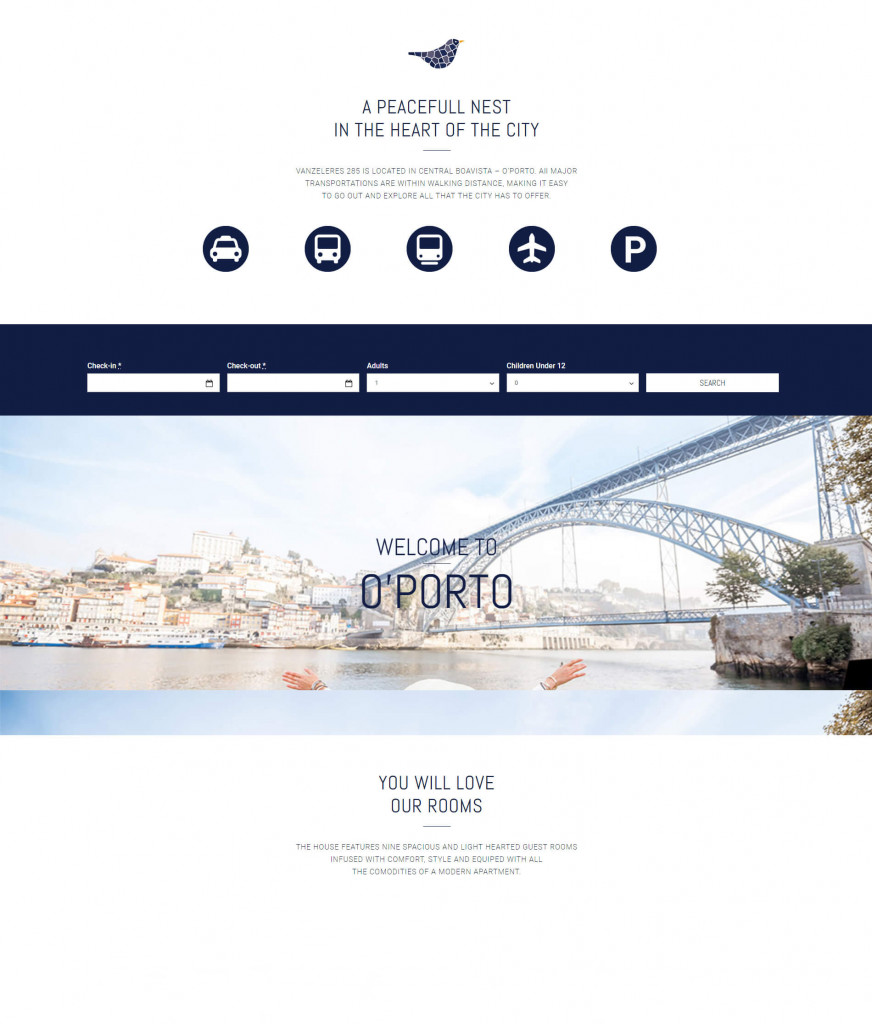 This website has neat and clean-looking pages, the main colors here are blue and white which creates a tranquil effect. As you have probably noticed there is one additional capacity field – "Children Under 12" that allows the website owner to receive more precise information about future guests. With the help of Hotel Booking plugin you may insert as many search availability forms as you wish.
Accommodation Type: hotel
WordPress Theme: Divi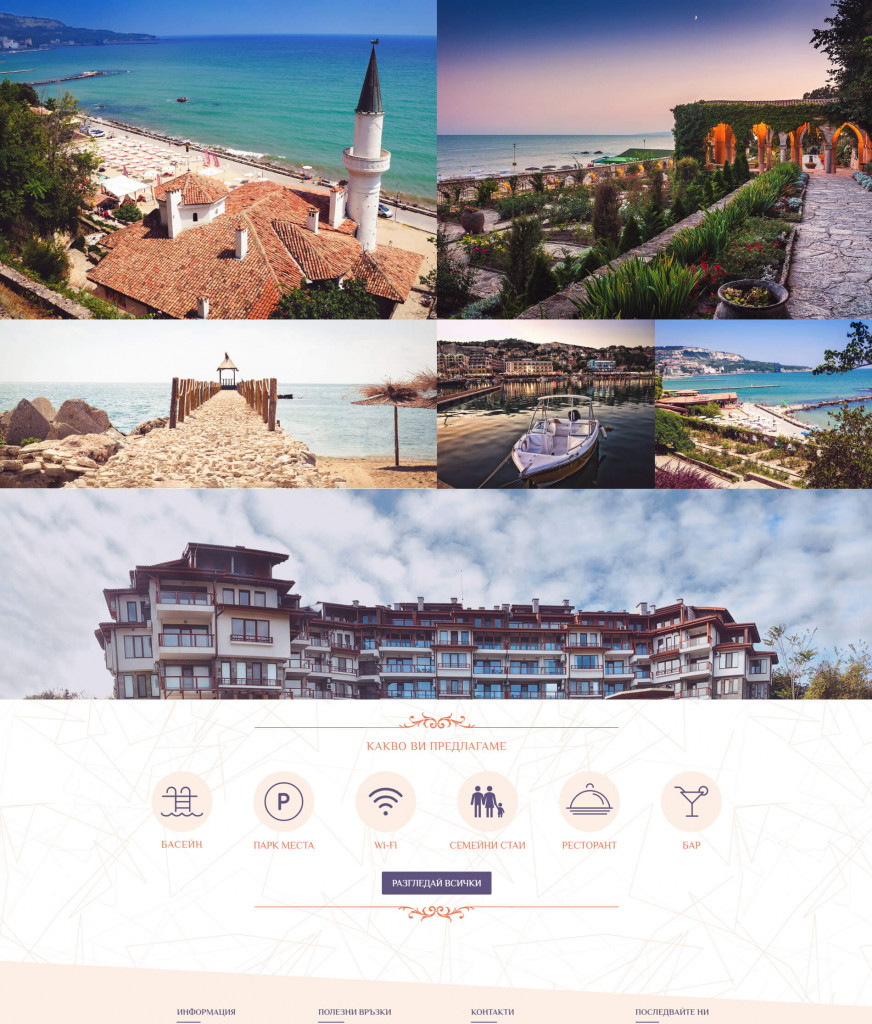 First, you open the page, there is a vivid video of the hotel in the sunrise background. There are many galleries so that you can see where your probably future hotel is situated. The amenities list has all the additional services you get once you are at the hotel. With the Hotel Booking plugin, searching for the available rooms is very quick and user-friendly.
Accommodation Type: cottages
WordPress Theme: Divi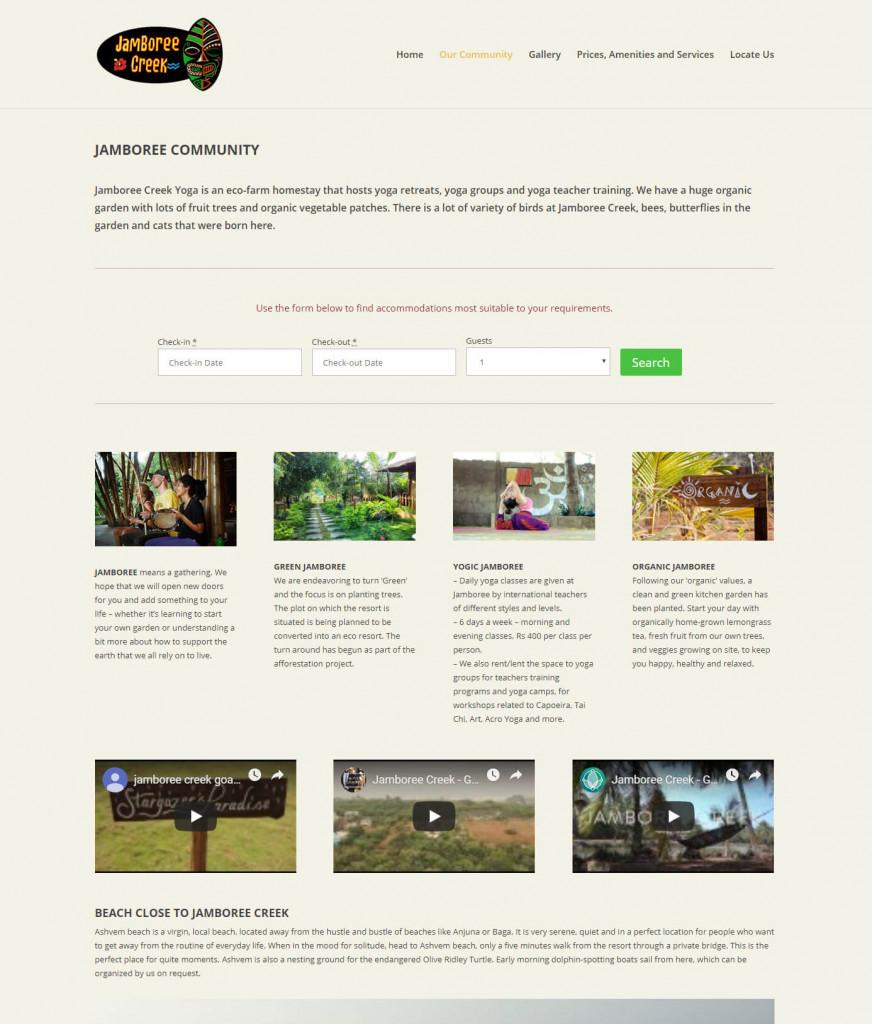 You can create a website not only for booking properties but also for booking events. Hotel Booking & Divi integration plugin makes it possible for you. On this website, due to the design, you can already feel the yoga vibes since it is directly connected with it and the colors are very soft and gentle. All you need is to search for the appropriate date, fill in the bookings enquiry and they will get in touch with you.
Accommodation Type: apartments
WordPress Theme: Divi Child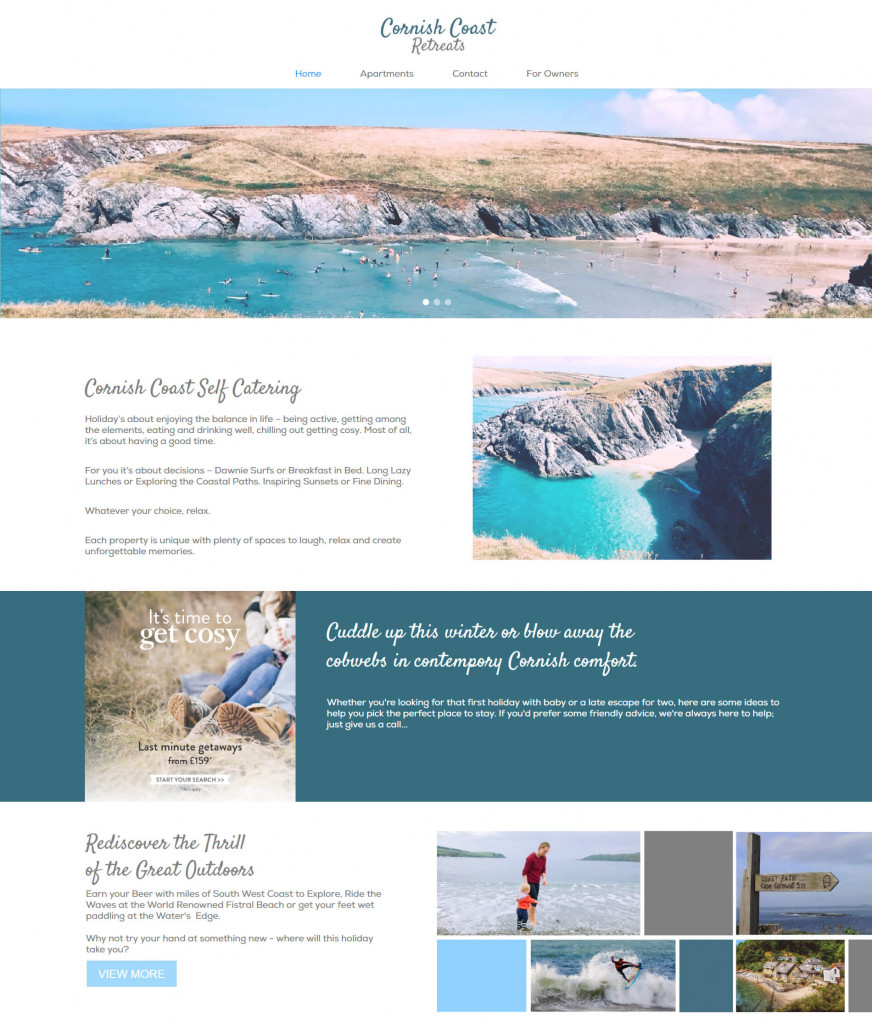 Cornish Coast Retreats features rental apartments for those who want to feel coziness and comfort while traveling. The background color is white which creates a pretty much classic style of the website. User-friendly search availability form makes the booking experience effortless and smooth. Guests can book a room directly on the website and pay via PayPal. By the way, MotoPress enables for free the following gateways: 2Checkout, Braintree, Stripe, and Beanstream/Bambora.
Accommodation Type: apartments
WordPress Theme: Divi Child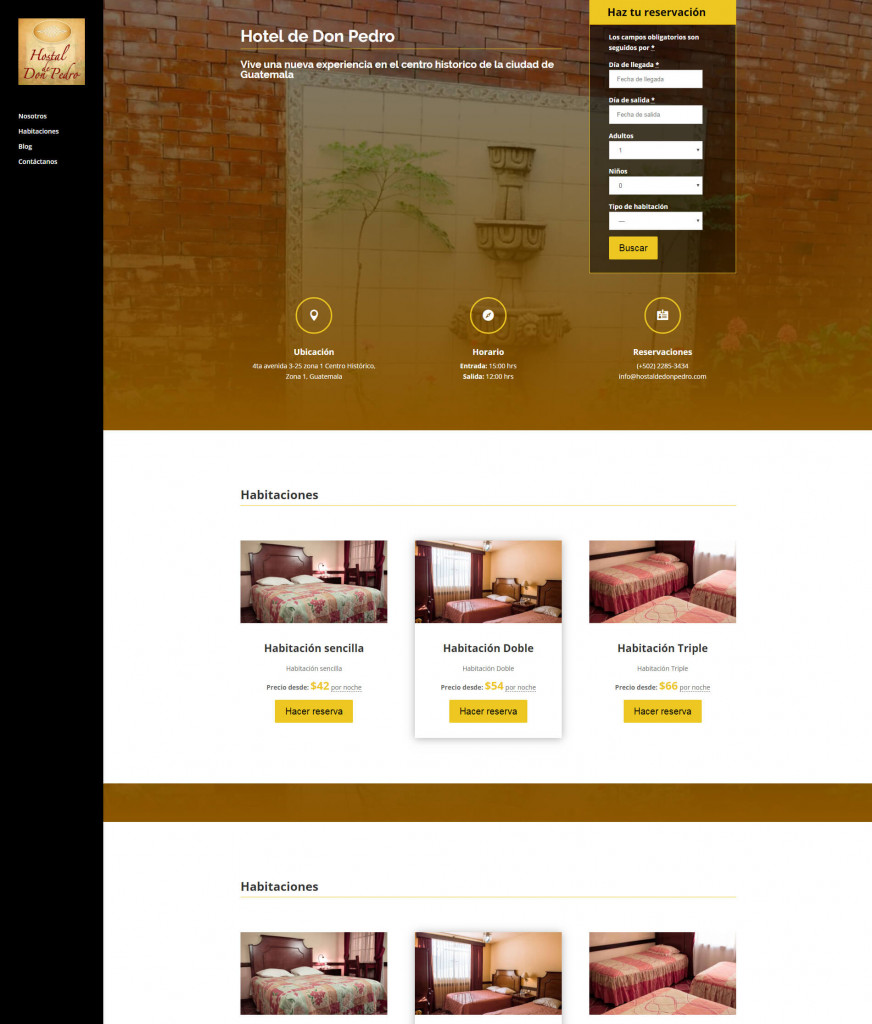 The hotel website, based on the Divi theme, is pretty simple but at the same time eye-catching and unique. On the front page, you right away see the reservation form & search availability forms with extended functions, i.e. type of the room that you can easily customize. The number of search availability forms is unlimited, so any extra forms can be added if you want to.

Accommodation Type: villas
WordPress Theme: Divi Child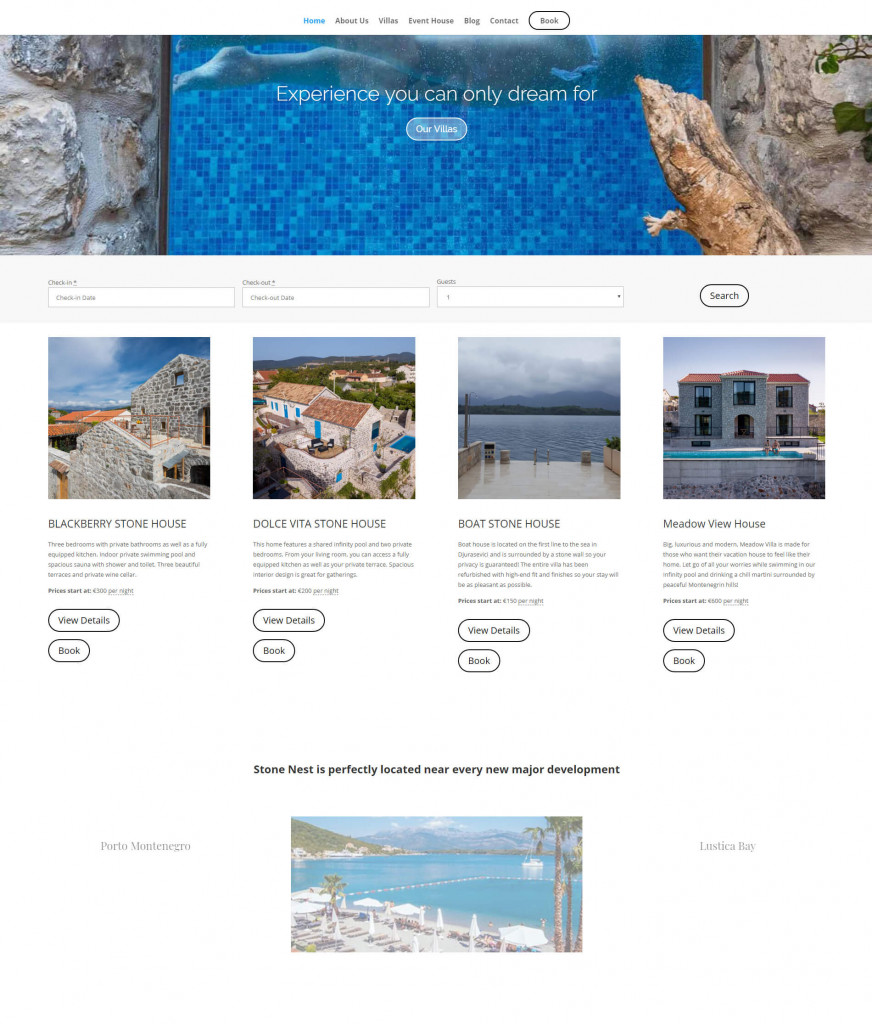 This website design is both simple and impressive. Bright slider pictures and villas descriptions won't leave you indifferent. There is an emphasis on the diverse exterior, beautiful views, and surroundings. With all these details you can fully imagine how the villa looks in reality. In addition to direct website bookings, the website allows guests to reserve a room via the preferable OTAs.
Accommodation Type: luxury chateaus
WordPress Theme: idyllicretreats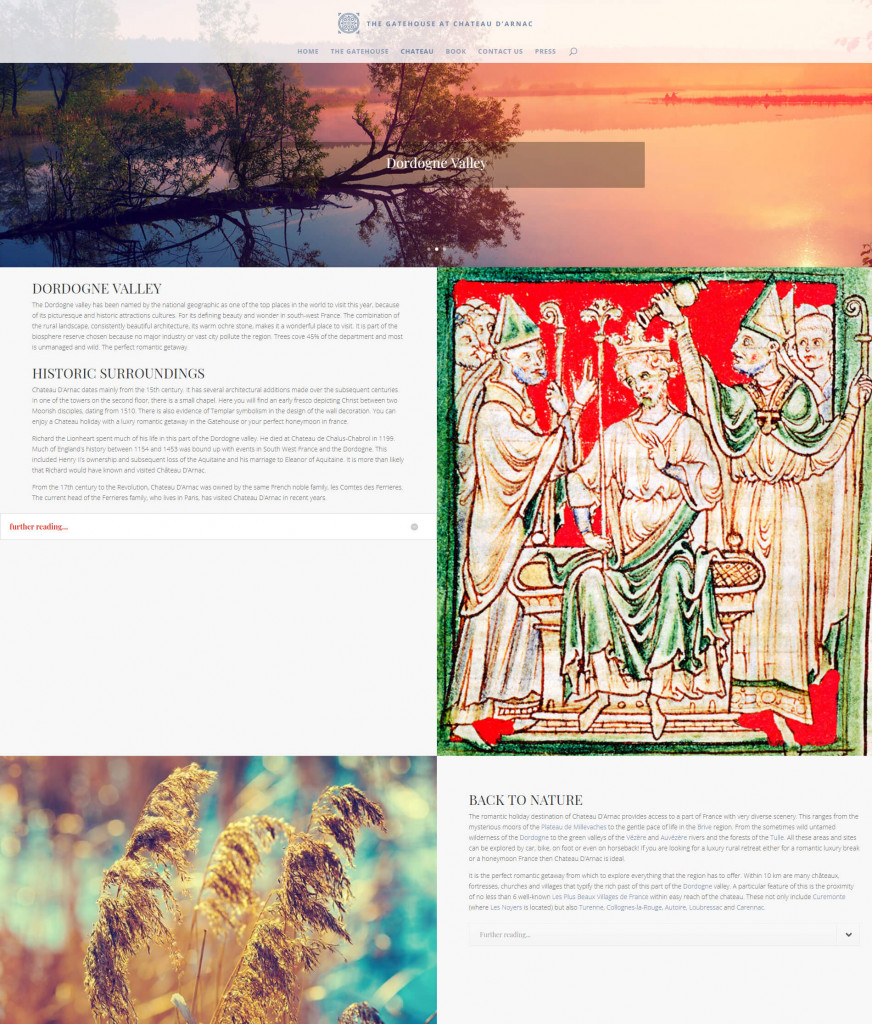 A perfect choice for the newly-married couple to spend their honeymoon in a very romantic and intimate atmosphere. This website uses high-quality images in the front page slider so that visitors can fully dive into the romantic mood. It is required a 4-night minimum stay for guests. By the way, there is no "adults & children" capacity field in the search availability form, because it was planned to stay for couples only.
Amed Harmony
Accommodation Type: bungalows, villas, restaurant
WordPress Theme: Divi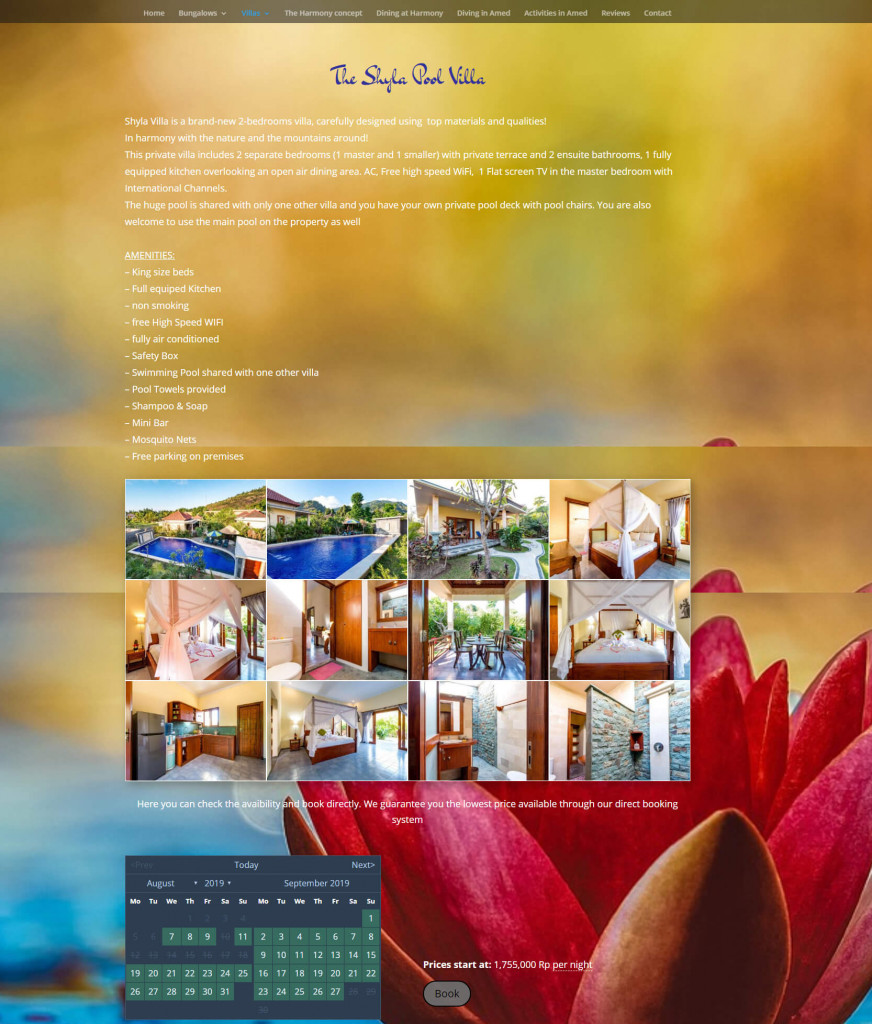 This website has an eye-catching accommodation galleries, smart Booking reviews integration and wide range of opportunities for potential clients. Travelers can search for the needed accommodations using date fields and a total number of guests. Inquiries can also be sent via a regular contact form.
Accommodation Type: rental apartment
WordPress Theme: Divi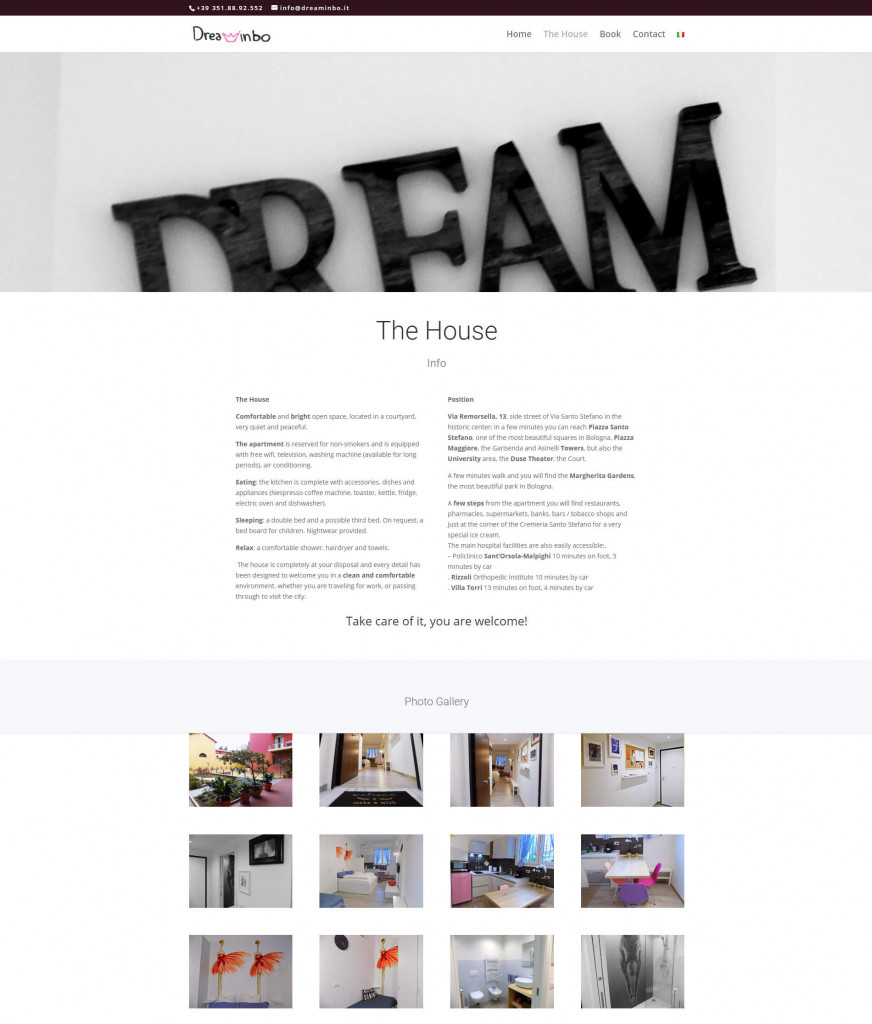 A nice-balanced and uncluttered design layout of this website displays available rooms, amenities and all needed details. Guests can pay via such gateways as PayPal, 2Checkout, Stripe and others which are foreseen by WordPress Hotel Booking plugin.
Accommodation Type: luxury rental apartments
WordPress Theme: Divi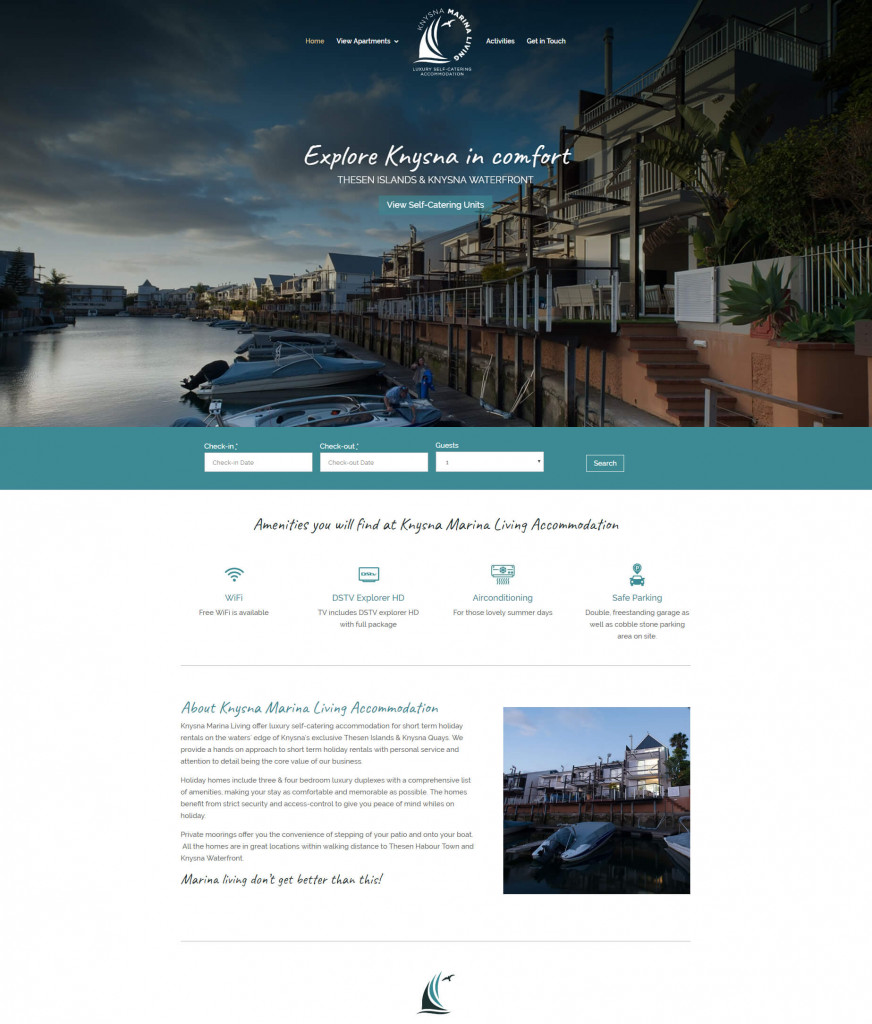 This is a very nicely designed website with eye-catching text lines and logo. You can book an apartment, entering your personal data in search availability forms. People can also check the availability calendar on a separate page. Theme front pages can be easily altered with Divi without coding.
Accommodation Type: rental accomodation
WordPress Theme: Sunway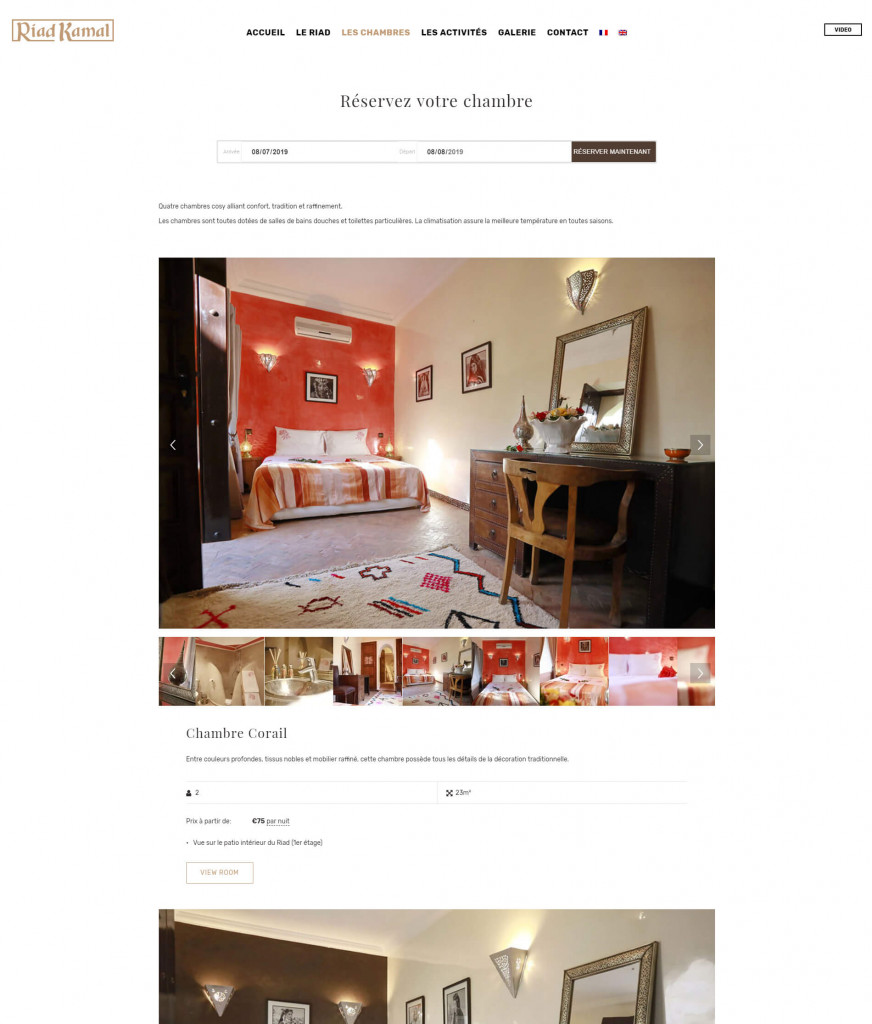 Riad Kamal website features rental apartments people can book for the holidays staying. Right in slider images, travelers can discover more about services & activities and this helps them to picture themselves in that specific place. It definitely encourages people to click through, explore, and book easily.
Domaine Les Combes
Accommodation Type: apartments, houses
WordPress Theme: Divi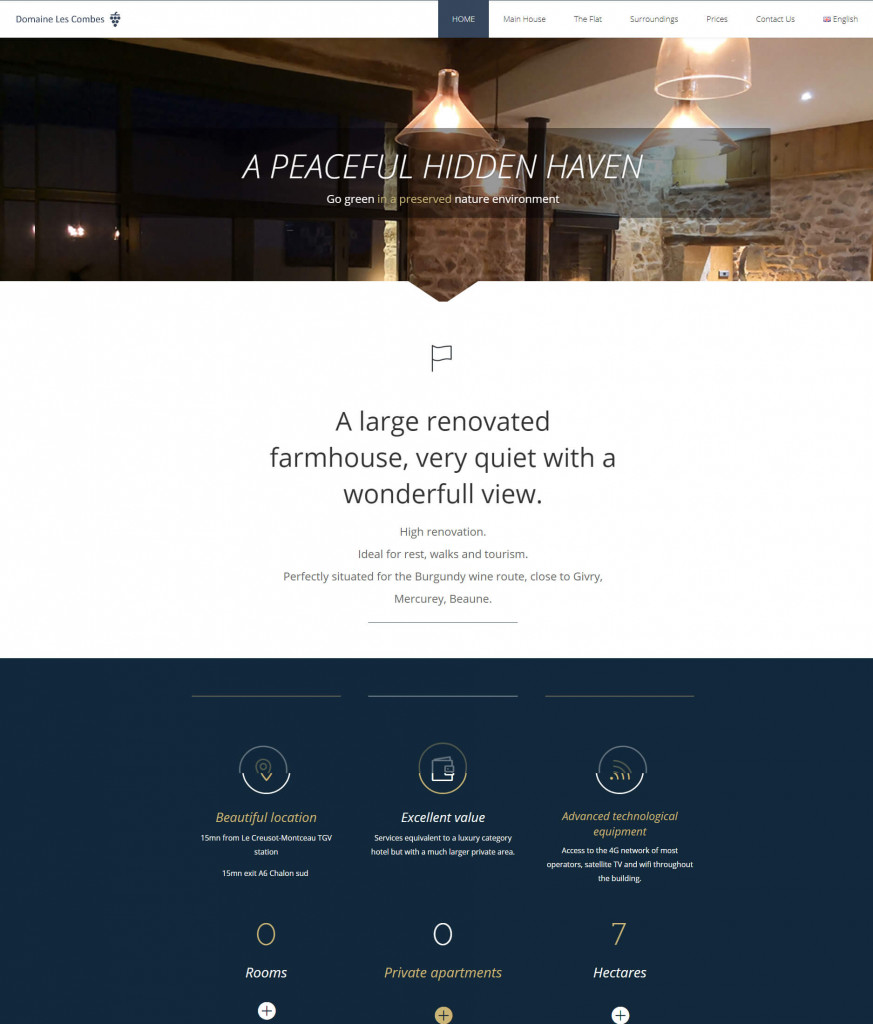 At this website, you see a picturesque view of valleys and beautiful nature outlook that hasn't been spoiled by humans. Such views and pictures can't help but attract your attention and perfect pages outlay contributes to this. You can reserve a room on the website or via preferable OATs.
Gite Awark
Accommodation Type: luxurious apartments
WordPress Theme: Divi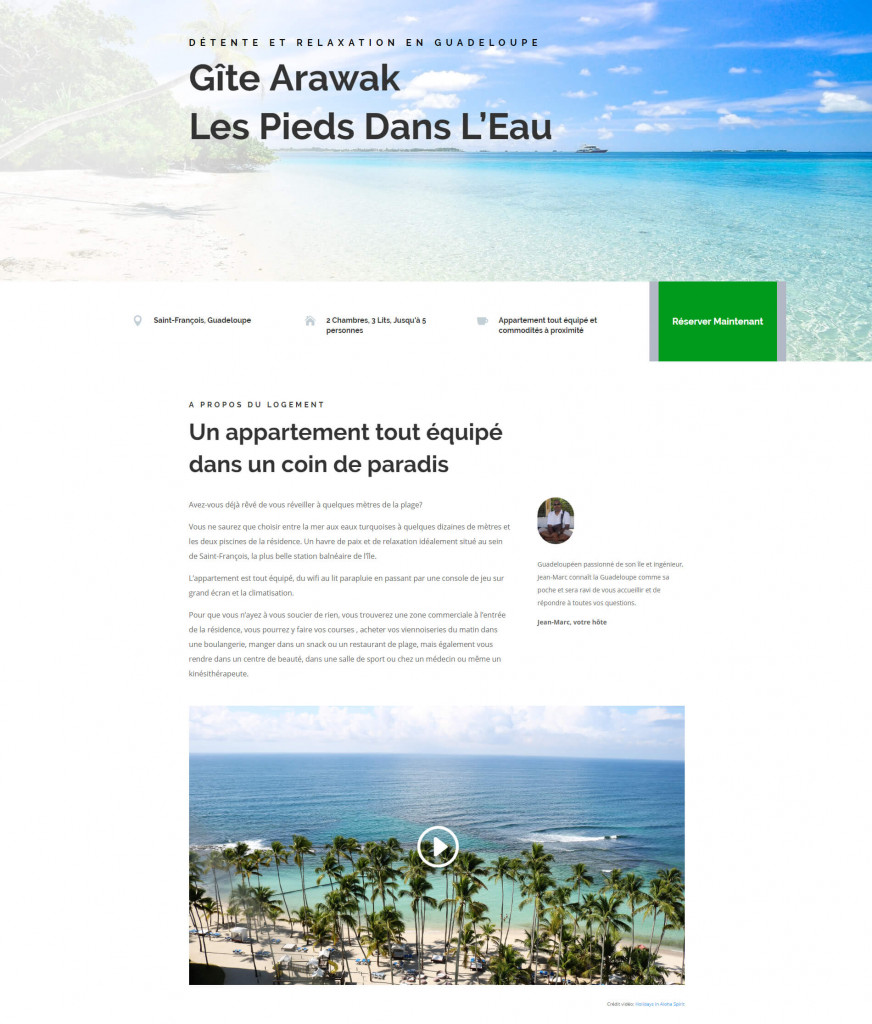 A dream apartment a few meters from the beach? That's what Gite Arawak proposes to you. The apartment is fully equipped with all the needed amenities. The website is very accurate and neat-looking. What's awesome, the Hotel Booking plugin is available in 14 languages, letting you go multilingual easier. You can pay via Visa, MasterCard or PayPal.
Accommodation Type: guest house
WordPress Theme: Divi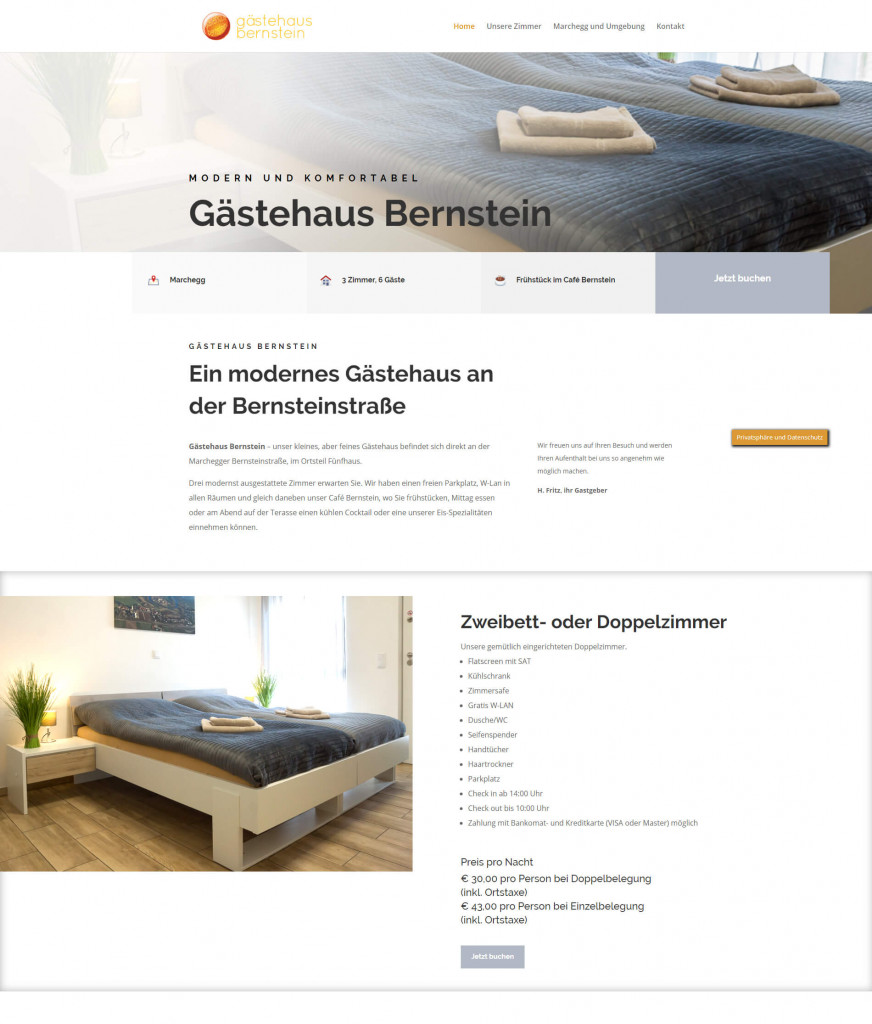 The front page comes with a very welcoming picture and the rest of the website is perfectly clean, with two major components in the spotlight: the accommodations and descriptions. Both of them can be fully customized. Don't forget that with the MotoPress Hotel Booking plugin you can synchronize all bookings from all platforms that support iCal (Airbnb, HomeAway, Booking, etc.) and from your website, with almost no risk of overbooking.
La Villa des Dunes
Accommodation Type: accommodation rental
WordPress Theme: Divi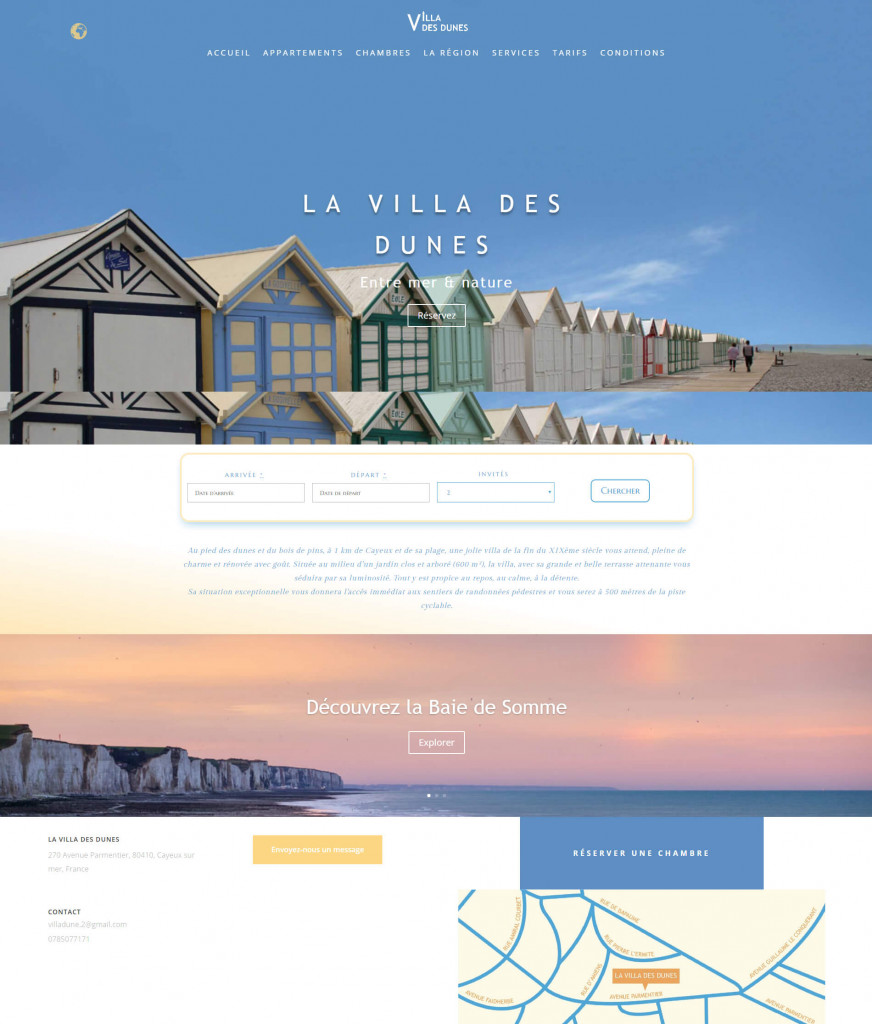 A very neat design makes a website look uncluttered and modern. Nice blue and white colors perfectly fit the seaside background. Clients have to fill in the search availability fields and they are ready to go. Here are separate Adults & Children capacity fields and you can add more if you need via the MotoPress Hotel Booking plugin.
Summary: all the functionality that is needed for a profitable rental business website
We have listed different websites that showcase accommodations, provide an option to book a room, propose a variety of rates & pricing options, online payment gateways turned on, and specific booking rules.
If you are eager to create your ideal website, you just need:
There is nice Divi Theme discount which you may use and save extra money on the purchase. You will be able to create a beautiful website for your rental properties and rent out them online easily directly from the site.
Providing you have any questions, ask them without hesitation! We are always ready to answer them.