Petotel: WordPress Pet Sitting Website Template for Pet Daycare & Boarding
How to build a WordPress pet boarding website? Here at MotoPress, we build WordPress tools for rental businesses of all types, primarily hotels, bed and breakfast hosts, vacation rentals and the like. It took us several years to polish the MotoPress Hotel Booking plugin to make it a recognizable purpose-oriented reservation solution for WordPress! But this is the first time that we've released a very specific pet boarding WordPress theme with a very witty name: Petotel pet sitting website template.
As its name suggests, the theme is aimed at pet boarding and services websites, unit booking, pet daycare, etc. So if you are looking for cool cat and dog website templates, you are in good hands. Moreover, feedback from our clients who had used other MotoPress themes for creating pet hotels was a driving force for crafting this pets website template. You don't need workarounds anymore!
Moreover, since it's an absolutely new addition, the theme is adapted to the new WordPress realities, Gutenberg blocks in particular.
Pet Website Tempates
There are a lot of pet website templates for pet grooming, pet shopping and pet care, but the vast majority of them are just what they sound like – templates. That means they are usually limited to general design only.
But in this Petotel WordPress pet boarding theme review, we are going to take a look at a different sort of pet sitting website template – a WordPress theme with a holistic pet hotel booking system.
You're definitely going to love this guide in case:
You are a pet hotel owner who's looking to put their business online (you're going to be better off if you do so!)
You are looking for a hands-off booking experience so that you can add pet boarding accommodation/rates and allow pet owners to book them online without direct interaction. By the way, the theme can also serve as an animal shelter website template.
You just need a good-looking pet website design to present your pet-related business: pet boarding, pet training, pet grooming, etc.
Should you be a WordPress expert to start and manage this sort of website, by the way?
As long as you don't need something deeply tailor-made, no.
With a help of docs, guides, and our support representatives, it's a pretty doable task even for non-tech people to handle. Probably the results of our survey would sound like a better proof? People have been building websites by themselves with our plugins and themes.
If all the WordPress things sound intimidating for you, though, you may want to take a look at these guides first:
In this article, we'd rather focus on the theme itself, but if you want a more in-depth look at the functionality powerhouse (i.e. how the bookings are made and how to set up the system), I'd encourage you to take a look at this blow-by-blow instructions for a pet hotel guide. That article had been written around a month before the Petotel pet sitter template was launched, but it covers absolutely the same functionality you get with Petotel.
But let's get back to the Petotel theme…
Petotel WordPress Pet Boarding & Pet sitting website template design
In a few words, Petotel offers a bright, bold, and positive design.
It definitely radiates a friendly, caring, and loving atmosphere thanks to the color scheme and playful background patterns.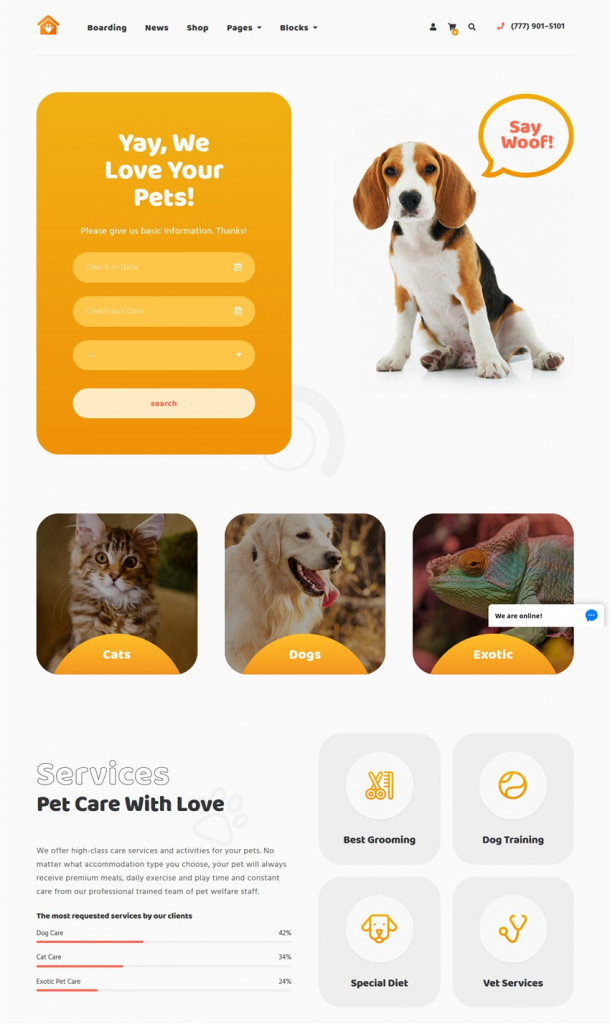 At the same time, the theme is not overwhelming with unnecessary design decorations – each content module has a purpose; the navigation menu stands aside from the shop and other supporting icons. All that makes the theme lightweight in terms of performance and creates a handy user experience for your website visitors!
And of course, Petotel is fully responsive, so pet owners can easily browse it and even book a boarding suite or service via mobile phones or tablets.
One-click demo data import
Petotel is packed with a one-click installer for importing demo data. It's proven to save a lot of time and simplify the process of working with the website pages when you install the theme for the first time.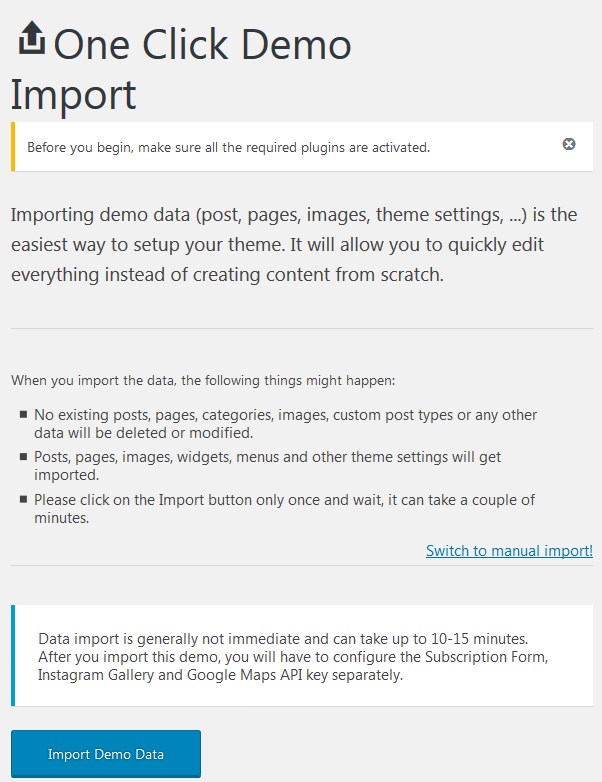 All settings and appearance you can see in the Petotel pet sitting website template demo is moved to your website for further customization.
Front page design & tools to edit it
Similar to other pages, the data importer installs the front page as it was initially designed.
The good news is that the front page design is customizable to the tiniest details since it's created in the Gutenberg editor paired with our custom Getwid Gutenberg blocks.
Getwid is a free library of blocks you can use for any content creation purpose. This is also the plugin by MotoPress, so you'll be able to get support from one team (when one team knows the ins and outs of each cog of the theme, that means less headache for you!).
Let's take a closer look at some front page elements created and editable with Getwid. All top-level blocks (they allow you to hack into the background, animation, dividers, layouts) are built with the Section block by Getwid. It's one of the most diverse and powerful blocks you can tweak the way you want.
Thanks to the flexibility of the Section block, you can put any blocks inside it. Here are few front page examples:
The Banner block is used for creating catchy animated categories: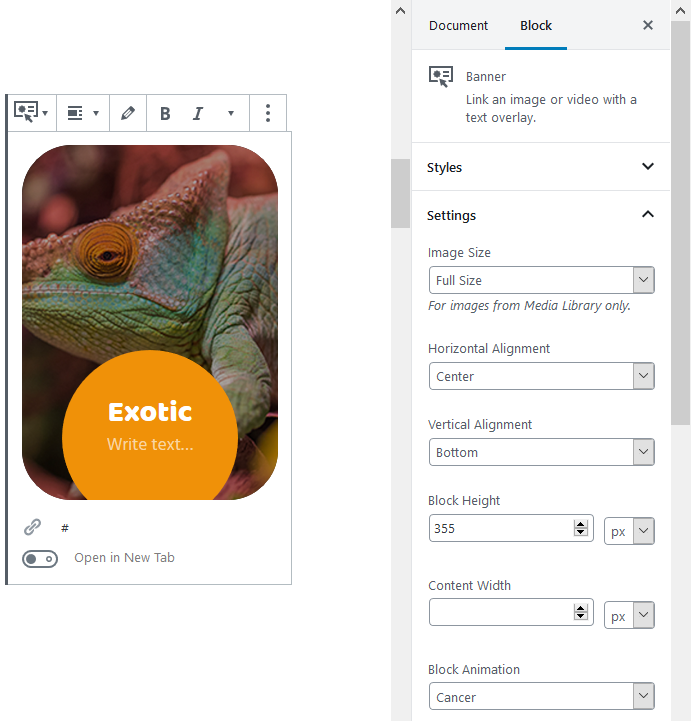 Using Gutenberg columns, you can add as many categories as needed.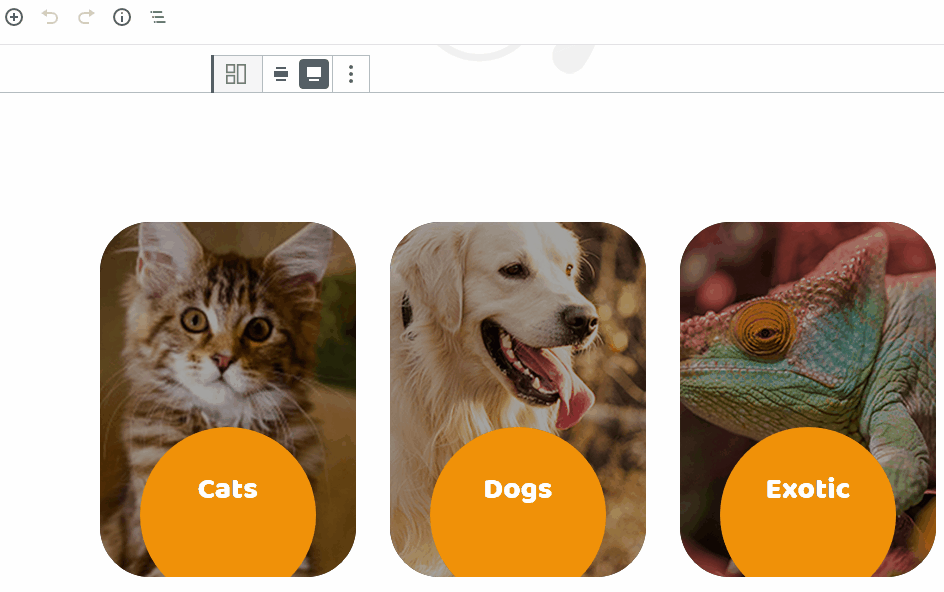 Using a combo of blocks, you are free to customize more complex sections: in the Services area we use several Advanced heading blocks (they come with tons of typography setting you'll love!) and the Image box blocks with custom icons, headings and animation effects.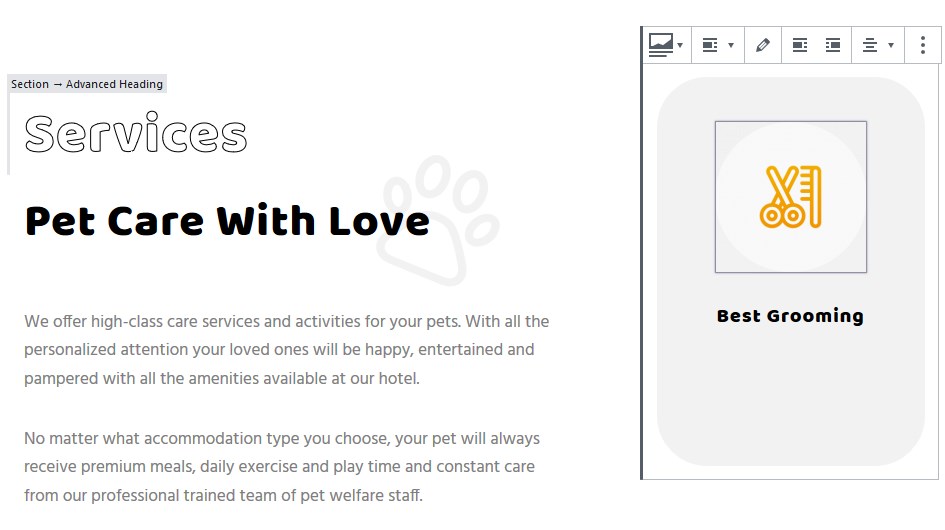 You can also add buttons, galleries, and other elements visually and update them inline (right in the editor area).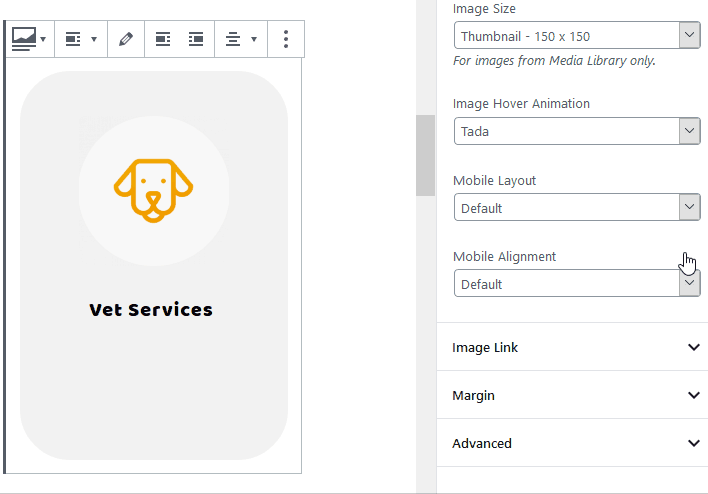 A call-to-action section is a combination of the Advanced heading and Image blocks.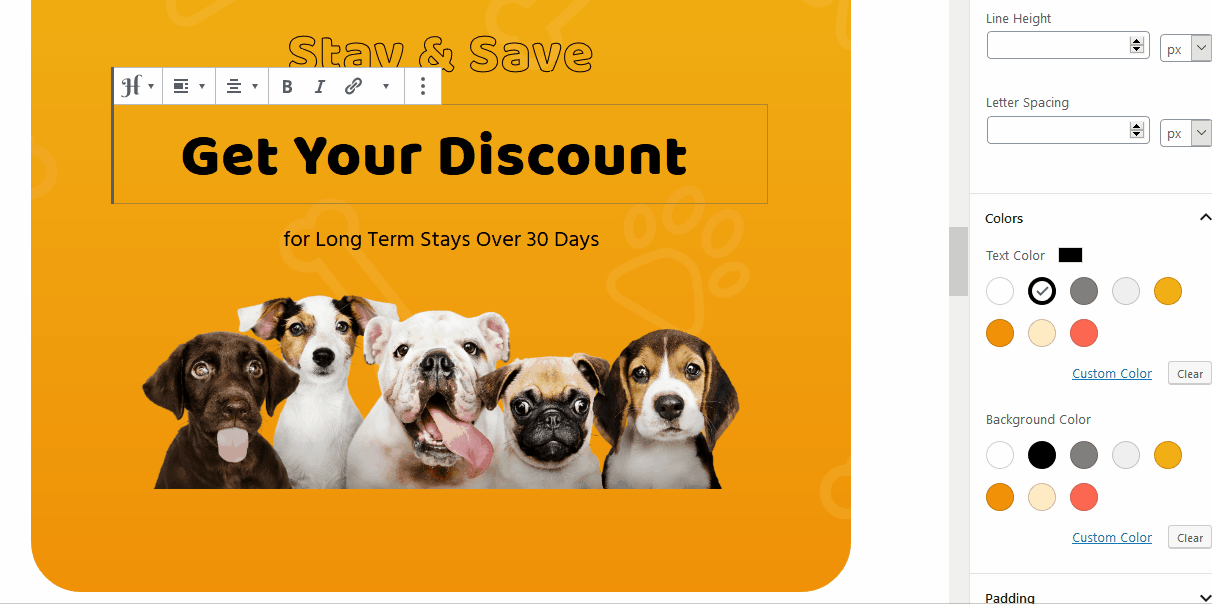 The area with several Price box blocks can be used for displaying any comparisons or pricing tags for different services.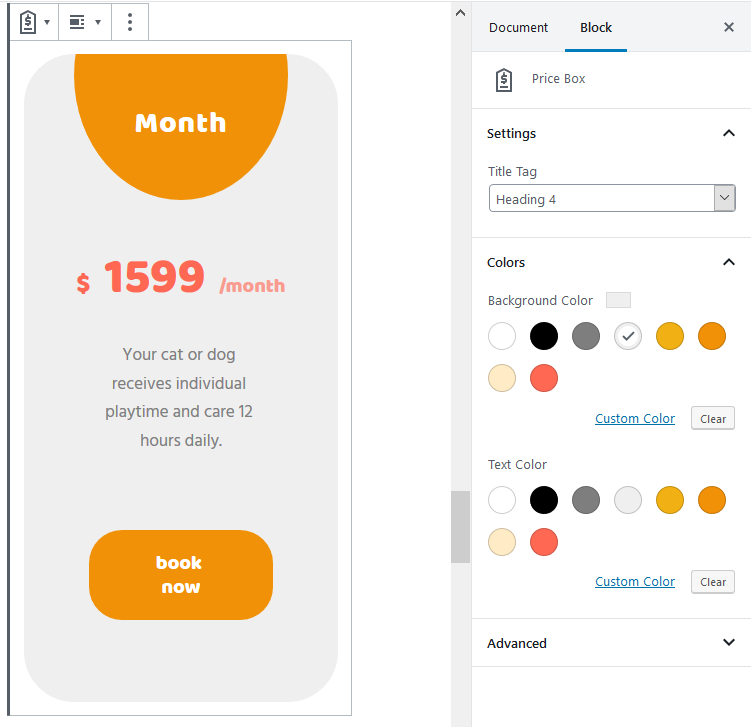 Default testimonials are featured with the help of the top-level Section and Testimonial blocks by Getwid (you don't even need to look for extra plugins to implement testimonials!). You can edit the content of testimonials right in the block.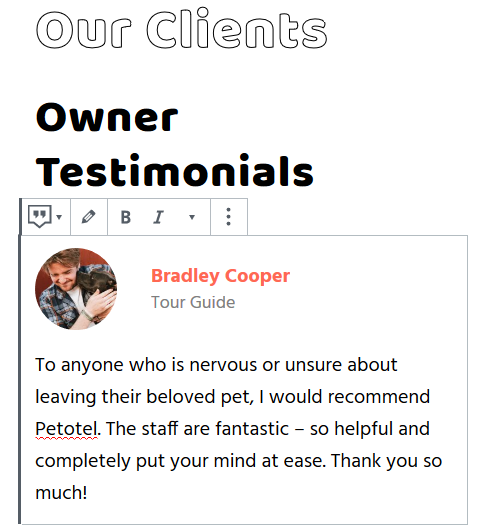 There is also a Getwid block for adding a Google map, where you can put unlimited custom markers to specify all your locations.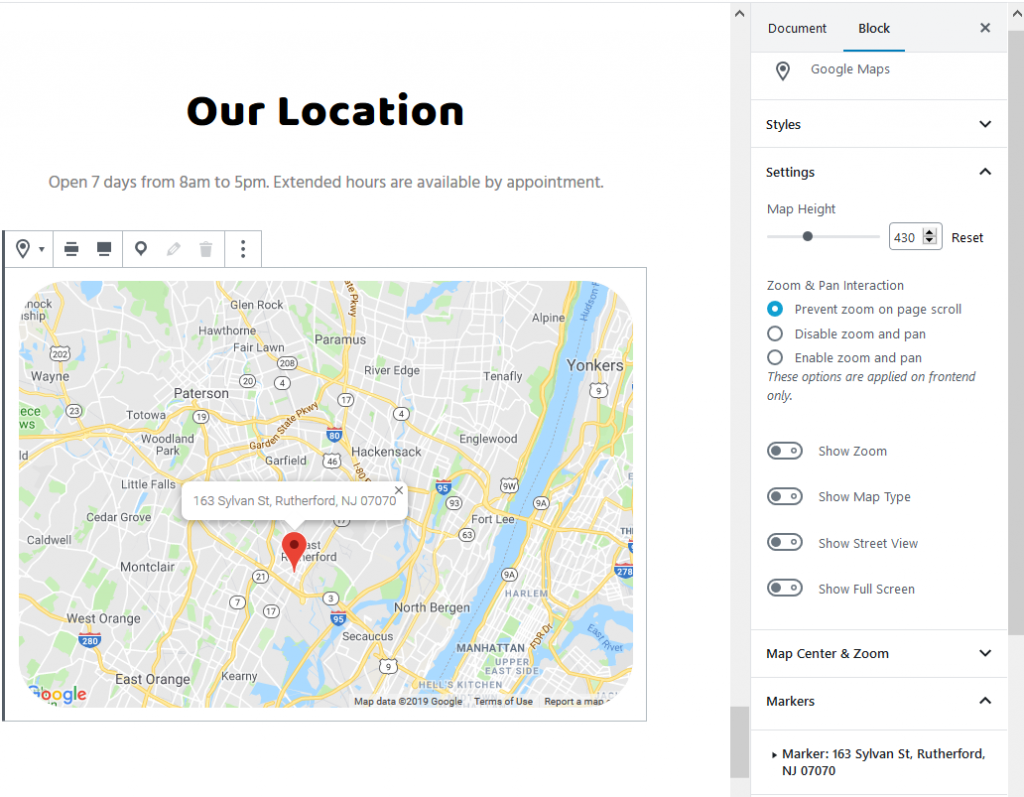 Since the Hotel Booking plugins comes with its custom blocks for Gutenebrg, you can easily add and customize them in the core WordPress editor.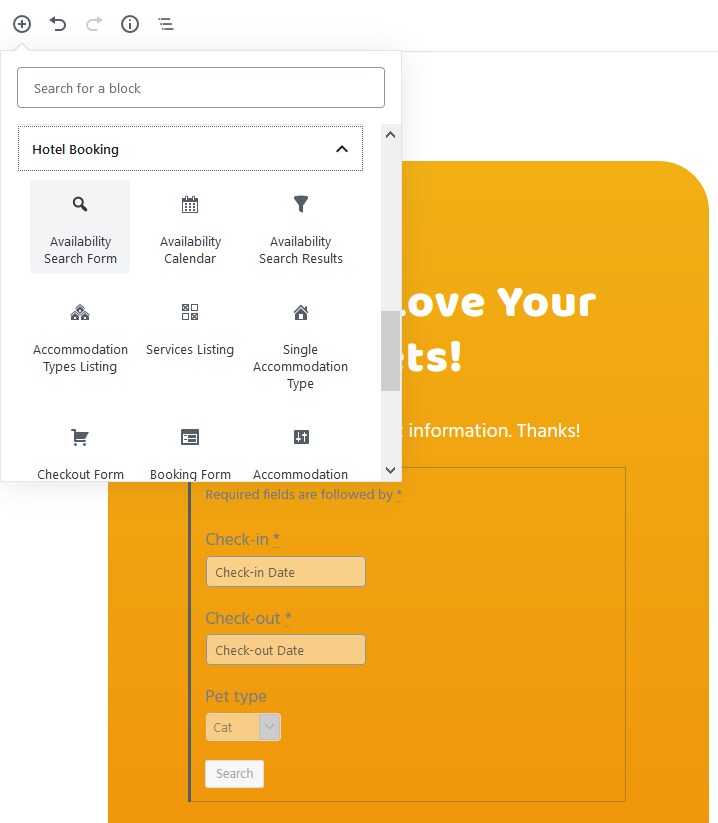 These are just a few capabilities! You can successfully utilize any other block on any page to feature all the details of your pet boarding establishment. For example?
Employ the Media & text slider to feature hot deals or the best pet accommodations.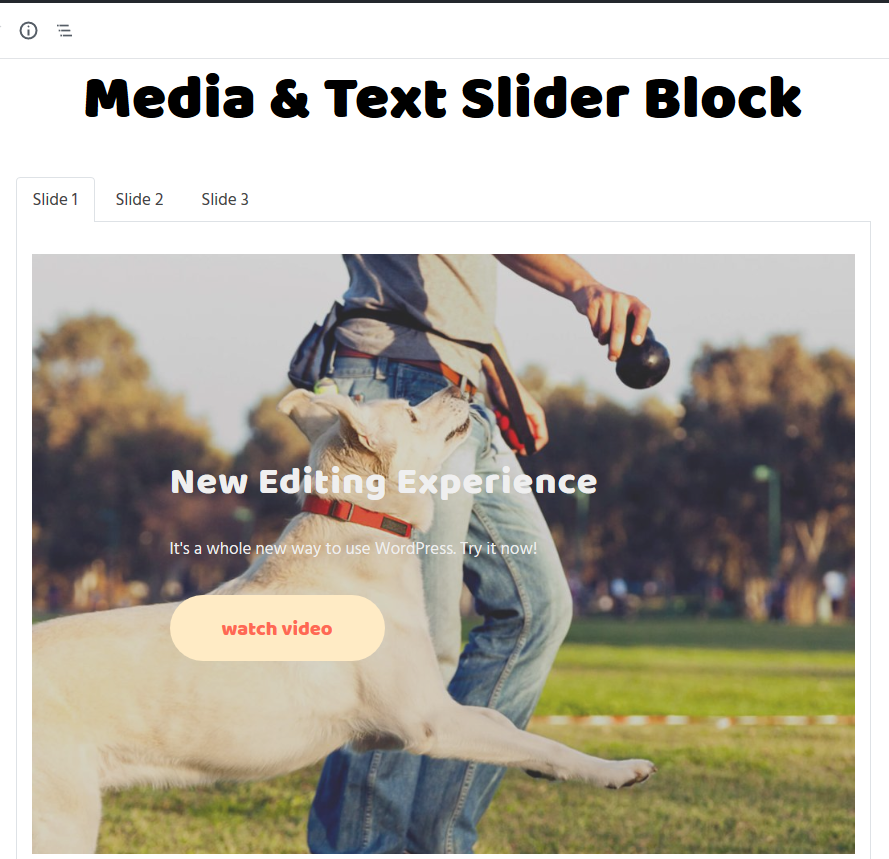 You can play up with the layout by applying custom settings or setting default full or wide-width layouts. Here is the example of the Getwid's Gallery block.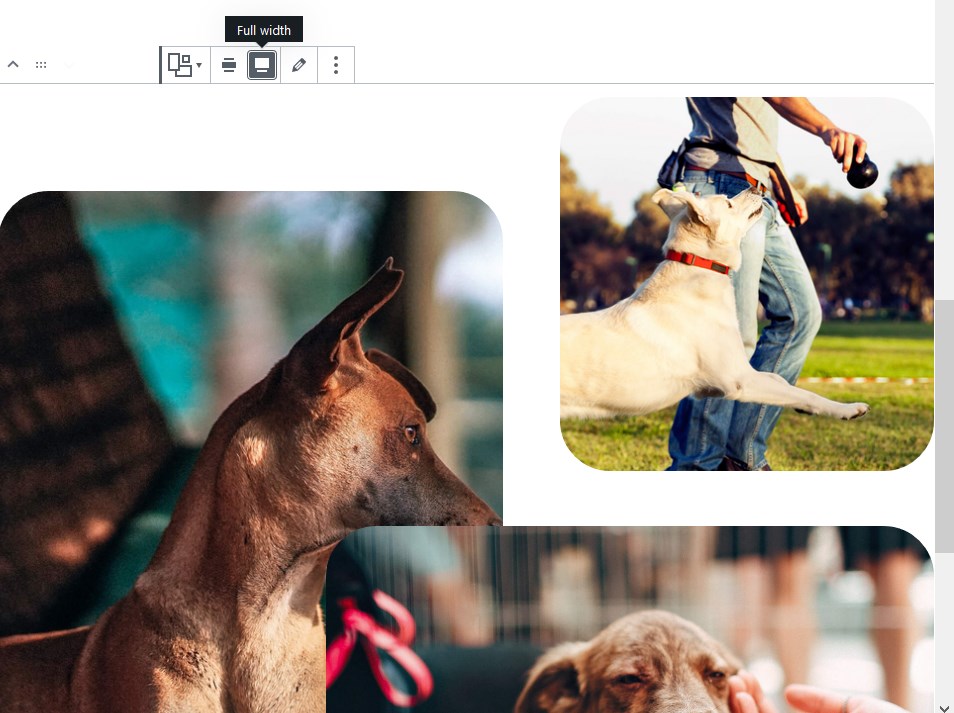 To communicate different ideas, you can employ simplified interface of icons (animated and customizable as well).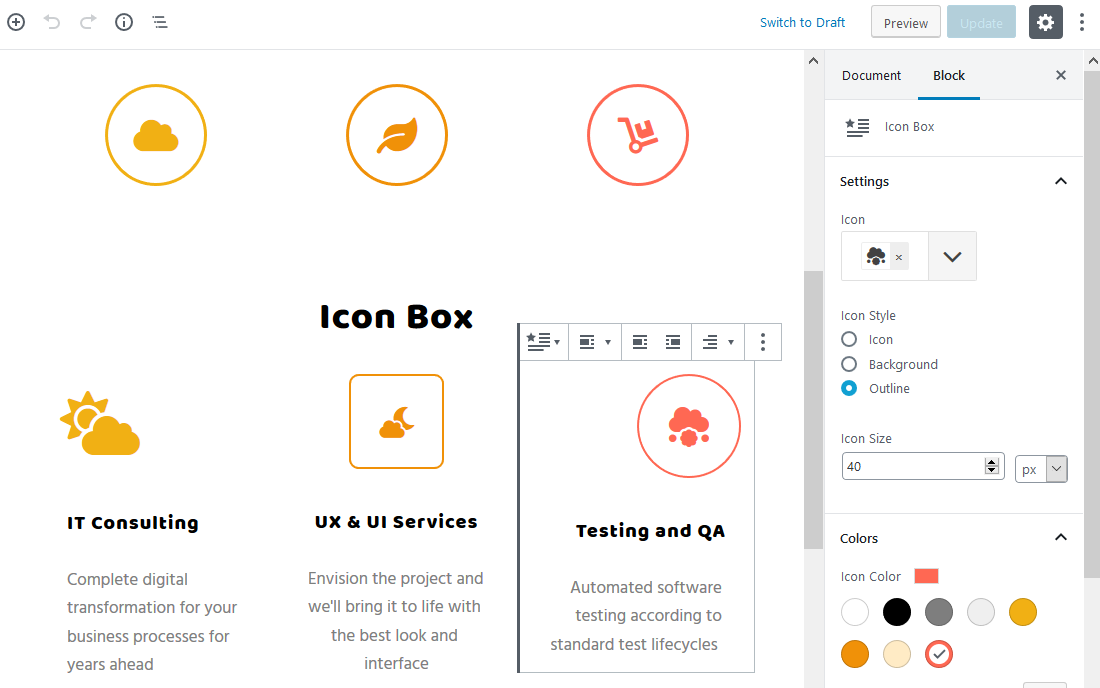 As you've probably already noticed, our WordPress theme for pet hotels offers a choice of pre-set brand colors, which can be applied to any Getwid block that supports this functionality.
So you can try your hand with design and build content blocks from scratch, then select brand colors to maintain design consistency across your website.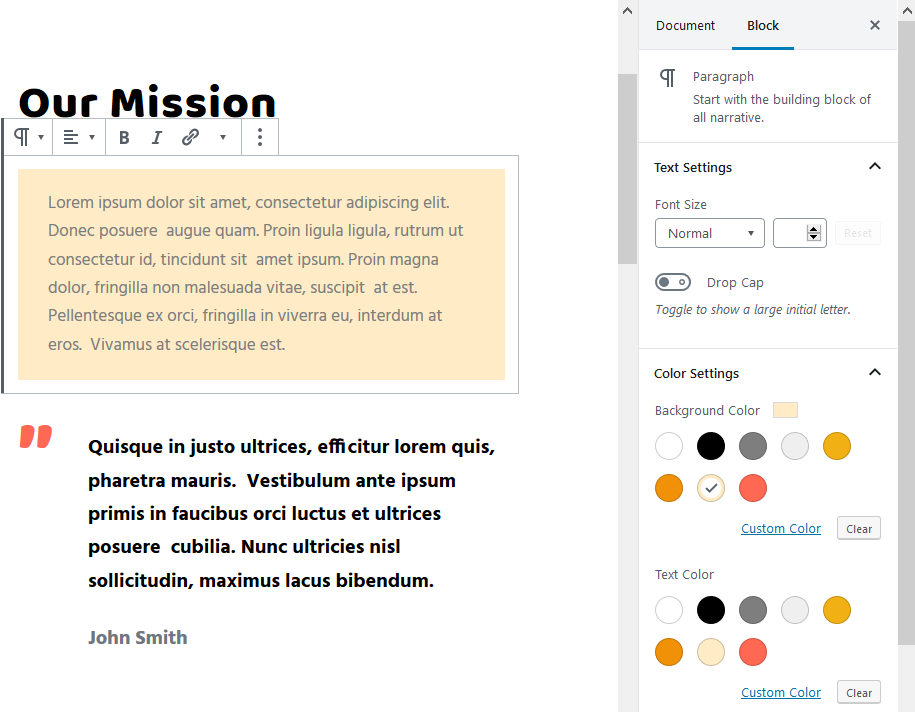 Overall, Petotel is already packed with all traditional website pages, plus numerous custom-crafted blocks you can transfer to any page and customize. Each piece of the header and footer is also editable without any tech skills.
Build a WooCommerce shop
If you want to build an online shop and sell things independently from the pet hotel rooms and services, you don't need to go an extra mile – the WooCommerce shop design is also included! So if you decide to create one, you just need to configure the settings and add products. Although the process is very intuitive, we have specific guidance for this in the docs.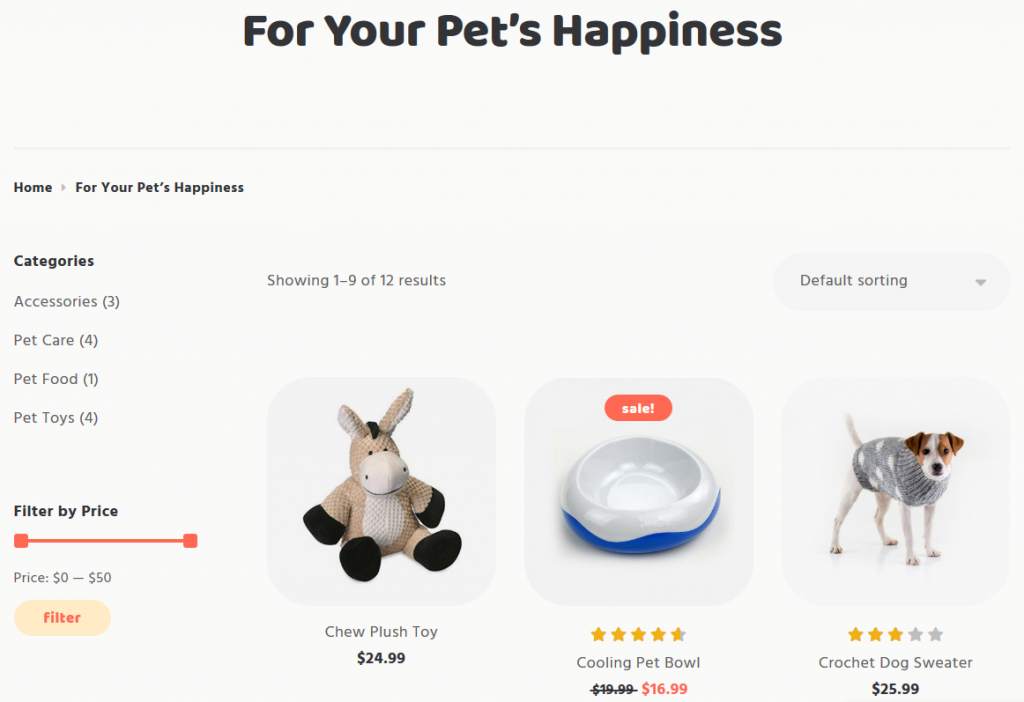 Luckily, the WooCommerce team released specific blocks to streamline your workflow of adding shop-related content via the Gutenberg editor. Thanks to the product blocks, you can seamlessly integrate content and eCommerce offerings across a store you might want to integrate with the Petotel theme.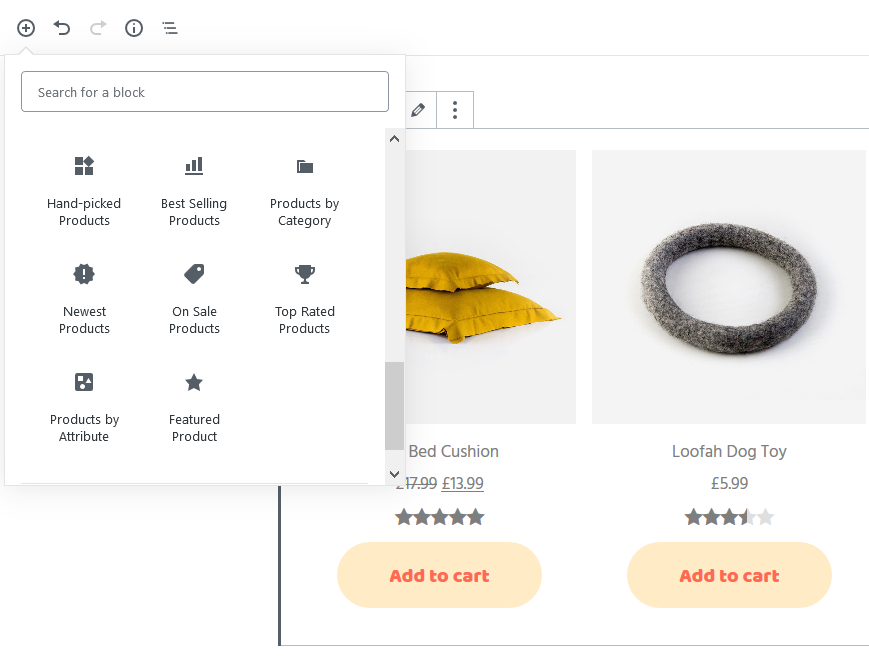 Booking pet boarding accommodation and services
We are not going to get into details here, but if you need to get the general idea, let's focus on the main things of the booking engine. Complex things look better when put in bullet points, agree? So here is what the plugin can do: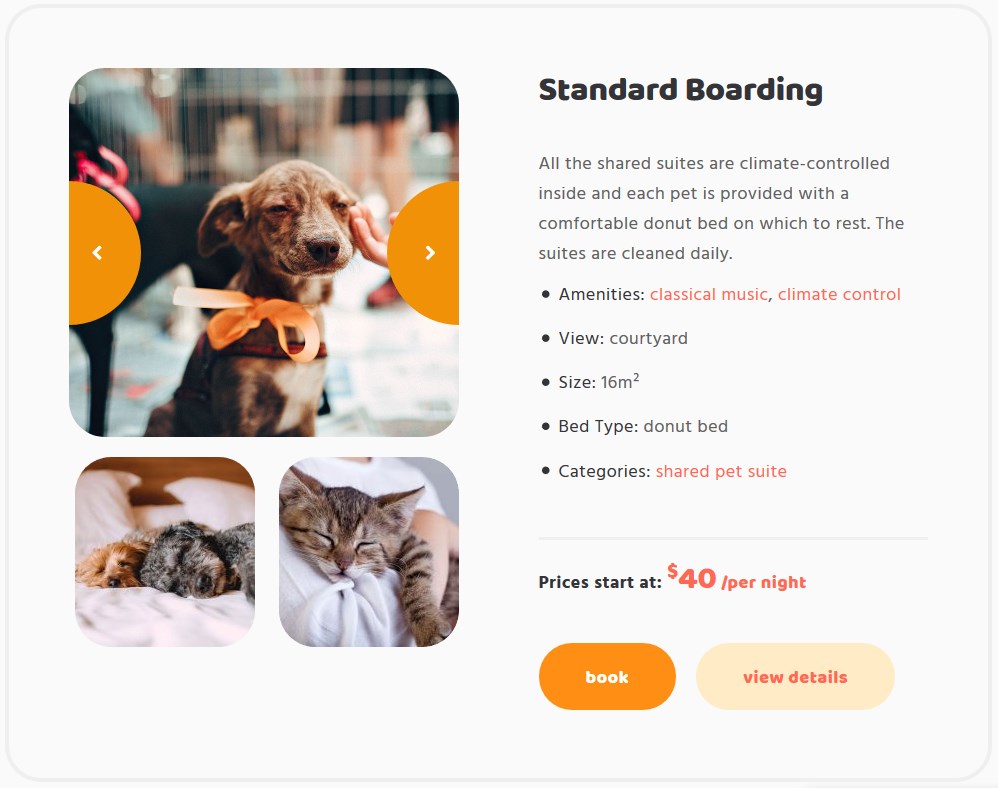 Feature any number of boarding accommodations for different types of pets, with their own availability calendars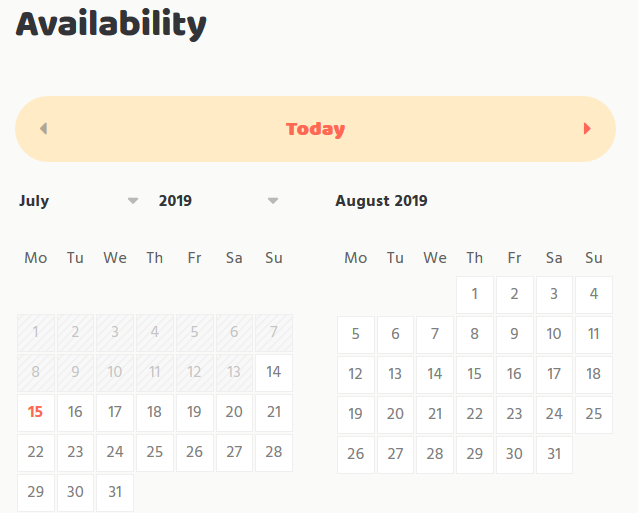 Categorize those suites of your pet sitting website template for easier booking
Create a real-time search form with any custom search filters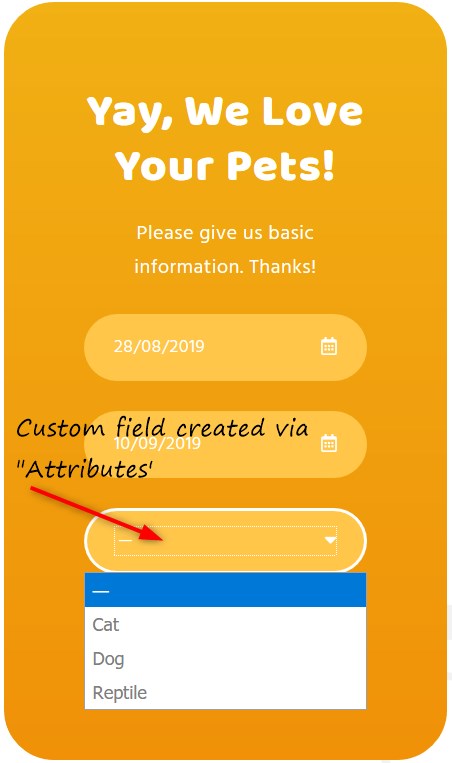 Enable pet owners to book available dates online (date-based) without direct interaction
Designate different rates based on different conditions: time of the year, length of stay, etc., utilize the discount system and more
Sell services along with boarding rooms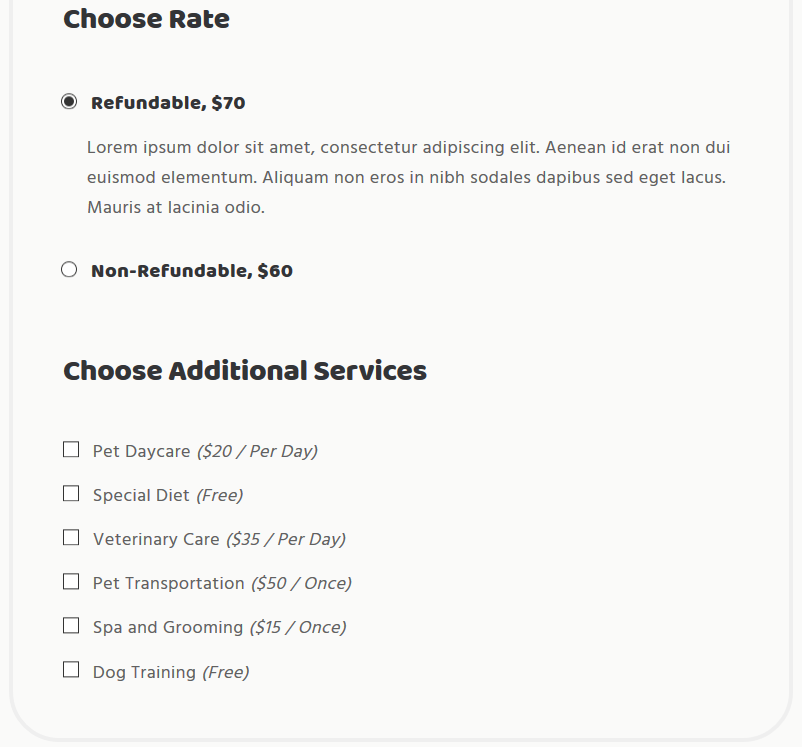 Wire up payment gateways, such as PayPal, 2Checkout, Braintree, Stripe, Beanstream/Bambora for free (but we remember that this is a local process, so we allow you to add more local gateways without coding via WooCommerce)
State boarding policies
Charge clients tax-wise and include fee charges into the price
Set client communication on autopilot
Keep bookings and client information under one roof and easily transfer bookings data into the CSV format.
If you want to try your hand at the plugin's functionality (not this specific design), you can create a free trial account and check each and every option.
Are you building client websites? You'll regret not joining the MotoPress Club then, where you can get all products with a fantastic discount.
Conclusion: Why Petotel WordPress pet boarding & pet sitting website template?
To sum up, here are three main things why Petotel WordPress pet sitting website template might deserve your attention:
Bold, modern and lightweight design, which is easy to interact with for modern pet owners.
The theme price covers the MotoPress Hotel Booking plugin's cost, which is a premium rental unit reservation engine.
You can safely switch a WordPress theme design since all your bookings/clients are stored within the plugin!
Should you have any questions – we are online five days a week, so just click on the Chatbox!
*Petotel premium WordPress pet boarding template is available for free usage on unlimited websites for all MotoPress club subscribers.

Can I use Petotel for the cat boarding site?
Sure, you can use the Petotel theme for any sort of hotel, including dog and cat boarding websites. The theme comes with the simple demo data importer that will allow you to replace sample data with your own quite quickly.
What is the best way to edit Petotel?
We recommend customizing Petotel in the same way it was designed and created – via the native WordPress block editor. The Hotel booking plugin packaged with a theme also supports the block editor, which will guarantee a smooth customization process for both design and functionality.
Do I need to pay extra to use local payment gateways?
The Hotel Booking plugin packed with Petotel supports PayPal, 2Checkout, Braintree, Stripe, or Beanstream/Bambora without additional fee. If you, however, want to connect to any other specific gateway, you'll need to buy the WooCommerce addon. This addon helps you integrate those gateways in clicks, without tech help.