Free WordPress Theme for Entrepreneurs – Build Website in a Few Steps
Recently we released a lightweight premium WordPress theme for small business – Entrepreneur. To help on-budget projects create an awesome online presence, we've made a free version of Entrepreneur available. To see all the possibilities and benefits of a free WordPress theme version, you now have a chance to learn from examples and see how you can build a professional WordPress site in a few steps. I'm going to transform a default-free Entrepreneur theme (featuring hairdresser's services) to the photographer's portfolio page.
If needed, take a quick look through main Entrepreneur free WordPress theme features.
A free version we are going to review excludes premium online Appointment booking tool, premium visual drag-and-drop Page Builder and an ability to customize footer text. However, you still get a feature-rich flexible template with tons of customization opportunities. Let's prove it.
How to start
Download, install and activate the Entrepreneur Lite WordPress theme.
To start the process even easier, you can follow the Installation Wizard that will help you create and customize the front page faster (it will automatically offer you guidance after a theme activation).
One more thing, if you want to add all front page content modules featured in a theme demo, install also the Entrepreneur theme engine plugin to feature Gallery, Services & Prices table and Testimonials sections (it'll be offered by Installation Wizard as well so it's not necessary to download it from .org directory).
Edit front page
If you followed the Wizard, you should be now able to edit the front page via a visual WordPress Customizer. Here is a default front page header of Entrepreneur Lite: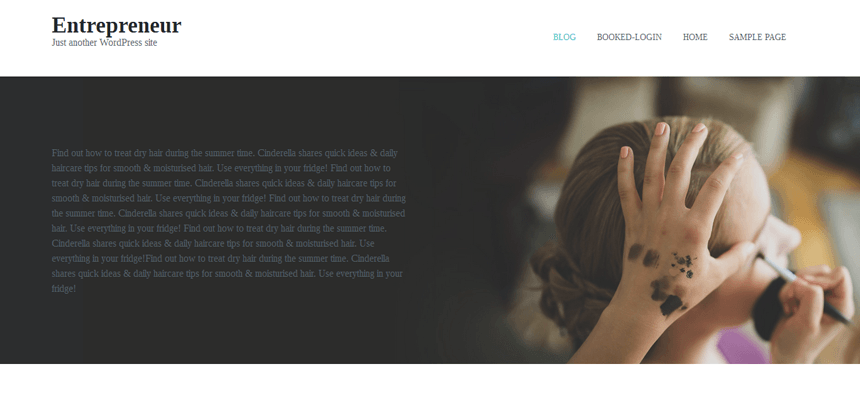 Via Customizer you can easily transform it by updating the site identity – optionally add its name, slogan, upload logo, change header image or set a background one, etc. To replace a booking plugin that comes in a premium theme, you may find any free alternative or place completely another widget in this section (like calendar, contact us button, etc).
So, making a couple of these changes and setting a background image, we get a completely new look of the theme for our hypothetical photographer: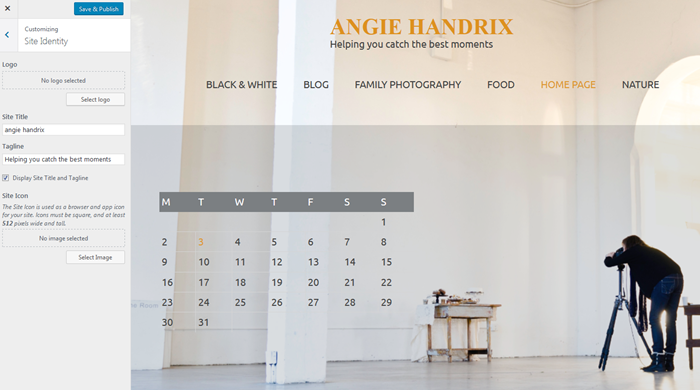 If you still want to have an online booking form in header, try any free WordPress plugin. For example, I used Meeting Scheduler free plugin to allow online bookings through the site. It shows availability calendar and lets book a meeting: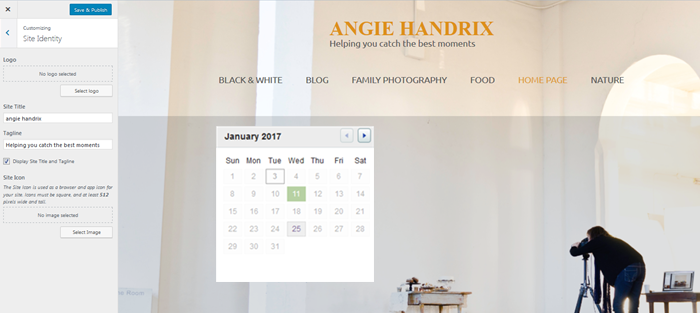 In Fonts and Colors section you are free to update main website accent colors, text color, header text color and background color. You may also update the fonts separately for website title and main site content: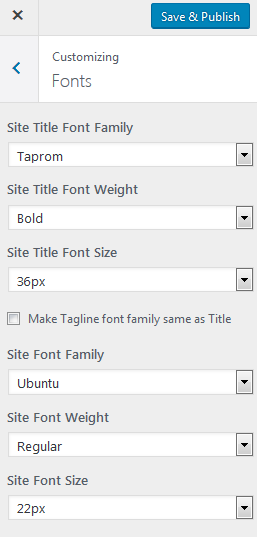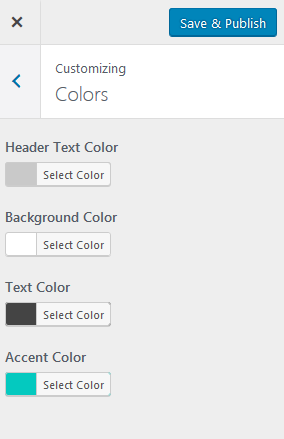 You are free to add a background image that will be displayed in each section where the background is not customizable (e.g. Blog). To set the image go to Customizer > Background image > Change image. In the same menu, you may also update the image position choosing from the "Image Size" drop-down menu.
If you don't plan to use a background image, you may set another image for the upper front page section. Upload it to Customizer > First Section > Select image. In this way, your image will be fully separated from the navigation menu and header. Just like here (I've also deleted the calendar and added a simple "contact me" button):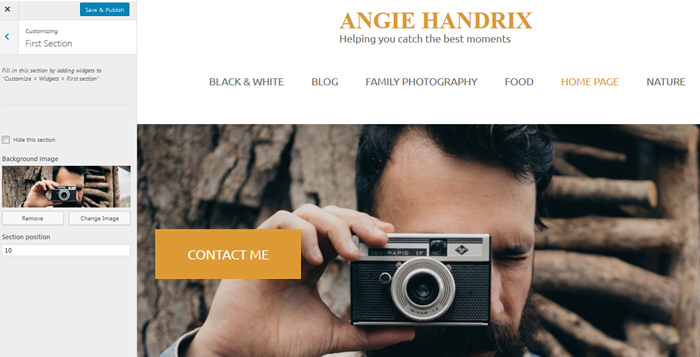 Entrepreneur theme engine also allows you to feature all your service and prices in the appropriate tables: go to Customizer > Services section. Here you can edit the title, button label, button URL and add a background image. To add content to this section, go to "Entrepreneur – Services & Prices" widgets to "Customize > Widgets > Services & Prices section. Let's feature some services the photographer can offer: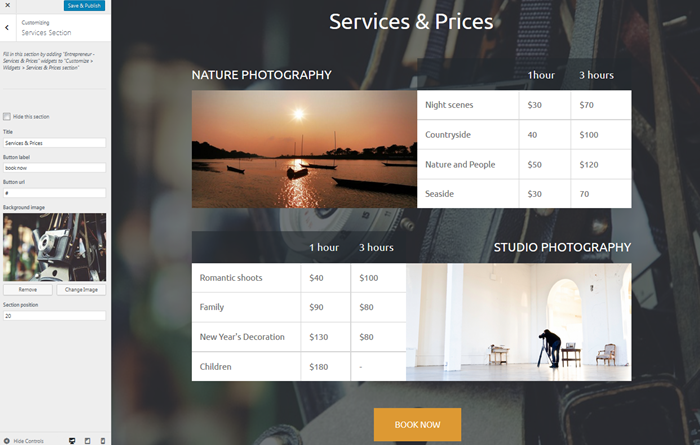 You may also add a photo gallery to feature separate work or projects. It comes with stylish hover effects and an option to set a background image.
For example, photographers can display the best works or, like in the example below, the latest collection of photos: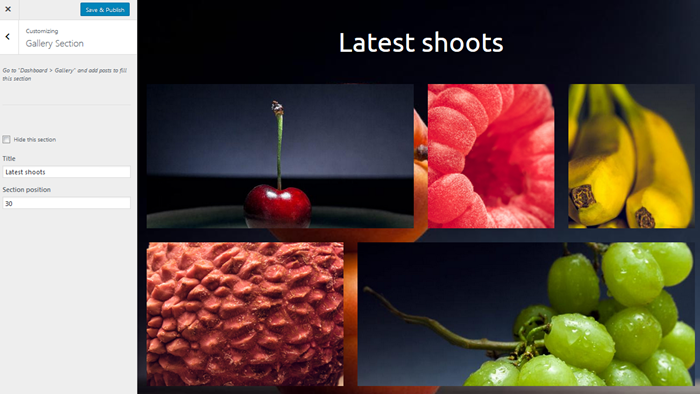 You may also add a fullscreen slider of testimonials, where it's possible to add a background image and a photo of each author.
To add and customize testimonials, go to WordPress Dashboard > Testimonials > Add New: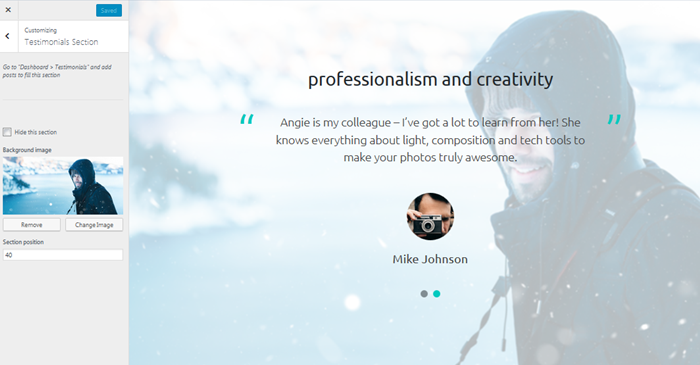 The news section is automatically filled with your posts. You can update the label for this section, button text and URL. You may also hide it.
Blog stories of photographers are even more interesting as usually they are supplied with one or a couple own stunning images: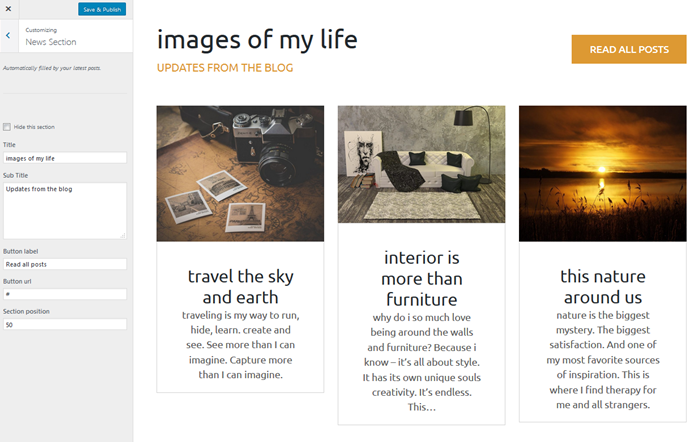 You may also add a call-to-action section to create immediate value of your offerings to potential customers (Customizer > Call to Action Section):

Moreover, the theme comes with a free version of a visual MotoPress Visual Page Builder that helps create more professional and personalized pages with different types of content. Using it with Entrepreneur free wordpress theme, you'll be able to add any type of content module (like text, buttons, images, sliders, tables, charts, etc) – drag-and-drop, fronted editing and tons of customization tools for each element: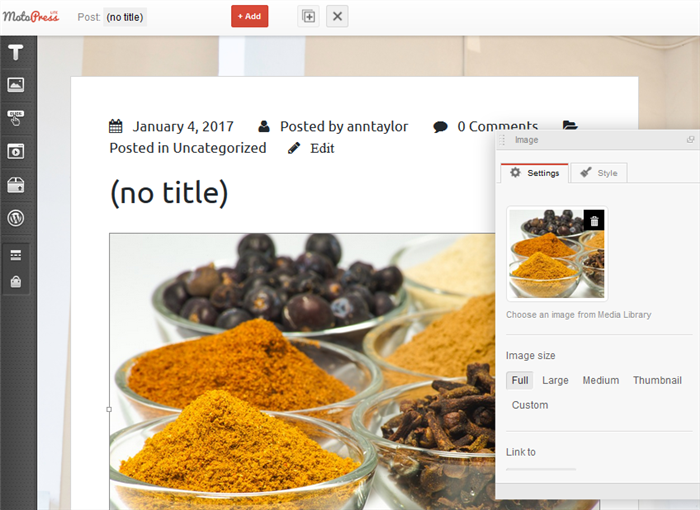 Conclusions
As you might sum up, the template can serve absolutely different types of business. It is very easy to tweak to your needs no matter if you provide consulting services, build a creative portfolio or offer furniture repairing service. Just start with adding your services and prices, show some examples, add testimonials and posts for a blog, adjust colors and images – you are mostly ready to go!
Download Entrepreneur for Free
Update! Developer? Get this and other themes + plugins in one extremely discounted bundle – check MotoPress Membership.