Top-Ranked WordPress Plugins For Business
The world is in the process of digitization, and now every business is interested in having a website to be connected with customers worldwide. If your business needs a creative and successful website, then your choice is WordPress. Here you can find WordPress plugins for business that will help you to gain profit.
To develop a website, you should take into account many details. WordPress offers multiple options you can choose from depending on the business purpose and field. We've handpicked free and premium solutions that cover different business needs.
Even if you are a beginner in IT, here is a list of WordPress best plugins for the business you can set up without skills in writing code.
Remember that while you are customizing your website, it's easy to put it under construction so that website visitors don't see the unfinished work.

The Collection of the WordPress Business Plugins
We'd like to present you our collection of the WordPress business plugins solutions. Check all of them out and give a try at the best one for you!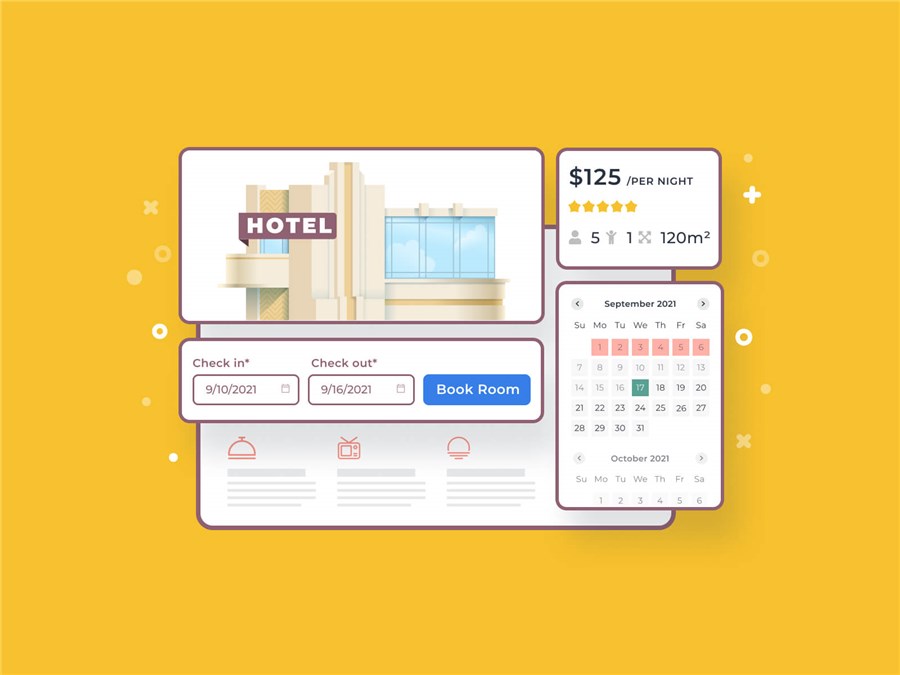 Do you need help with your hospitality business? WordPress Hotel Booking Plugin will help you with the booking process, as it contains some essential features:
Different categories of the rental property: you can present a hotel room, villa, a cabin, etc. with full description.
Flexibility: dynamic rates prove it, namely prices can change depending on the season, room options, or guests amount.
The discount coupons and awareness about taxes: they will encourage the guests to return to your accommodation.
Synchronization: with the help of the plugin, the information about bookings can be synchronized with the data from OTAs that support iCal like Airbnb.
Booking, editing, and confirmation: these tasks can be accomplished both manually and automatically.
It is convenient that the plugin options offer you to choose between payments in advance and after arrival.
Hotel Booking Plugin is compatible with Gutenberg and Elementor editors.
MotoPress Reservation plugin offers you themes like Booklium adjusted to booking website needs and addons that ensure multifunctionality.
A free MotoPress Hotel Booking mobile app that you can download on App Store or Google Play lets you connect your WP website to your phone or other device and work with bookings on go.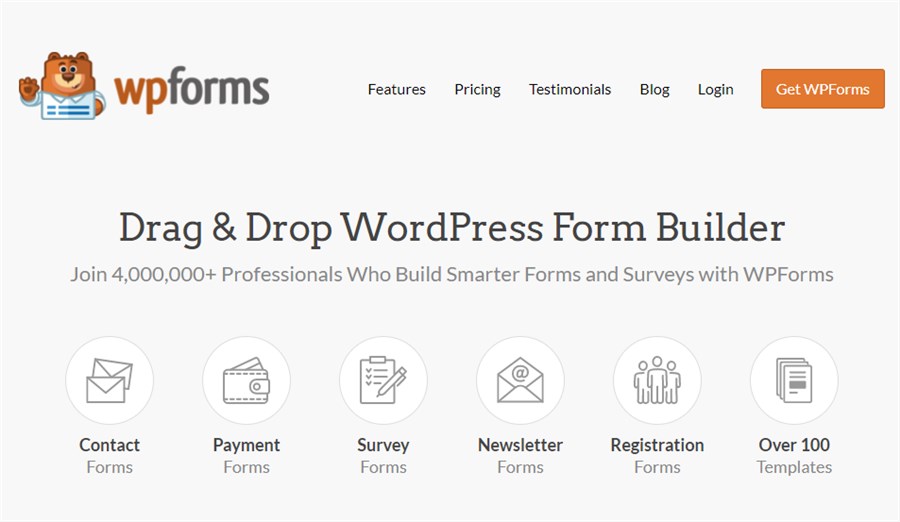 If you are looking for a contact form plugin, then WPForms is a solution for your business. This user-friendly plugin is one of the best plugins for WordPress business. It has some key features that make it your assistant in the contact forms creation, namely:
Drag & Drop form builder that is easy to use, so you needn't have a master degree in IT to create a contact form.
Access on any device: mobile, tablet, or desktop.
Templates built in advance: specialists cared about saving your time, and now you can just choose the required template.
Multi-page forms: multiple pages look much better than long forms.
Quick connection with user: you have an opportunity to set notifications and user registration form in a few clicks.
Numerous addons: such addons in this WordPress plugin as PayPal, Mailchimp, Signature, Form locker, etc. will add your business more functions.
So, these features show how WPForms can upgrade your business website in a few steps.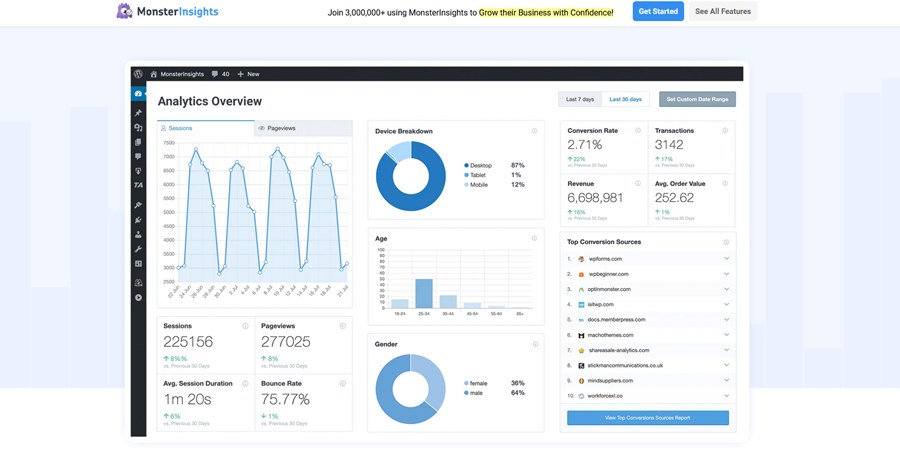 To build a strategy for your business development and know what aspects are the most attractive for your website visitors, you need to retrieve stats. And this task can be performed with the WordPress plugin called MonstersInsights. This Google Analytics plugin will help your business grow because of these main reasons:
No code and no time: just install this one of the best business plugins for WordPress and set up the features you require.
Audience Report: this plugin will give you detailed information about your website visitors: their gender, country of origin, age, etc. Your targeting strategy can be adjusted to this data.
Behavior Report: visitors find your website thanks to the keywords, and you can be aware of these words with the help of MonsterInsights.
Content Report: this insight will show you which aspects of your website are most likely to attract visitors. That is the way to draw special attention to these topics, and your website will gain top-level coverage.
eCommerce Report: this WordPress plugin for business will provide you with the essential eCommerce metrics in one report.
Consequently, the stats received due to the MonsterInsights plugin for WordPress are your guide in developing your website and focusing on the visitors' needs and interests.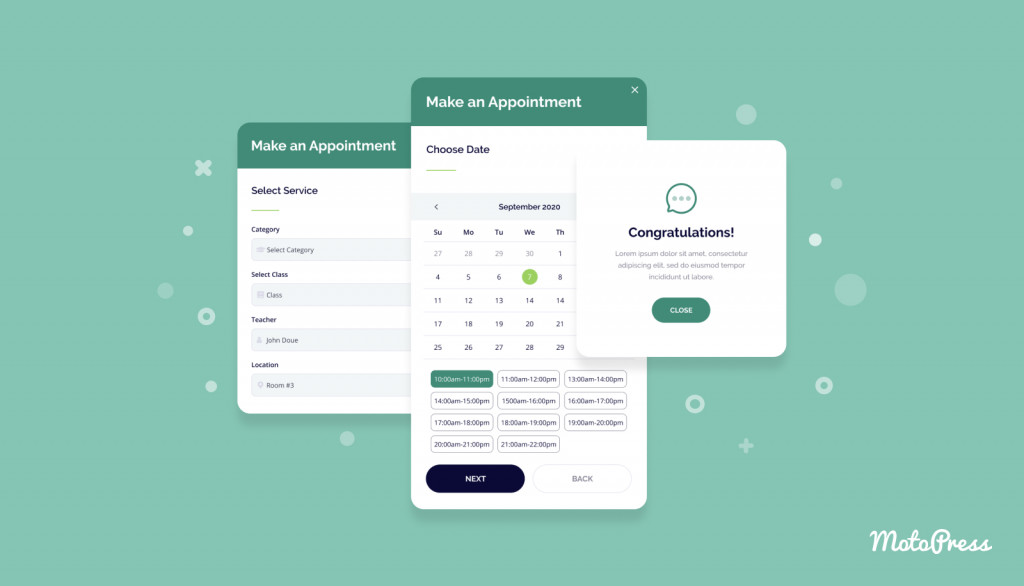 If appointments and time slots are essential for your business, then WordPress Appointment Booking Plugin is the best solution. This one of the WordPress best plugins for business will arrange online appointments in service-oriented companies, including beauty salons, medical centers, and sports institutions. There are several reasons to choose this very plugin, including:
Different businesses: hourly appointment booking plugin allows you to run both small and chain businesses in different locations.
You can choose appropriate options, locations, categories, and select one of the pre-built WordPress appointment booking themes.
Add time frames or buffer times: you won't have a scheduling conflict in case of service delay or unexpected events.
Details about your staff: you can create a list of your employees and add information about them, e.g. their skills, photos, and schedules.
More info: your staff needs time for lunch, for breaks, for rest during holidays and days off. This information can also be added to their personal schedules.
Different payment methods: your clients are allowed to pay for services via PayPal, Stripe, a direct bank transfer, or upon arrival.
You can provide discounts via coupon codes.
Hence, WP Appointment Booking Plugin provides a booking wizard that helps manage appointment bookings, their details, and their status.
Click for the appointment booking demo.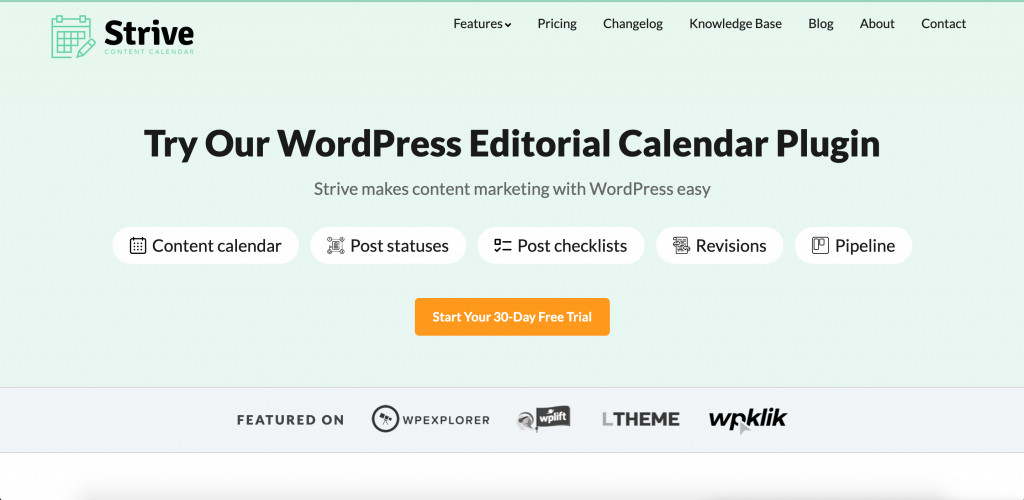 Strive is one of the best options for a WordPress editorial calendar. It adds a content schedule to your WordPress dashboard, inserts the post schedule, creates new posts, inserts drafts, and changes the post schedule. This is a universal tool for solo bloggers, content marketers, as well as news & publishers with tons of releasing content. 
Strive includes many hands-on tools for content creators:
You can organize your drafts based on a number of post statuses (Not started, Writing, Editing, Complete). Drafts are color-coded based on their status.
You can create a content process with post checklists (check in Grammarly, add featured images, etc).
You can republish posts with corrections and better SEO.
You can organize your WP blog posts in a pipeline. In other words, you'll be able to take a look at all posts & their statuses on one page.


Are you trying to create an effective sales funnel for your business to increase revenue? WPFunnels, the visual drag-n-drop sales funnel builder, allows you to plan and create sales funnels easily.
Whether you're looking to create leads, sell products or ebooks, or offer subscriptions or courses, WPFunnels has the features:
Order Bump at Checkout: increase your sales revenue by adding an attractive order bump offer during the checkout process.
One Click Upsell & Downsell Offer: trigger any exclusive or one-time offers as upsell or down-sell after checkout.
Drag & Drop Canvas: this makes funnel mapping super easy for you with a visual canvas.
Major Automation & CRM Tools Integration: it sends data to important automation & CRM platforms like FluentCRM, MailChimp (Pro), ActiveCampaign (Pro), MailPoet, and most email clients according to user actions.
Pre-built Funnel Templates: create your niche-specific funnels using the pre-built funnel templates optimized for high conversion.
Page Builder Integration: personalize your funnel pages using the plugin's proprietary page builder – Gutenberg blocks, Elementor widgets, Divi modules, and Oxygen.
Compatible with WooCommerce: It integrates seamlessly with WooCommerce to create sales funnels for your products.
Create Course Funnel Without WooCommerce: use LearnDash without WooCommerce to build a funnel journey and provide courses as an order bump, upsell, and down-sell.
If you are looking for a way to create the most effective sales funnels, WPFunnels is your go-to plugin for WordPress.


Would you like to apply different discounts to a variety of different scenarios? Your customers might expect a higher discount when they purchase a larger number of products from your store. The ELEX WooCommerce Dynamic Pricing and Discounts Plugin enables you to do just that. You have the ability to set dynamic prices and discounts for individual items, entire categories, specific combinations, or the entire shopping cart.
You will have no trouble putting in place elaborate rules based on either a percentage or a flat discount. It also includes a pricing table that displays all applicable discounts for a certain product. Some of the key features of the ELEX dynamic pricing and discounts plugin include:
The ability to set up a percentage or flat rate discount for WooCommerce products.
Offer discounts on specific product categories.
Offer customers a discount on specified combinations of products when they buy those products together.
Provide BOGO (Buy One Get One) Offers.
Apply discounts based on product tags.
Use WooCommerce Product Tags to Determine Buy One, Get One Free Discounts.

Display all product rules in a WooCommerce dynamic pricing table and discount table on the product page to inform buyers of all prices and discounts.
This plugin contains all the features you could possibly need if you run a WooCommerce store and want to apply discounts and prices based on rules.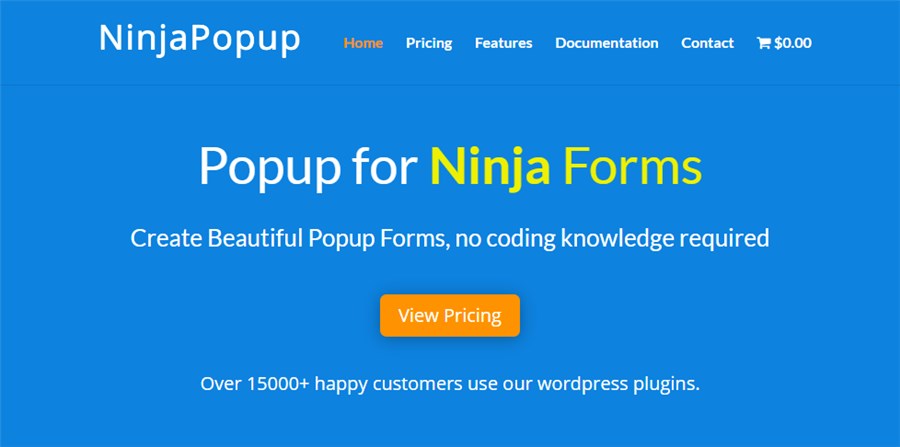 It's very difficult to make visitors stay on a website longer. But popup is a creative and multifunctional method to do that. And Ninja Popups is a popup plugin for WordPress you will not regret about. Being easy to utilize, this one of the best business plugins for WordPress helps you reach the desired number of subscribers and social signals with the help of some distinctive features:
Different kinds of popups: popups types vary from a discount coupon, locking the content until subscribing or sharing to an offer to subscribe into your newsletter. They won't allow the reader to stay indifferent.
Popups are customizable, translatable, and mobile-friendly.
A popup that is most suitable for your target audience can be easily created in a few seconds.
An opportunity to receive a report with stats: you may track your website visitors' preferences and best functioning popups.
Accordingly, the Ninja Popups plugin that is compatible with many mailing systems is a great solution for increasing social indicators on your business website.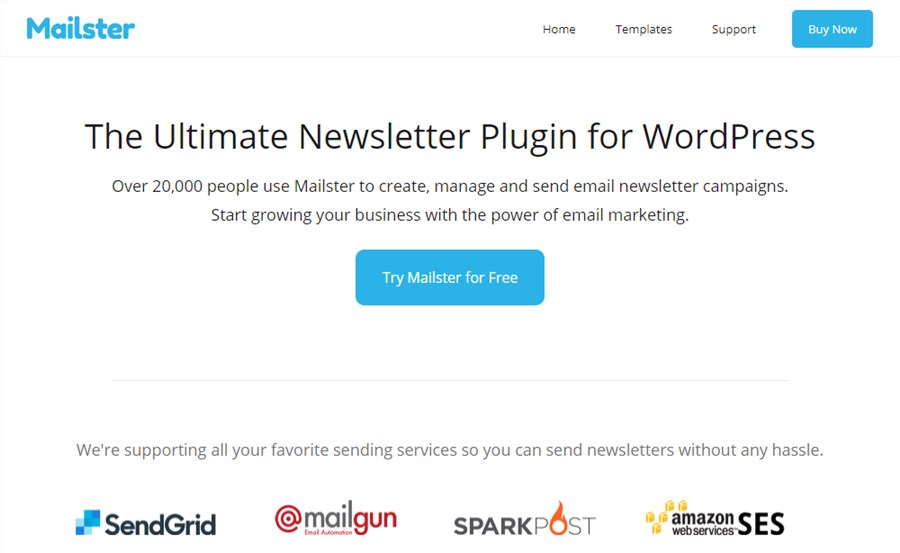 Do you have an idea for email marketing or a wish to organize a newsletter email campaign? To do it in the best way, you need Mailster. With this one of the WordPress best plugins for business, your campaign will become well-managed in minutes. The main features to achieve this goal are:
Drag & Drop Form Builder: you can launch your campaign without any skills in coding.
No manual work: all holidays greetings, posts, campaign emails, follow-ups are sent automatically.
Real-time campaign report: with Mailster you may get analytics data about your campaign at any moment. Therefore, you may track its click rate and some information about subscribers.
No limits: the number of subscribers doesn't matter.
The plugin is compatible with any email provider.
Possible integration with other plugins: WooCommerce, ReCaptcha, NinjaPopups, etc.
Thus, Mailster is a great professional email newsletter plugin for WP for those who want to handle their mailing campaigns or auto-responders.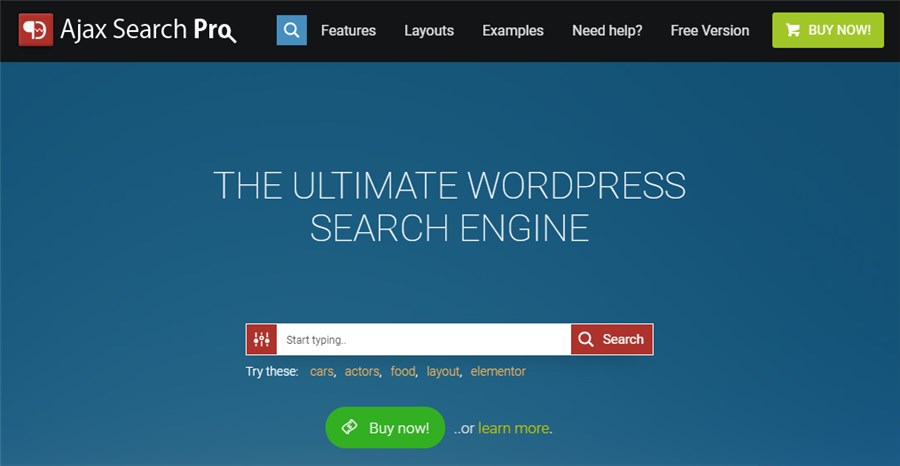 The next plugin in our list of the best business plugins for WordPress is Ajax Search Pro. This search engine is a decision for developers who want to make a highly effective, eye-catching, and more convenient search bar. This plugin working on all mobile devices is notable for some features including:
Results via images: photos help users vividly get acquainted with the search outcomes.
Good-looking layouts: Ajax Search Pro provides 4 different layouts: Vertical, Horizontal, Isotopic, Polaroid.
Pre-defined theme options: you can choose from 100+ pre-built themes and even edit some of their parameters.
Keywords and autocomplete: such suggestions help website visitors find the required information in seconds.
Wide range of content: Ajax Search Pro is customizable with different content types: portfolio items, posts, and pages, eCommerce products, etc.
Front end filtering options: add the filters of different categories such as checkbox, dropdown, radio button.
Therefore, Ajax Search Pro is a search and filter plugin that suits the improvement of the search bar to the fullest extent.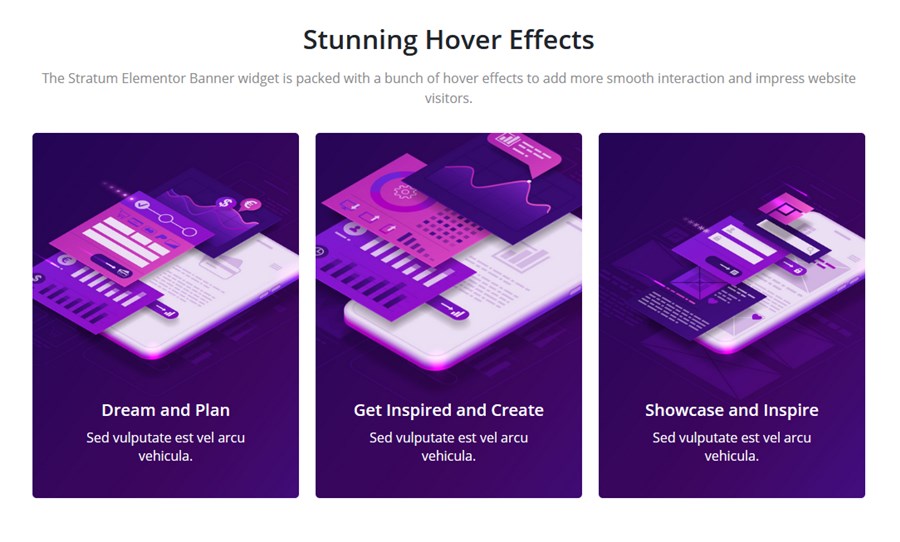 It doesn't matter which business you are occupied with, you will find a necessary widget in Stratum. Stratum is a collection of 20+ free widgets for Elementor. It provides Elementor addons that will help to create a website because of these main features:
Different types of websites: you can create landing pages, portfolios, and blogs.
Numerous widgets: this plugin is an advanced way to create Price Tables, Menus and Lists, Timelines, Progress Bars, and other Elementor widgets for filling your business website page, and they are free.
Customizable theme: keeping a particular theme on your website and having widgets fully customized to it? It's an easy task for Stratum as one of the best plugins for WordPress business as it is compatible with all up-to-date website templates.
Integration: if you want to integrate your custom content blocks into the Elementor addons, Stratum will accomplish this objective.
As a result, Stratum is a set of tools that speed up the work of your website, and don't miss a chance to get a fully adaptive WP plugin for your business.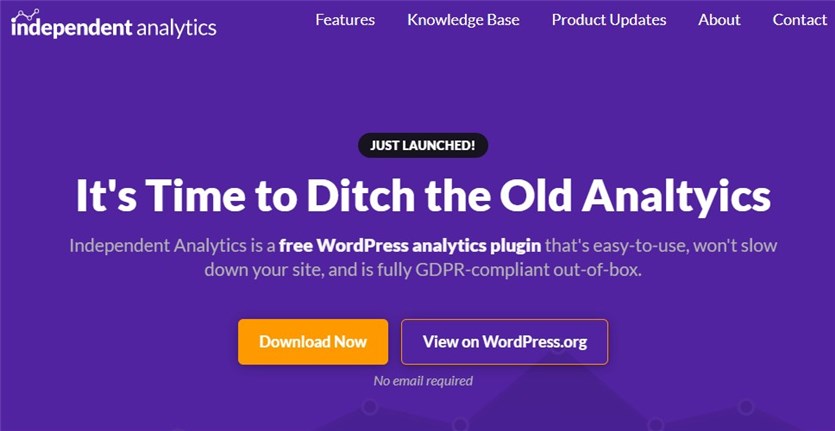 An important part of growing a business is understanding which pages are successful and where your visitors are coming from. Independent Analytics gives you an easy way to find this data and much more.
Independent Analytics is a free analytics plugin that doesn't require you to create a third-party account elsewhere and adds a lightweight tracking code for you. Unlike more complex analytics tools, it is fully GDPR compliant without configuration. Other features include:
Beautiful analytics dashboard in your WP admin.
Rich WordPress data like post authors and categories alongside your metrics.
Virtually zero impact on your site's performance.
Top pages and top referrer reports.
No need to copy and paste tracking codes yourself.
Full data portability and privacy.
100% GDPR compliance.
If you're looking for a simple alternative to Google Analytics, Independent Analytics might be the right statistics plugin for your site.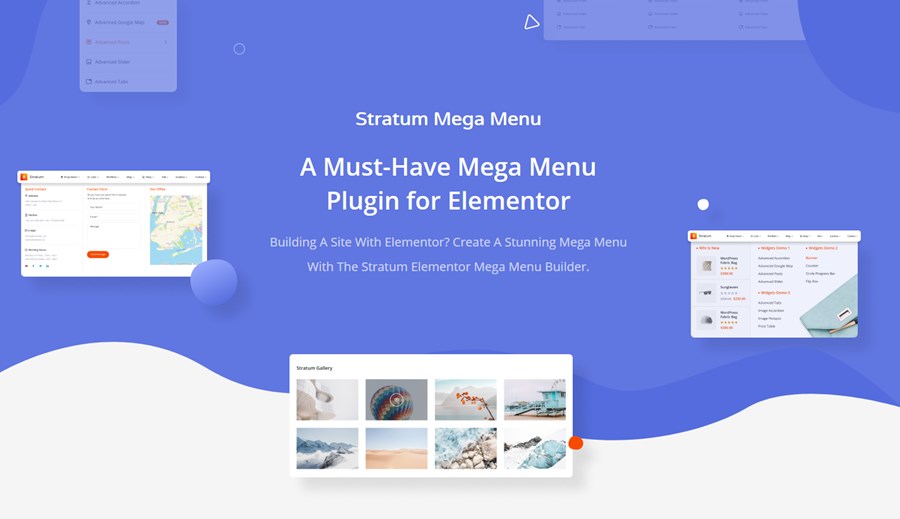 No matter how engaging your content is, only the well-built structure of the website enables one to perceive it properly. The more time it takes for visitors to find information, the less time they will click on your site next time. That's why you need a navigation plugin for your business website. And Stratum Mega Menu is a strategically right choice because of:
Menu elements: with this WordPress plugin, you can build a menu with tags, icons, or badges.
Editing options: you can play with colors, typography, or borders.
The choice about the layout: horizontal or vertical.
Decisions about the menu: you can add the animation effects, e.g. moving or fading.
Responsive design: many website visitors who use their mobile devices will like this feature.
That being so, features of the Stratum Mega Menu will help you make reachable content using Elementor widgets.

Your content on the business website must be brilliant, isn't it? Then pay your attention to Getwid. What's Getwid? That's a plugin combining blocks for Gutenberg and the unique Template Library.
This one of the best business plugins for WordPress contains 40+ exclusive content blocks for the native WP editor. You can organize your content and create a clear layout on your website due to the key points, namely:
Content blocks: this one of the best business plugins for WordPress contains 40+ exclusive content blocks for native WP editor. Add icons, banners, image galleries, etc. there.
Templates: installing Getwid, you also get 35+ Gutenberg pre-built templates.
Prepared ready designs: with the hero and sub-hero sections, call-to-action pages, etc., you start quickly with your website, and all your needs are met competently.
User-friendly plugin: to implement all your ideas, you can experiment with block shape, size, colors, animation, and other characteristics.
Preview mode: check all changes in real-time to know if they are worthwhile.
WordPress theme integration: don't be afraid of non-compliance as Getwid blocks easily inherit your WP theme
In consequence, with Getwid you get a plugin that arranges your business website appearance without slowing down its work.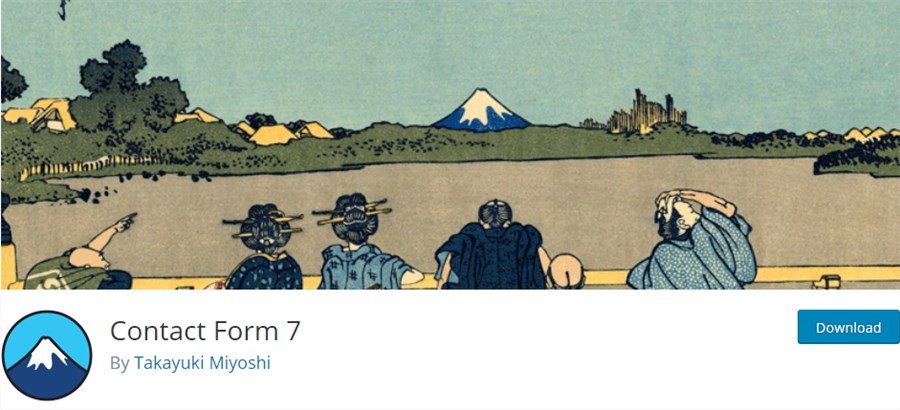 If your business website is expected to have numerous contact forms, then you need an assisting WordPress form plugin. It is very difficult to manage all the information coming from contact forms because it takes a lot of time. So the Contact Form 7 plugin will do it instead of you and organize all work connected. This flexible WordPress plugin will help you with customizing the mailing content as well. Some of its features include:
Integration: it can be easily integrated with the Akismet spam filtering plugin that will greatly save you time.
The plugin supports Ajax-powered submitting, CAPTCHA, etc.
Privacy conditions: some contact form users' info can be sent to the service provider.
Let Contact Form 7 deal with the contact forms on your website, and start accomplishing other tasks. Your time is precious, please don't waste it on sorting contact forms. This plugin is still developing, so wait for new features coming soon!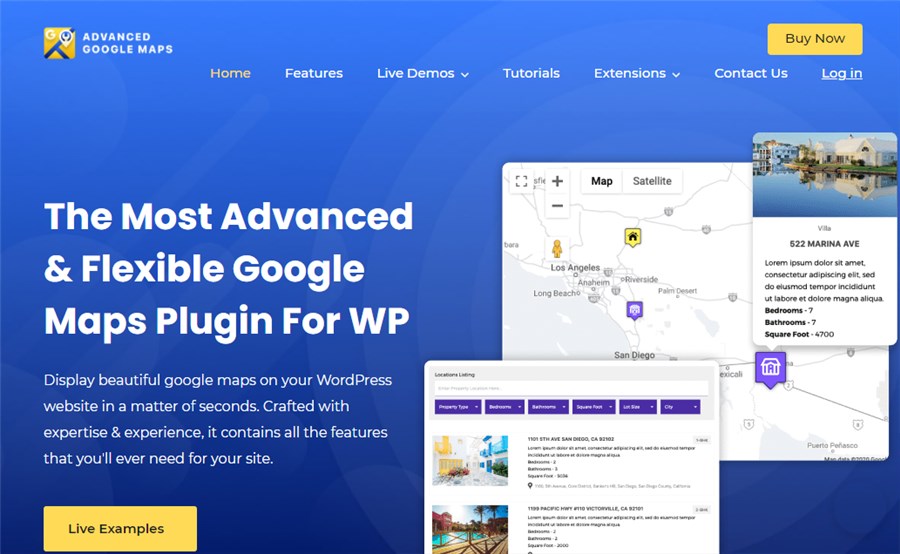 If you want to display any location on your business website, then use Advanced Google Maps Plugin for WordPress to make it easy to understand. Flexible and customizable in use, this plugin allows you to create google maps on your website in clicks. Its function of auto geo-locating saves a lot of time. Multifunctionality on the backend enables developers to display:
New locations: create locations and easily add them to map
Lists or filters: filters and listing below the map help visitors to find the info in seconds. There is a range of listing and info-window design templates
Routes and directions: after filling of some bars, they are displayed on the map automatically
Marker clusters: they help create a better visual perception. Marker can have different icons
Multiple maps: a few responsive maps are displayed on one page simultaneously.
Therefore, well-designed and comprehensible location depiction on google maps is not a problem for WP plugin like Advanced Google Maps.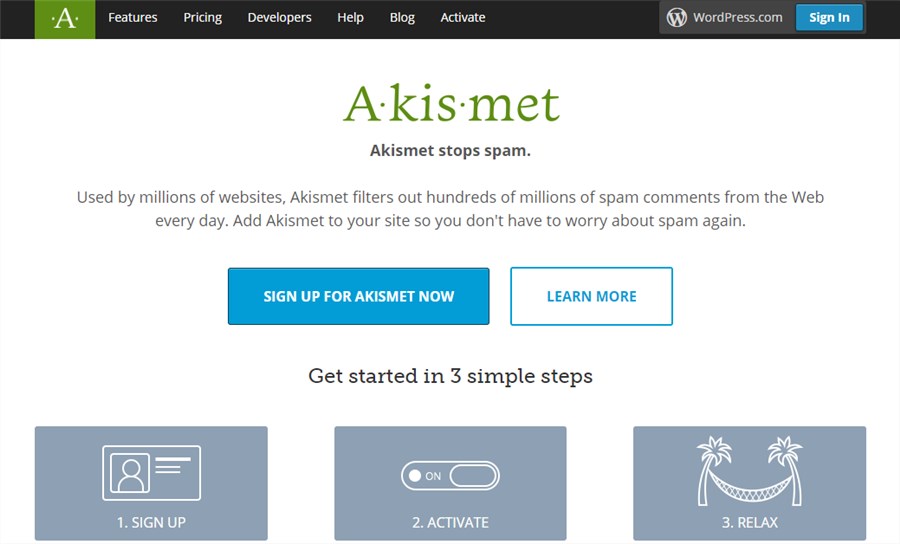 Is spam from your contact forms constantly annoying you? With the Akismet Spam Protection plugin, you will be able to get rid of it. Manual filtering of spam is not the best idea, so Akismet makes filtering of comments in forms that are likely to be spam automatically.
Main Features:
Status history: check the comments which were filtered out by Akismet, their status at any moment.
Scanning option: scan any comment if necessary.
The statistics: the number of approved comments is accessible for moderators.
Work with the worst spam: spam slows down the website. But Akismet helps discard it so that you as a developer get a fast-loading page and save space on disk.
In this way, Akismet Spam Protection is included in this list of best business plugins for WordPress because it helps you and your business save time and money without great effort.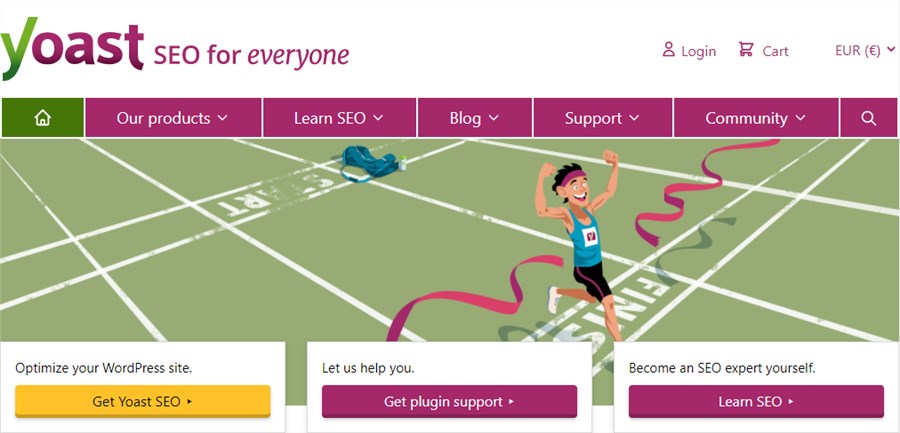 Do you want your search engine to be on the top? Your business website must be fast, powerful and the best. To make it possible, you need the Yoast SEO plugin for WordPress.
This plugin is created for any kind of business, because it has universal technical tools, including:
Canonical URLs and meta tags: they enhance your SEO.
XML sitemaps: your site structure is clear for Google.
Title and meta description templating: with them search results include snippets.
Embeddedness with Schema.org: your content is understandable for search engines.
Site breadcrumbs tracking: users and search engines are aware of their location.
With Yoast, you also receive such multilingual content-related tools:
SEO Analysis: assistant in writing content with keywords.
Readability analysis: your content must be readable both for users and search engines.
Responsive review on Google: check search results appearance in real-time.
In summary, this WP plugin will make your search engine high-level and simple to use, so that your website visitors get oriented very quickly.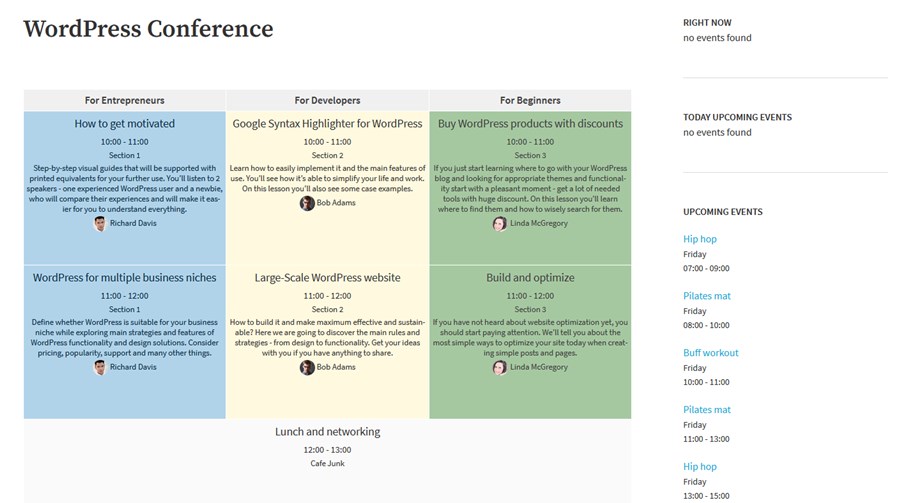 Timetable & Event Schedule Plugin is one of the best business plugins for WordPress. It helps arrange your plans by creating an online-timetable for different kinds of events such as classes, conferences, festivals, etc.
Set up interface, background colors; add date, time, description, and other details of an event and you will have a great reminder.
This plugin provides the Upcoming Events widget. It helps to see the planned events via the compact list in the sidebar of your site.
Key Features:
Compatible design: timetable can be displayed on mobile devices and desktop.
A well-developed toolset of shortcode settings: all necessary settings can be installed without writing a code.
Convenient events filtering: users can apply filters to the events.
Timeframes power: with this plugin for WP you can divide the hours into 15-minutes intervals so that the events are displayed in detail.
Editing options: you can change the time parameters in clicks in the shortcode settings.
In consequence, this plugin for WordPress recognizes the value of your time and has many options to make you an expert in time management for the sake of your business success.
Conclusion
These were the plugins we find to be the best business tools for WordPress. At this point, your choice depends on your business area and your own preferences for the website layout. Hopefully, now you have gotten acquainted with the main features of WP plugins we decided to be the most topic-related and your business website will rank high with one of them!