Meet Avior: Charismatic Free WordPress Blogging Theme
Avior is a free WordPress blogging theme by MotoPress, which was released just about a month ago on the official WordPress.org repository.
Somehow (and hurrah!), it reached a much bigger number of active downloads (600+) than several other MotoPress themes during the same period of time. So it already shows a scarily awesome potential!
The stylish, neat design of this theme makes it perfectly suitable for a personal, corporate, travel, or any other sort of blog. It gives you space for writing great photo-rich posts providing smart SEO architecture. Avior is also pretty flexible in terms of customization: you may edit the footer, header, menus, sidebar, colors insofar that you won't need to fuss with tech at all.
Time to take a closer look at what is actually offered!
Customizing Avior Blogging WordPress theme
The theme is fully responsive, with a great navigation experience. A classy blog layout will work just perfect for modern devices: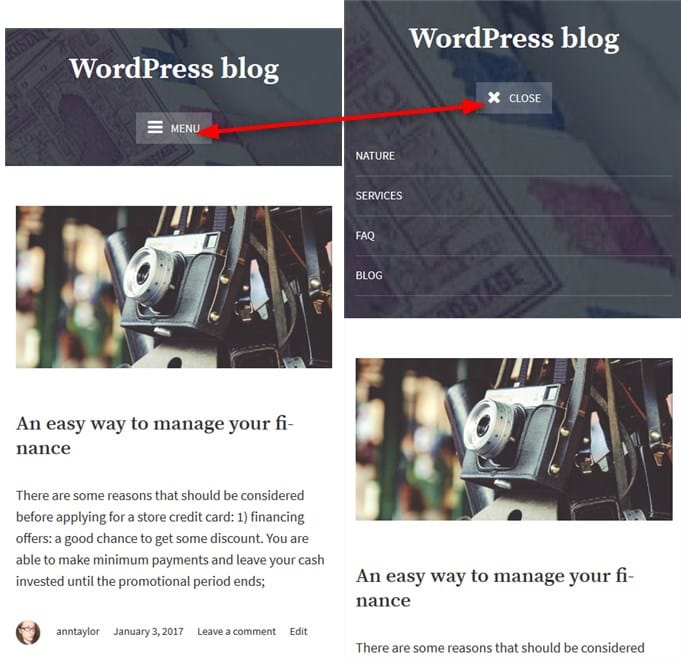 Avior on mobile device
It is one of the most engaging free WordPress blog themes. Furthermore it is quite flexible in terms of customization, too. You can change the site identity: upload your logo, change title and tagline as usually.
All colors are also customizable, so you can give the theme an absolutely unique feel. There are colors you may change easily with a color picker:
Header text color
Background color
Header background image
Footer background image
Text color
Link color
Button hover color
What about some purple: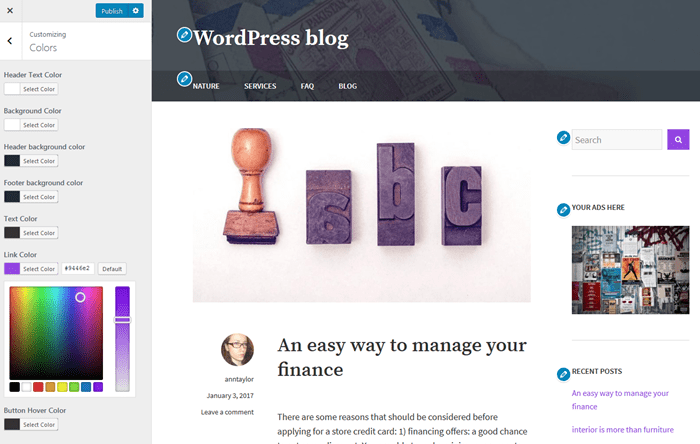 You can upload your header image – it will give some highlight to the header area.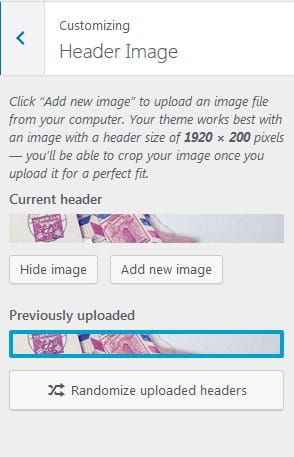 So it will look more interesting:

If you are a fan of background images, you can easily add any via the WordPress Customizer (and customize its appearance on the live site online).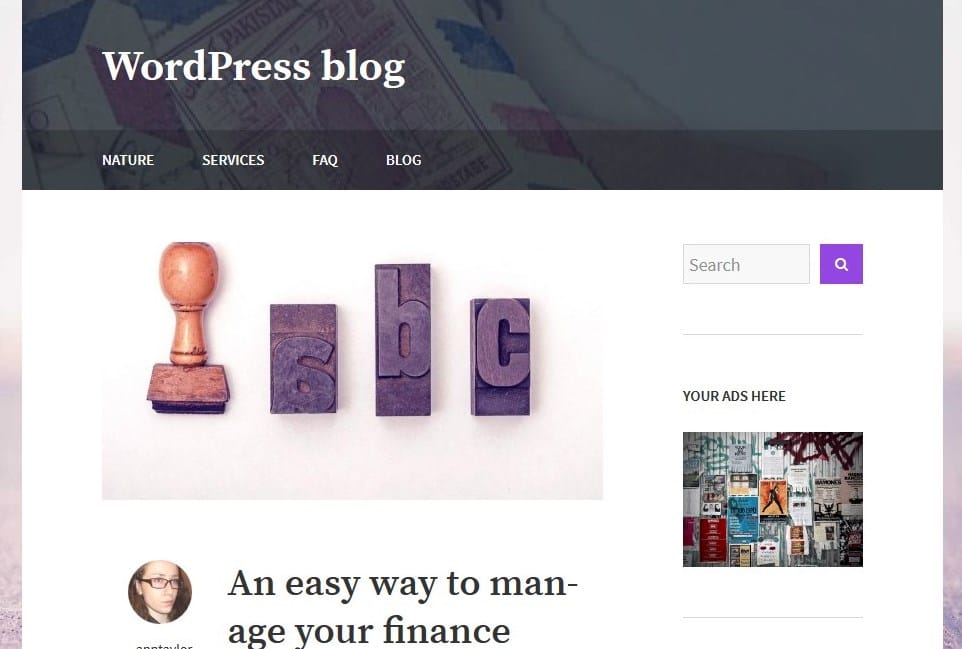 The menus are pretty flexible as well: you can add primary, social, and footer menus, then easily change their locations and content via the WordPress Customizer.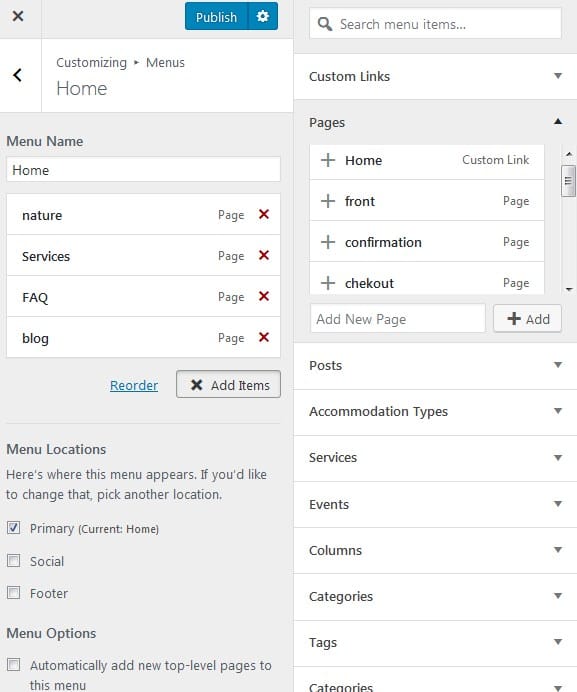 There are also lots of widget areas that you can quickly edit with the WordPress Customizer. And here is where you can add your widgets:
Sidebar
Footer left
Footer center
Footer right
For example, you can add content to 3 columns in footer and make it really informative: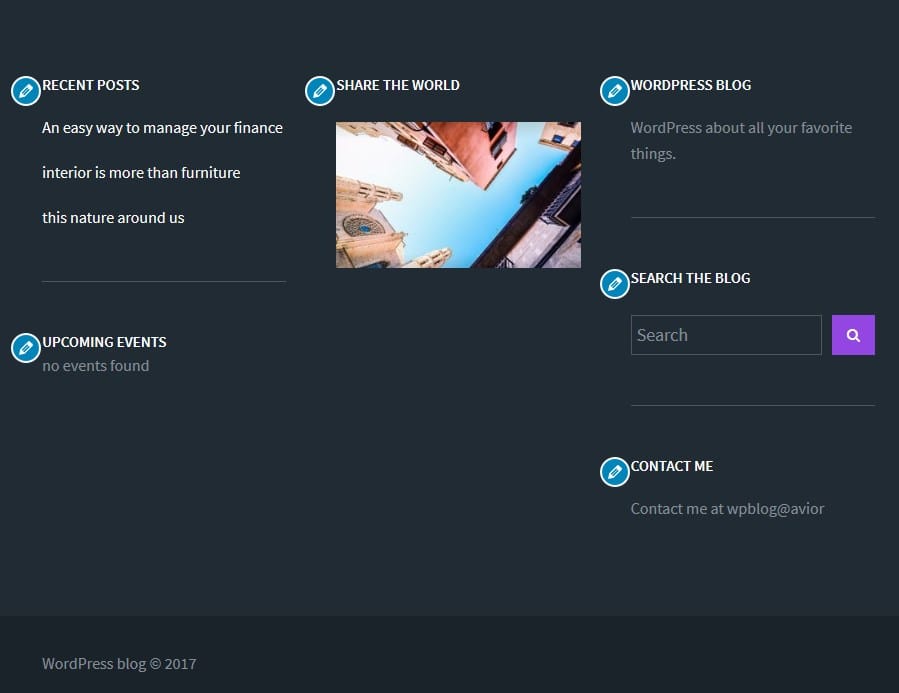 If you are good at CSS, you'll be able to add your own as well via the WordPress Customizer.
Hope we did not overlook any important points. Very simple, sweet blogging WordPress theme – you saw that! And, what's more important, the theme is free 🙂
WordPress plugins that may come in handy
Building a blog you might be interested in a WordPress Page Builder plugin that will help you add and customize any type of a content module without extra plugins or tech skills.
The free WordPress Event and Timetable plugin looks really cool in this theme, so you may find it helpful, too. (the demo of this plugin is powered by Avior, by the way).
Roadmap secrets and conclusion
Avior free WordPress Blogging theme is going to come with a stunning e-shop design based on WooCommerce soon! And let some other sweets remain secrets (for a short time). Overall, Avior will give you a simple yet attractive online presence, with an awesome mobile user experience and the no-big-deal customization process!
Check out these beautiful free WordPress themes.