WordPress Appointment Booking Plugin by MotoPress: Key Highlights
Appointment scheduling & booking plugin optimized for quick and easy online reservations.
For Beauty Salons, Medical Centers & Educators
We created this WordPress appointments plugin for all sorts of appointment-based businesses, including:
Barbershops, hairdressers, and beauty salons
Tutoring businesses and online classes
Healthcare & medical centers
Sports institutions, and fitness instructors.
Accept Payments Online or On-site
Appointments can be confirmed automatically upon booking submission, or you may opt for requesting clients to pay online.
Our scheduler plugin allows you to collect payments on your site via PayPal, Stripe, turn on Direct Bank Transfer, Square, or allow clients to choose to pay on-site. Stripe allows you to also accept payments via Bancontact, iDEAL, Giropay, SEPA Direct Debit, and SOFORT, as well as Apple Pay, Google Pay and Link.
Add More Payment Gateways with WooCommerce
If you need more than the default range of payment gateways, WooCommerce is the most powerful plugin that can help you add them in clicks. We offer smooth integration with this plugin via the custom-crafted Appointment Booking WooCommerce Payments addon.
Note: It's a premium extension that is not included in the price of the Appointment Booking plugin.
Step-by-step Booking Wizard for Clients
Allow clients to book directly on your site! They'll see available slots and book them right away, optionally choosing an assistant with the preferred skills/ their favorite service provider.
It's a straightforward step-by-step process when a client selects a service, a staff member, then a date and submits a booking, not leaving the same page! A sleek, mobile-optimized booking form design delivers truly user-friendly and quick experiences for users on any device.
Appointment Reminders & Notifications
Send automated reminders and other notifications before and after the appointment. Simply designate the sending time, specify recipients and make up an email template.
You can send service-wise emails to customers as well as staff members or specific addresses.
Notifications of the Booking Status Changes
Booking confirmations, cancelations, and more. Immediate email notifications associated with bookings and respective automated booking status changes will help you reduce the client waiting time, thus managing booking much faster.
The MotoPress WordPress scheduler plugin allows you to tweak content and style of both admin and customer email notifications.
SMS Notifications
Reach out to your staff, customers, admins, or any phone number more easily with SMS.
Enable automated SMS notifications upon appointment confirmation, cancelation or payment completion. Set up micro-targeted marketing with any custom SMS alerts or notifications at any time before or after appointments.
Note: This is a premium Twilio SMS extension that is not included in the price of the Appointment Booking plugin.
Customer Accounts
Enable recurring customers to log into their personal accounts on your website and schedule appointments much faster. Provide them with more tools to view all their past and future bookings, including details such as cost and appointment time.
You can either automatically create accounts for all customers at checkout or let them decide if they want to create an account on your website.
Integration with Google Analytics
This plugin easily integrates with Google Analytics 4 to help you track ecommerce data sent through the booking widget!
Measure the number of bookings made, identify the most viewed services, and gain insights into customer behavior. Get data-driven insights and create a better service conversion strategy.
Note: This is a premium Google Analytics extension that is not included in the price of the Appointment Booking plugin.
Add & Customize Unlimited Services
The MotoPress WordPress Appointment Booking plugin allows you to add time slot booking for numerous services. Feel free to set custom service durations and assign employees available for each service:
Create bookable services of any duration
Add buffer times to block extra time before and after actual appointments
Edit service capacity to allow a customer to bring people with them.
Add & Manage Unlimited Employees
Create an employee database and schedule the agenda of the staff with the Appointment WP plugin. Add photos and skills of your employees, assign different services to the relative staff members, and create their personal schedules:
Create individual staff calendars and optionally connect them to employee's Google Calendar
Сustomize the service pricing and duration depending on a staff member
Assign numerous services and locations to the same person.
Flexible Employee Schedules: Lock Out Hours, Add Breaks & Holidays
The MotoPress WordPress Appointment Booking plugin is equipped with numerous features to help you bend the working schedules of your employees:
Assign individual schedules to employees and view calendars in a daily mode
Set lunchtimes and breaks for your employees
Add days off and non-regular working days and times.
Create Discount Coupons
Build trust with clients by providing them with custom coupons or organizing marketing campaigns.
You can add discount coupons for chosen services, set expiration dates, and for how many days it's available. You can later track how many coupons were used and even apply coupons if you're adding payments by hand via the admin panel.
Multiple Services Bookable at One Go
Allow your customers to add several services to cart during one submission. All appointments can be booked for different services, time, date, and employees – in just one go.
Make it easy for a customer to reserve several appointments without a need to go though the same booking procedure several times.
Manage Appointment Bookings on The Backend
Centralize all WordPress appointments in your dashboard – you can view all incoming bookings with the details, such as total cost, details of booked services (e.g. location, employee, date, time, the number of clients, etc.), and the status (whether a booking is confirmed or not).
You can manually edit personal customer info, change a booking status and update a total service cost with this Appointment Booking WordPress plugin.
Centralized Admin Bookings Calendar
Thanks to the built-in appointment booking calendar, admins, employees, and other team members can quickly and easily view all past and future bookings in their current statuses.
The reservations are centralized in one place and you can access them in a color-coded calendar view, individual booking preview, or timetable in chronological order.
Allow Booking for Groups
Note: an appointment for a group can be made only by one person who submits a reservation.
Clients can book an appointment for a group of people. For example, that can be a yoga class or an escape room reservation for several people at a time.
As an admin, you are free to configure capacity settings in the WordPress scheduler plugin by defining the maximum number of persons possible for one appointment, as well as optionally multiply the service price by the number of people.
Holistic WordPress Appointment Booking Toolset
This WordPress appointment scheduler plugin goes beyond providing you with a booking widget. It's packed with a number of widgets you can use to build your service website further.
For example, there are dedicated widgets for featuring your team members with their contacts and experience, building individual employee profiles, designing lists of services and locations, and more.
WordPress Appointment Plugin Translated into Several Languages
The MotoPress Appointment Booking plugin for WordPress is available in English, Italian, French, German and Spanish.
That means you can simply choose the needed language in your WordPress settings and voila – the plugin is automatically switched to the professional translation, both the backend admin tools and the actual website content sourced by the plugin.
Works with Gutenberg, Elementor, and Divi
We've added smooth MotoPress Appointment Booking plugin integration with the most used and loved WordPress builders: the native block editor (Gutenberg), Elementor, and Divi.
This means you can add appointment forms, employee profiles, service lists, and any other content sourced by the Appointment booking plugin in the visual interfaces, with drag and drop, enjoying shortcode-free customization experiences.
WordPress Appointment Plugin For Solopreneurs & Business Chains
This appointment booking plugin for WordPress fits your needs if you are self-employed, have a small establishment with just a few employees, or even run a multi-shop business in different locations.
The plugin makes it easy to add numerous categorized locations and offer different services depending on a location / individual shop. We have also created a collection of booking templates where you can choose an appointment booking WordPress theme for your needs.
Export Bookings to CSV
Export all your booking data to a compact CSV file, a universal format that you can further edit and analyze using Microsoft Excel, Google Sheets, or any other tool.
Easily filter the data before export by date range, service, status, location, or staff member. Identify popular services, print out weekly schedules, and use external software for further data analysis.
Appointment Booking Addons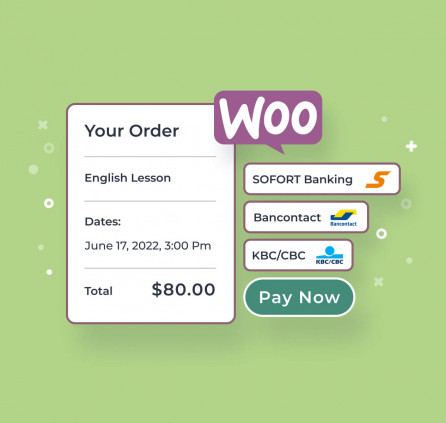 Appointment Booking WooCommerce Payments
Integrates WooCommerce payment gateways with the Appointment Booking plugin.
View Demo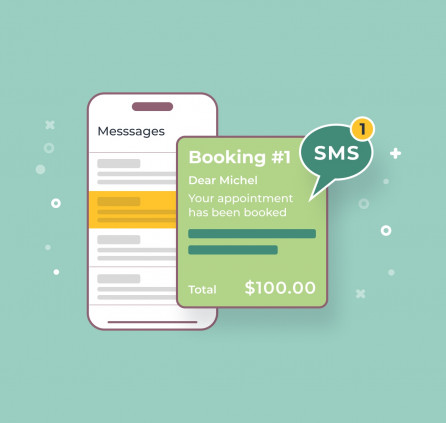 Appointment Booking Twilio SMS
Automated SMS notifications via the Twilio service.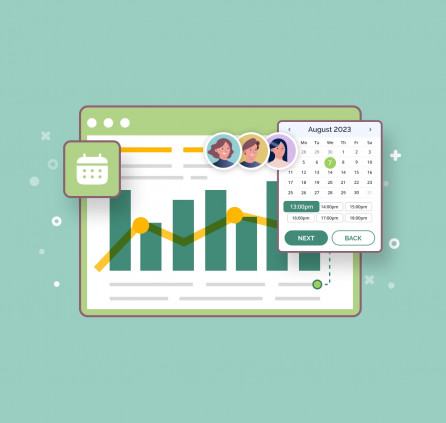 Google Analytics for Appointment Booking
Measure the success of your bookings by integrating Google Analytics.
Appointment Booking Themes
Each theme comes with the MotoPress Appointment Booking plugin integrated, which means visual theme styles are perfectly adjusted to the booking plugin's functionality. The WordPress themes are optimized for seamless visual customization with Elementor Widgets and Getwid Gutenberg Blocks builders.
Developer Resources
Code Reference
Code reference for the Appointment Booking plugin. Learn how to use packages, classes, actions, and filters to easier work with the plugin.
Style Kit
Style Kit provides organized starter SCSS files to help you create themes powered by Appointment Booking, for yourself or your customers.
Documentation
Get started easily with the detailed documentation that contains all the important information about the plugin and its usage.
Detailed Video Tutorials
MotoPress Appointment Booking tutorial video base to help you better understand how to configure the plugin and reach your business' full potential.
More features of the MotoPress WordPress Appointment Booking plugin
The best WordPress Appointment plugin for quick and easy online appointment bookings on your site. Discover more tools in a nutshell:
Currency settings in WP schedule plugin
Hourly appointment book
Booking tool for multi-location businesses
Edit details of submitted bookings, e.g. their statuses and personal customer info
One-page service client booking wizard
Default country of residence for quicker booking submission for your clients
It can serve your needs as a WordPress doctor appointment plugin.
Mobile-friendly booking WordPress scheduling widget.
Fully customizable WordPress scheduling widget – remove or rename default fields to suit your business.
WordPress availability calendar with real-time free slots.
Hourly appointment book slot as well as fully customizable slots for appointments of any duration.
Free WordPress appointment scheduler plugin trial – create an account and test all features at no cost.
Service categories and tags.
Customize price, duration, minimum and maximum capacity for each service depending on an employee.
Intuitive database of clients.
Contact information, social networks and additional info blocks for each employee you can optionally fill in and feature on the site.
Purchase Appointment Booking Plugin or Try Sandbox Demo
---
If you are looking for the best booking solution for short-term property rentals or hotel rooms, the MotoPress Hotel Booking plugin is what you need.
How do I make an appointment booking in WordPress?
It's easy to make an appointment booking in WordPress by integrating the scheduling software plugin. It will place an interactive booking widget to the website, where you can choose the needed services, time, day, and ultimately make a booking. Upon reservation, the website administrators and clients receive respective notifications.

What is the best appointment scheduling plugin for WordPress?
There are several decent solutions that vary by design, pricing, and power features. The MotoPress Appointment Booking plugin is one of the most popular lightweight plugins for quick and smooth appointments on WordPress, with online payments, unlimited services providers, and locations you can integrate. Of course, you'll ultimately need to choose the solution that suits your business type.

Does WordPress have a booking system?
WordPress is a content management system that by default doesn't offer a specialist booking system. However, it's completely extendable, and booking system plugins are very popular. To implement a booking system on WordPress, you don't need to connect any third-party software. Instead, you can choose a suitable plugin, which is usually a more affordable and easy-to-manage approach.

How do I use an appointment plugin in WordPress?
To use an appointment plugin in WordPress, you need to download, install, and activate the plugin first. Then follow the documentation, which will differ from plugin to plugin. As a rule, you'll need to configure your preferences for locations, service provider schedules, service selling options, payment gateways, and more.

How do I add an appointment in WordPress?
It depends on the software or plugin you use for accepting appointments on WordPress. Usually, customers submit their appointment requests on the frontend (so-called live website) via the dedicated scheduling widgets, forms, or wizards, while website admins register appointments on the backend using the appropriate menus provided by the software.

Does WordPress have a scheduling tool?
There are multiple scheduling tools created specifically for WordPress, and it's up to you to choose the one that will help you build a comprehensive scheduling solution. These tools offer a variety of features, including availability calendars, booking engines, employee schedulers, calendar synchronization, and more, all of which can be used with almost any WordPress scheduling tool.

How do I add an appointment calendar to my website?
A display of available and unavailable days in the appointment calendar usually depends on the availability and schedule settings. In WordPress, it's usually added as a shortcode or widget/block to the page.

How do I add scheduling to WordPress?
You need a dedicated WordPress calendar or appointment booking plugin that allows you to customize availability, working hours, vacations, etc., as well as lets you sync your website's availability with external calendars.