Profit: New Innovative MotoPress Theme for Financial Business
We have one more great reason for joy and want to share the wonderful news with our customers and readers! This time profound business and design research, hours of development, and numerous improvements resulted in Profit – a new Premium WordPress Financial theme for accounting, finance, and consulting companies.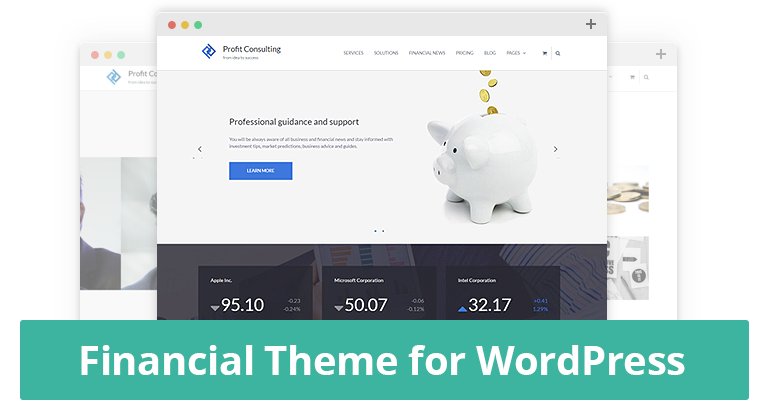 Profit theme is literally a financial multipurpose gallery and a learning center with a lot of services for your audience aiming to boost your financial institution. Financial establishments are always looking for new ways to insert new technologies not only in their everyday business but also into their online presence. It's a great approach to increase online cross-channel integration, overall user experience, and engagement. Therefore, this new Premium WordPress theme was created combining 3 core features important for a financial company's digital presence: usability, innovation, and channel integration. Let's see how they are reflected in the theme's appearance.
We can start with general facilities:
1. Fully customizable front page. You can apply all needed manipulations with the front page visually – edit, hide, or shift any content block via WordPress Customizer.
2. Color control: let your website reflect your brand and ideas in the most suitable colors – choose main accent colors, color schemes, and typography colors.
3. Compatibility with popular plugins: WooCommerce, BBPress, BuddyPress, MailChimp, and a lot of others to not limit your company in functionality and cross-channel opportunities.
4. Built-in in-demand content blocks (e.g. Team, Services) with fully customizable graphics, text, and styles.
5. 3 Blog layouts (masonry, with sidebar, full-width), so you are sure your content is displayed in the most attractive way.
6. Full MotoPress Visual Page Builder plugin compatibility – the plugin lets you edit any page or post fully visually, add any type of content, and customize it directly on the front end of your website.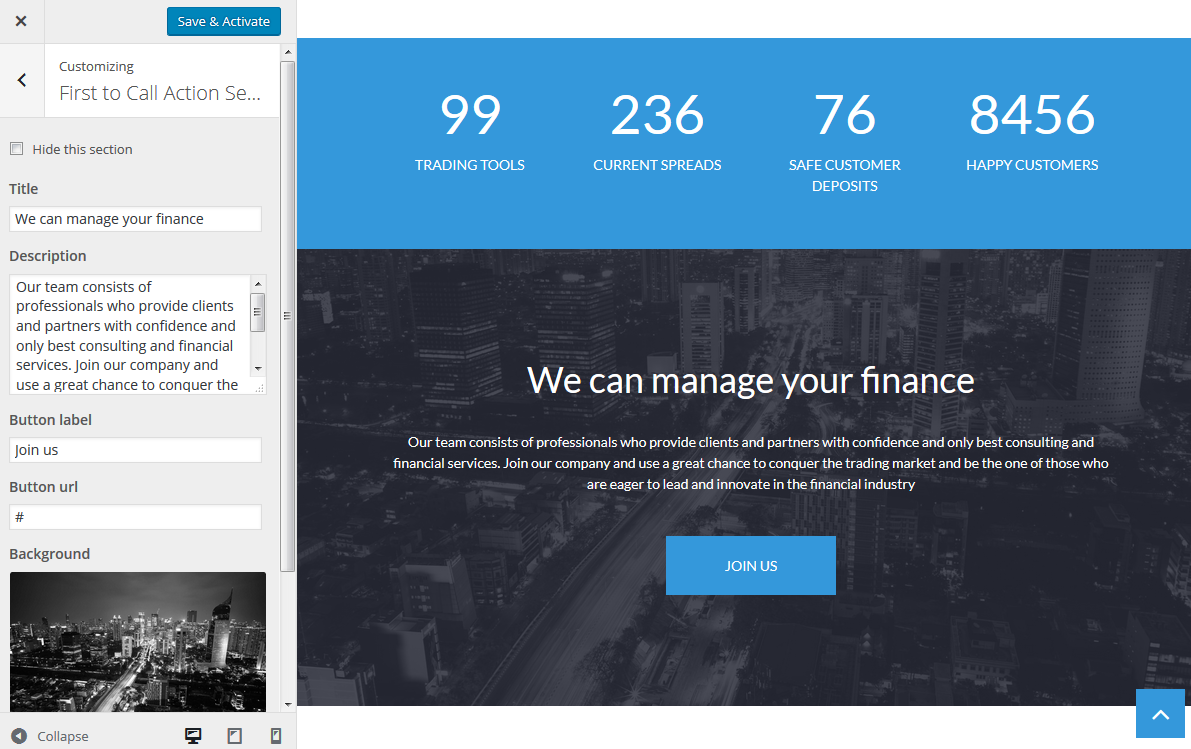 Profit Design
The overall theme design is extremely clean because of several features:
– a combo of white and blue complementary accent colors & a lot of white space
– quality transparent images in the header slider and shadowed images through main content sections
– balanced layout with contrast wider and narrower content blocks for better visual hierarchy.
Major content blocks:
Header slider with editable images, titles, subtitles, and Learn More button – a traditional feature made in a very trendy way. Pay attention that images with transparent backgrounds would look really stunning.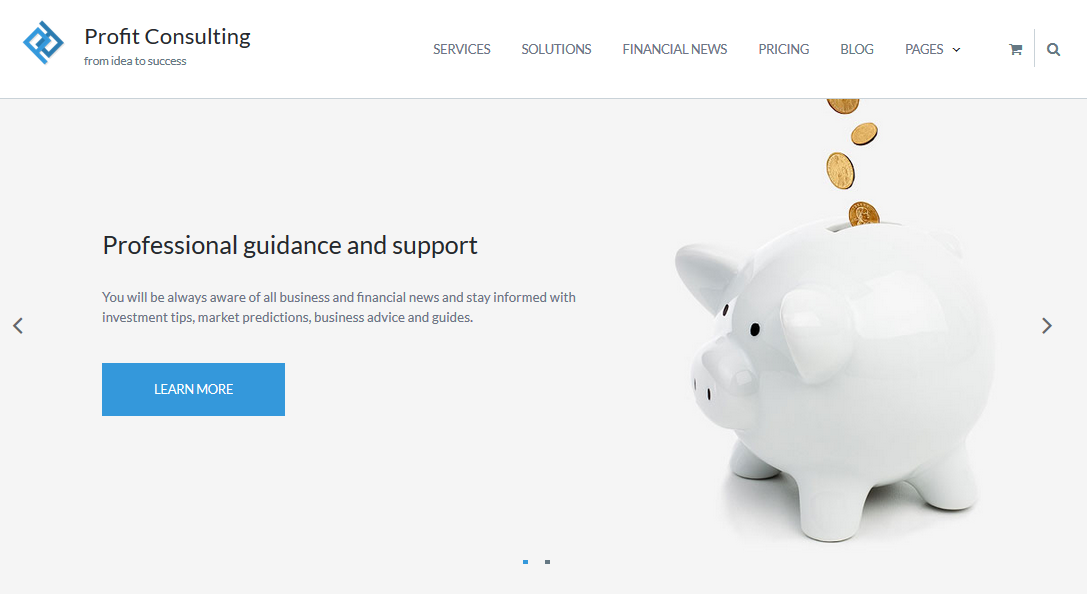 Stock ticker widget is one of the great learning resources for your customers. This financial data widget will show real-time market prices and statistics information right on your site (e.g. Apple Inc., Microsoft Inc., or any other company you choose). It provides your site users with access to the latest financial data of the needed companies in a clean and elegant way (with a shadowed background image). In a way, this widget indicates that your company always stays up-to-date, so your customers can trust you more.

Features Section is presented in a minimalist design with icons instead of images – such a schematic visualization helps prioritize text information, so your website visitors understand your values quicker and are not distracted with images.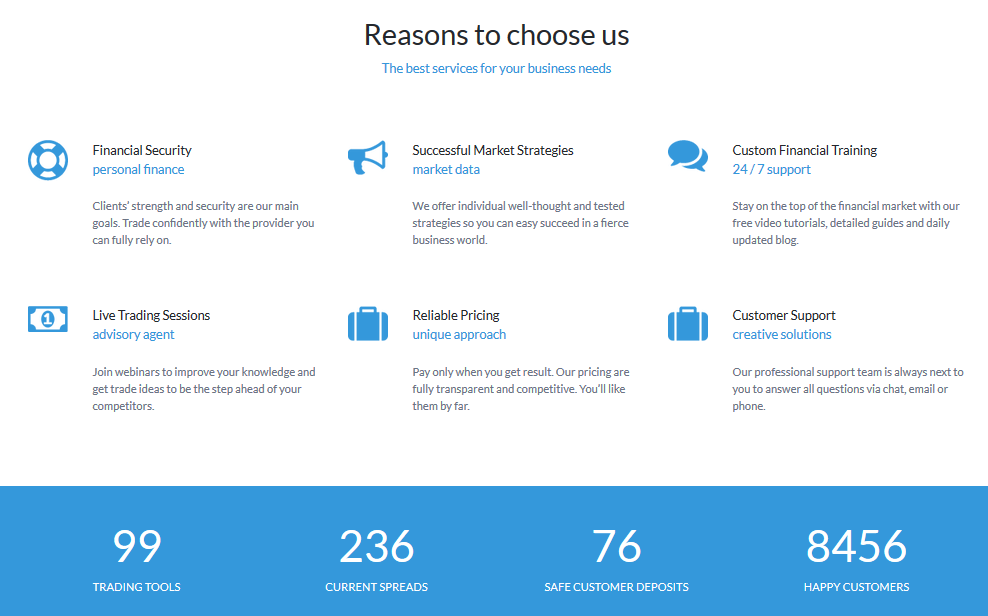 Lease Calculator widget is another tool to increase conversion rate and customer engagement as this calculator can solve the needs of casual visitors and loyal clients. How does it work? The site visitors can calculate their lease payments for particular periods by submitting real prices online on your website, so it can come in real handy for many users.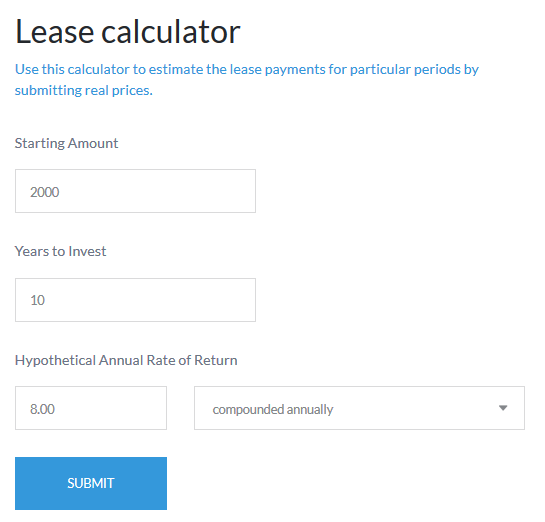 Stunning Calls-to-action is a must-have feature to let your visitors know what options on your site they have, what products and services they can get by clicking on a particular call-to-action button. Profit theme allows you to have clean and not pesky messages to call your customers to action.
Clean-looking Services sections: strict blogs with perfect symmetric hierarchy and stylish hover effects will help the site visitors concentrate on each particular service and read more about it. Individual service can be shown with a title and description to give a short overview of the service.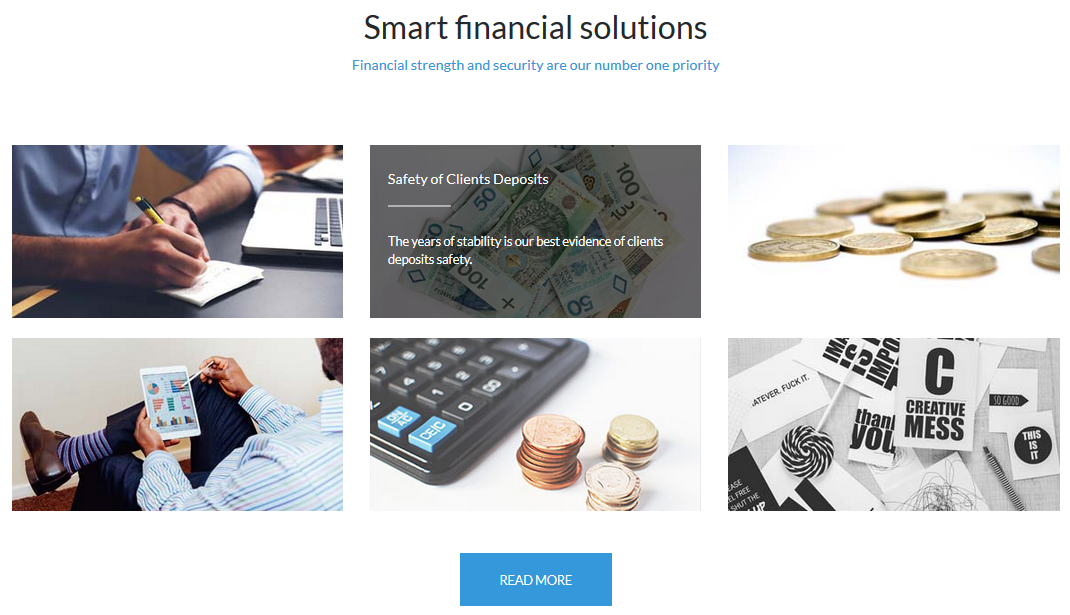 The Team section is the face of the company, the reality, which should be presented in the best light, that's why by default this section is displayed in full width of the row (hot web design trend). You can set the photos of your team, their positions, short information, and social media links.

News Section by default shows two last news, so this content block is not overloaded and is not too long: no need to scroll and no chance to miss all needed news.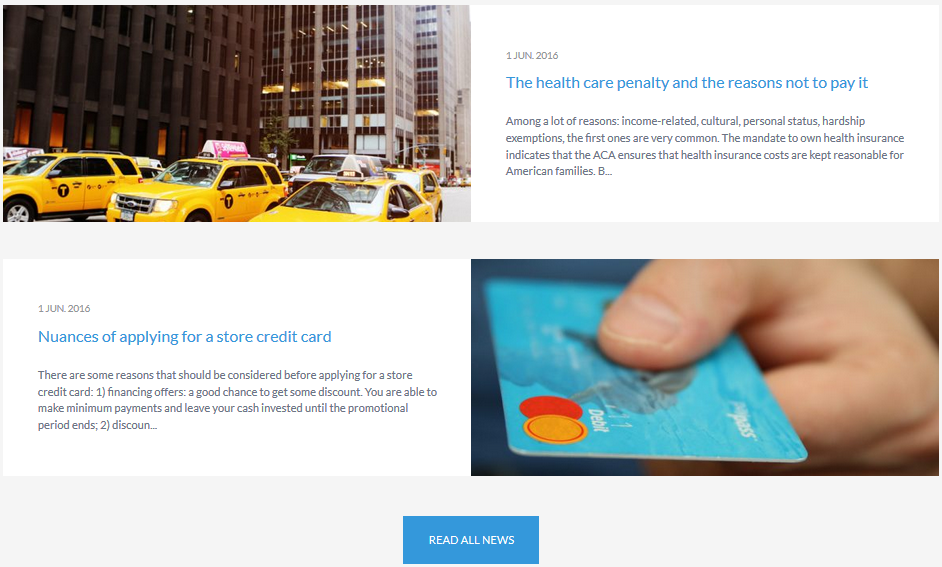 Trendy Pricing Tables are the best way to quickly visualize and compare your services/products and their prices. You can easily customize them and label all needed columns as Best Option, Limited, etc., so you can track the right visitors to the right items.
Adjust Subscription service, which is fully integrated with MailChimp. You may also change the background image for this block to engage your visitors to subscribe to your updates.
Of course, the Testimonials section and Contact form with very handy visual look: fields for inputting customer's info on the left and the Message block on the right. And Google map integration, which is mostly a must-have today on a majority of websites: it's the handiest way to locate it closer to the footer, where all other contact information is placed.
The template will cost you only $55. You may check more additional information and test the demo version before making your choice:
If are interested in a more detailed customization tutorial, you may address this ultimate guide with instructions:
Instead of a conclusion, let's list necessary steps for building your profitable digital presence:
buy, download and Install Profit theme
customize the front page visually via WordPress Customizer
apply additional adjustments to all needed inner pages.
Profit! 🙂