Emmet – Free Clean Responsive WordPress Theme You Will Love
Emmet is a free brand new WordPress theme from MotoPress that was designed for corporate websites and portfolio websites. It has a clean responsive design that looks good on desktops, tablets, and smartphones.
Let us take a closer look at the theme and see what it has to offer.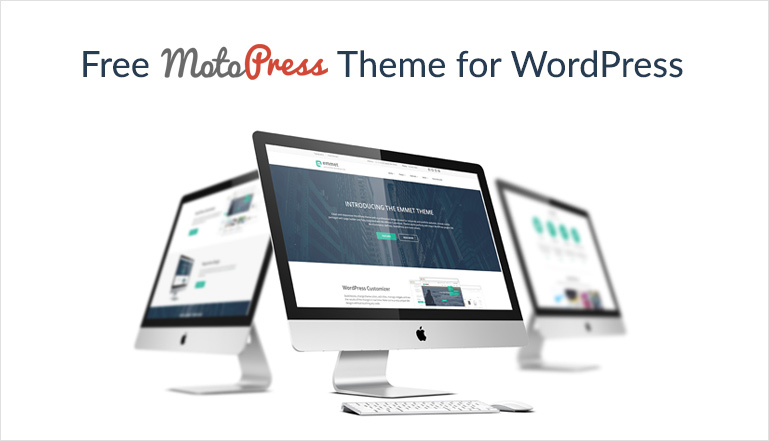 The design makes the process of customizing and styling your website pain-free. Emmet also has support for popular WordPress plugins such as WooCommerce, bbPress, and BuddyPress.
A Beautiful Design
The home page template of Emmet has a distinctive corporate style. If you take a look at the demo of Emmet you will see the home page is divided into different sections.
These sections are used to highlight features, display portfolio items, display pricing tables, showcase your team, encourage people to sign up to your newsletter, and promote your latest blog posts. There are also sections for testimonials, a Google Maps powered map, and a contact form.
All sections have a clean professional design and are easily modified.
There are widget zones for sidebars, the footer, the 404 page, and home page sections such as packages, team, and testimonials.
As a blogger, I always pay close attention to the blog template that is included with WordPress themes. Over the last few years, I have seen a lot of developers adding blog templates that look great but are not practical.
For example, a lot of modern WordPress themes are flashy and force you to use featured images that are too large. These designs are not practical for use on most blogs, which is why I prefer blog templates that adopt a minimal style.
Free WordPress theme Emmet includes a minimalist blog template that places the emphasis on content. It has a clean structured design that I am sure bloggers will love. I would have no qualms about using it for my personal blog in the future.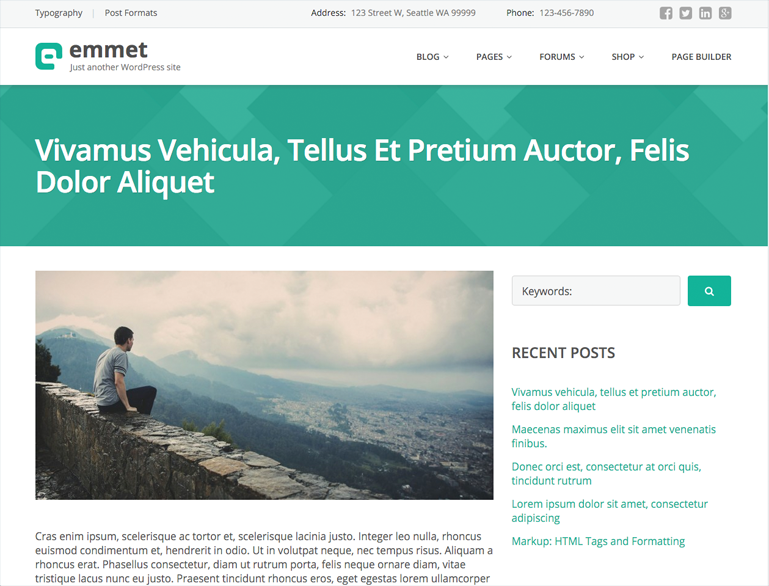 Emmet has native support for bbPress and BuddyPress. Therefore, when you activate one of these community plugins, everything is set up for you. All you have to do is configure bbPress and BuddyPress to your liking.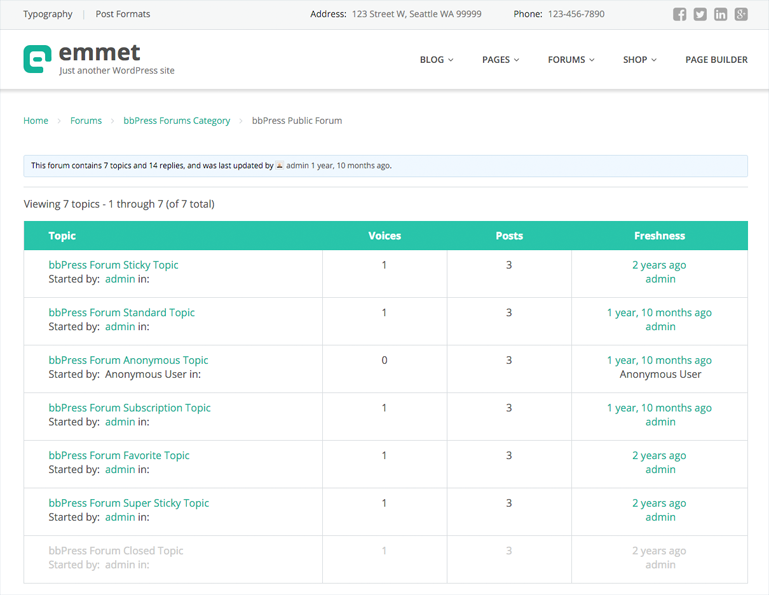 Emmet also has full support for WooCommerce. This means that you can use Emmet as the theme for your online shop.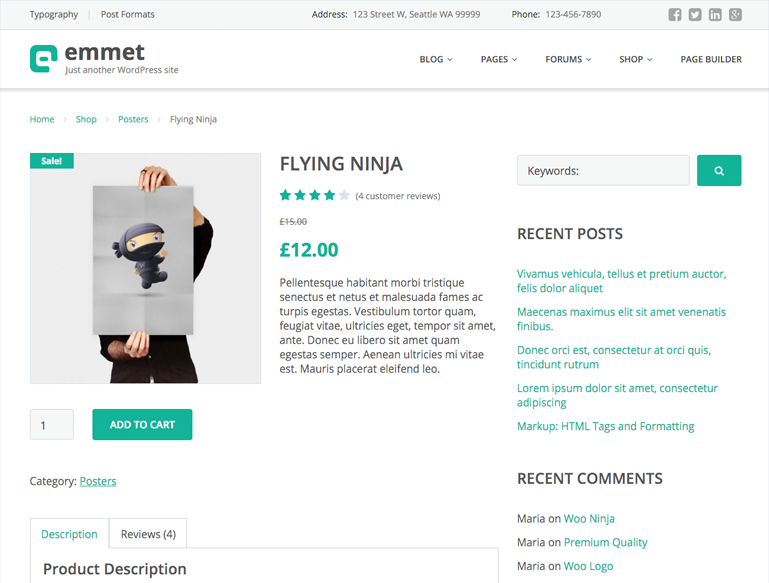 I have no doubt you will love the clean and stylish look of Emmet. Check out the demo of Emmet to preview the design yourself and get an idea of what it offers.
Setting Up Emmet
Emmet can be downloaded free of charge from MotoPress. Once you have uploaded the theme to your website and activated it, you will be presented with a six-step guided tour.
The first step is a welcome page that explains what the guided tour will illustrate. The next three steps cover the WordPress theme customizer, front-page settings, and templates. Each step gives you a brief explanation of how to use Emmet.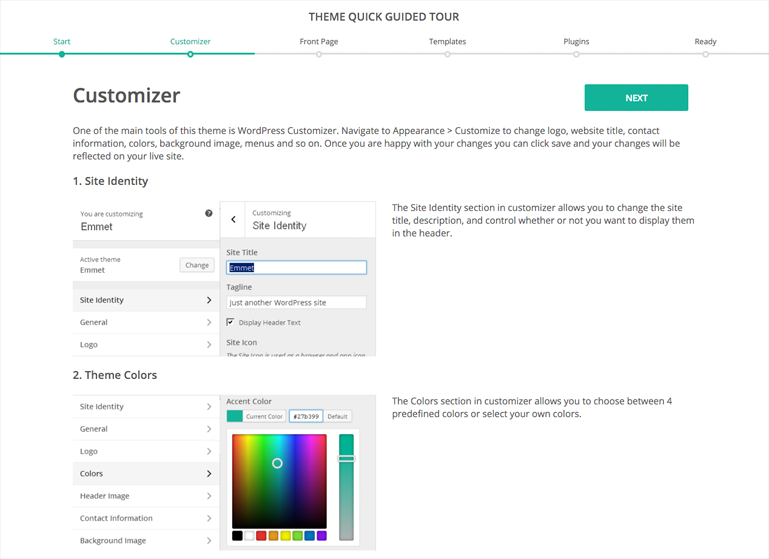 The fifth step recommends five WordPress plugins; all of which are free to download.
The plugins are Portfolio for Emmet theme, Another MailChimp Widget, MotoPress Visual Page Builder Lite, WooCommerce, and Regenerate Thumbnails.
When you click the install button, Emmet will install all of the above plugins for you.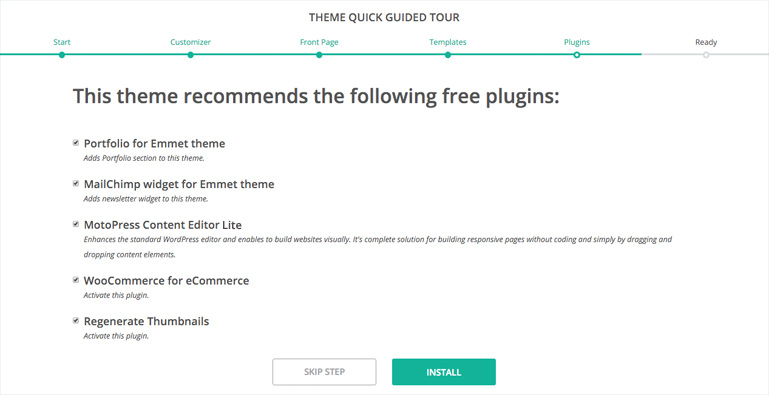 On the last page, you will be asked whether you want to return to the WordPress dashboard or start customizing your theme.

Do not be concerned if you closed the guided tour after activating Emmet. You can repeat the tour at any time by going to the Appearance menu in your WordPress admin area and clicking on "Theme Wizard".
Configuring Emmet
If you choose to customize your theme at the end of the guided tour of Emmet, you will be taken to the WordPress theme customizer.
I am a huge fan of the theme customizer as it is easy to use and allows you to see changes in real-time. Most WordPress themes support the theme customizer, but they do not embrace it. With many WordPress themes, support for the theme customizer is limited to uploading a logo, changing your menus, and adding some widgets.
In contrast, Emmet has fully embraced the WordPress theme customizer and made it central to how everything is controlled. There is no theme options page as everything is handled through the theme customizer.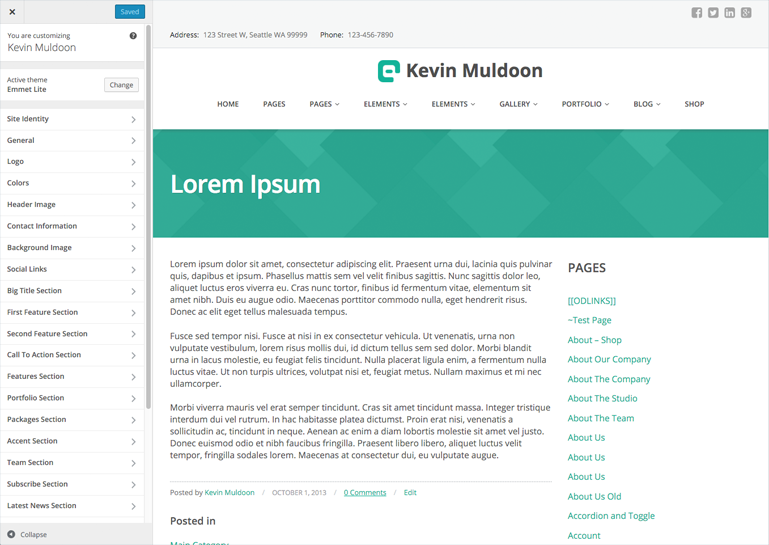 Through the theme customizer, you can control general settings, colors, background images, post settings, social links, menus, and widgets. Each part of Emmet is divided into different sections.
For example, there are sections for the latest news, testimonials, and portfolios. Each section can be customized.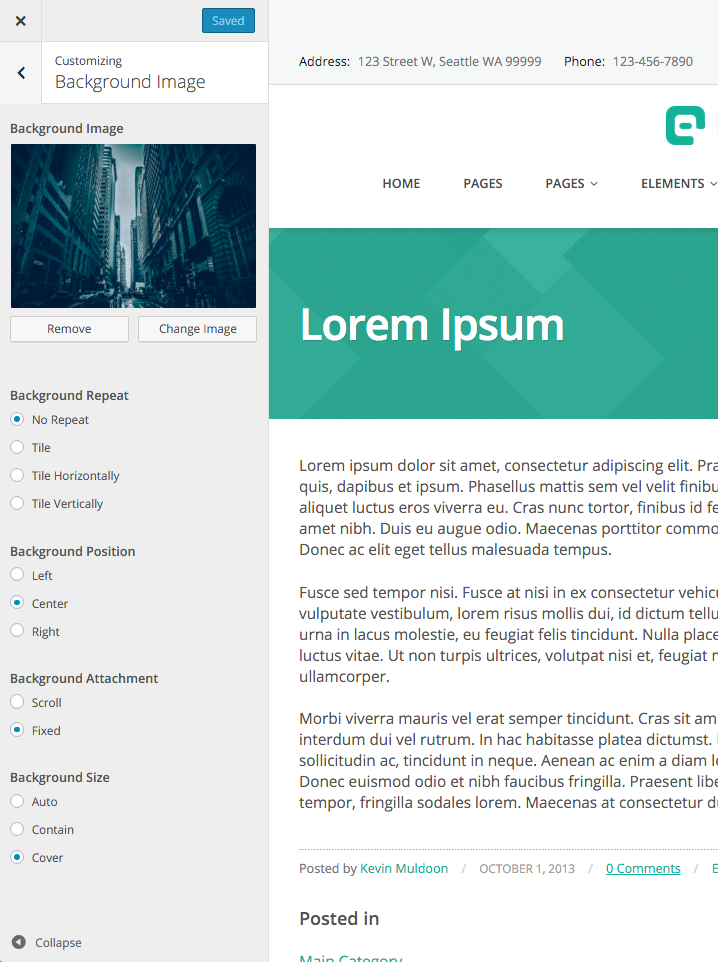 One of the coolest features of Emmet is the inclusion of MotoPress WordPress Page Builder. MotoPress Visual Page Builder is a feature-packed content editor that helps you build professional-looking pages in minutes.
Once you have activated the plugin, you will see a "MotoPress Content Editor" button in all of your blog posts, pages, and custom post types. (UPDATE: the plugin now works in a different way: to edit your content on the frontend, simply switch to the Visual Builder tab in the TinyMCE.)

The MotoPress Visual Page Builder is very straightforward to use. On the left panel, you will see dozens of content elements that can be dragged and dropped into your canvas area. You can then customize these elements, adjust their styling and alignment, and place them in columns and rows.
It should only take you a few minutes to understand how the interface works and start enhancing your content.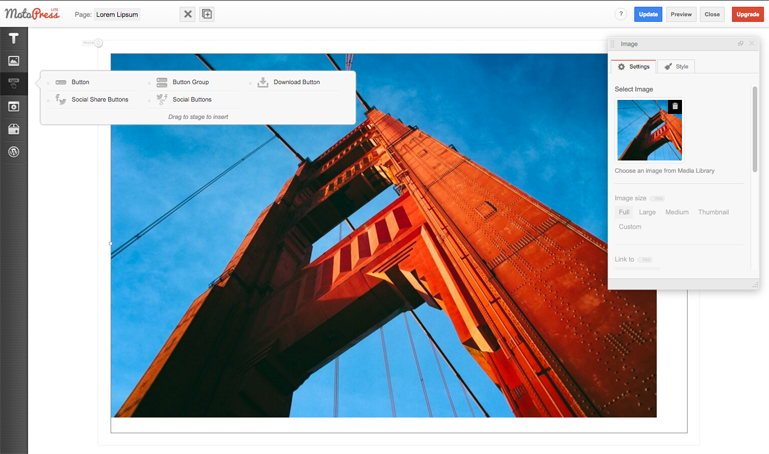 The inclusion of MotoPress Content Editor adds an extra dimension to Emmet and with all settings available through the WordPress theme customizer, there are few areas of your pages that you cannot style and tweak with this theme.
Pricing
Emmet has been released under the GNU General Public License and is free to download.
A pro version of Emmet is available that offers priority updates and support, the ability to change the text in the footer, and a copy of MotoPress Visual Page Builder Pro (worth $29).
Emmet Pro costs $43 for a single website and $99 for an unlimited number of websites. It's a fantastic price when you consider that MotoPress Content Editor Pro is provided with the package.
Final Thoughts
Emmet is a stylish WordPress theme that looks great and has many wonderful features. The inclusion of MotoPress Content Editor Lite and its support for the WordPress theme customizer help make Emmet one of the best free WordPress themes released over the last couple of years.
Kudos have to go to MotoPress for adopting this freemium model as it allows everyone to use Emmet. Those who do need priority support and updates can upgrade for a small fee and receive MotoPress Content Editor Pro into the bargain.
Please visit the Emmet information page in order to download the theme and find out more about what this great theme has to offer. You will not be disappointed.
Thanks for reading.
Kevin